Finding messages in the abstract
Epiphanies has been curated by Nancy Adajania and Ranjit Hoskote, who followed Meherwan Minocher Gobhai for years.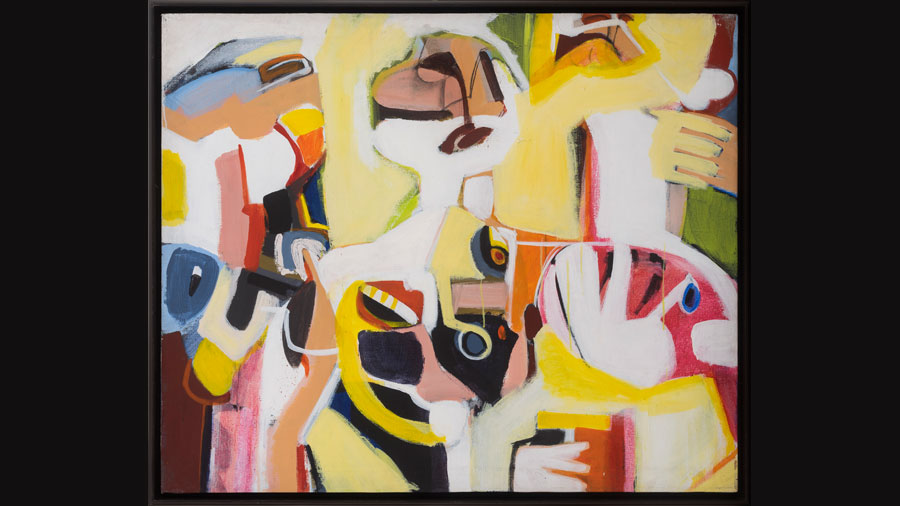 ---
Published 14.08.21, 09:45 AM
|
---
Untitled. An unassuming title for an apparently unassuming work. Yet, its withdrawn, unfaltering, gentle assuredness compels a searching, quite absorbing gaze, the way somebody in the shadows, abjuring company and limelight, would.
This absorption may seem inexplicable, perhaps even a little unsettling, thereby. Why would a simple abstraction — all the simple abstractions, all titled Untitled — hold this kind of fascination? Well, it could be because through its simplicity, what slowly surfaces is a furtive weave of intricate, barely audible articulations, playing with tones, planes and contraries. Its spare geometry is constructed with muted lines and right angles. But there's one that runs diagonally to break the pattern. Although the surface is warmly tactile and the eye feels the dimensions of matter, it somehow also appears fragile, vulnerable, teasingly evanescent. And though stains of umber and grey mingle into a diaphanous film, they often seem to hover indecisively over the surface without settling down to lend it more body.
What permeates this work and the others in this series is a sense of their creator's conviction, his unbothered, somewhat combative refusal to conform, to yield to the expected and ease up on his own, intense, perhaps troubled, relationship with his art in order to be more accessible to the market. Is that partly why titles — which would be most incongruous in this suite, in fact — aren't given? Clearly, no hand-holding of the viewer here. A message emerges: make what you will of my art.
This ambiguous reticence, which isn't prim or forbidding, but implicitly seductive, persuasive, characterizes the dark abstractions that Meherwan Minocher Gobhai — or simply Mehlli Gobhai (1931-2018) — detoured into in the 1970s. It is hardly surprising to learn, therefore, that in his solo show at Chemould Prescott Road, Mumbai, in 2011, not a single work was sold. In 2020, a comprehensive retrospective was hosted by NGMA, Mumbai, which ended abruptly with the lockdown. Now Chemould presents, till August 23, a selection of his works at the gallery and also online. And this show, too, titled Epiphanies, has been curated by Nancy Adajania and Ranjit Hoskote, who followed the late artist for years.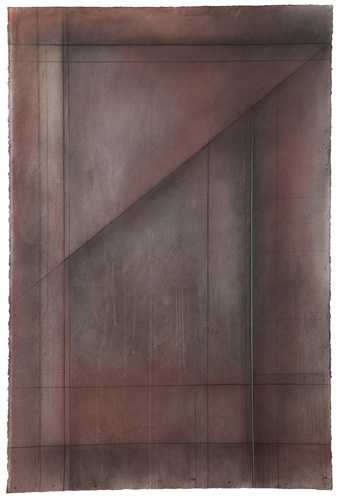 Gobhai's rich creativity was marked by phases. For example, both figuration and colour were once integral to his art. The curators have pointed out his affinity with George Kyet's flowing, emphatic lines. Examples from that phase have been included here, both his drawings and his illustrations from his children's books. Several colour paintings that refer to the heritage of Abstract Expressionism are here, too. Inchoate figures sometimes wrestle through a quicksand of reds, yellows, greens, blues and black that slither and jostle. White plays moderator, intruding between them, defining and hinting at shapes.
But it is when he filters out all distracting noise — figures and assertive colours — that a dense, magnetic interiority spellbinds the viewer. Was there, between these two phases, a period of exploration? A few "process sketches" with geometric zones, sometimes overlapping, precariously askew, nervy lines tilted as though unhinged, or skipping and sweeping in arcs and a sedate palette, are dated 1975-76. Do these presage the dark phase or run parallel with it?
A few works in dry pastel and aluminium powder from the early 1980s lose a large part of their delicate inflections in online viewing, alas. But the mixed media works on paper or canvas dated 2010 bring ample compensation. Austere geometry meditates on immanent infirmities. A diagonal suture bleeds across an arrangement of 3D rectangles. Weathered surfaces are replete with a silence that seems both composed and wounded. It's as though, after a final, cathartic reckoning with time and tide, nothing remains to be said.