Soulful instruments
Kalashree celebrated guru purnima; Eastern Zonal Cultural Society and Kalakshetram's 'Mahamanaber sagor teerey'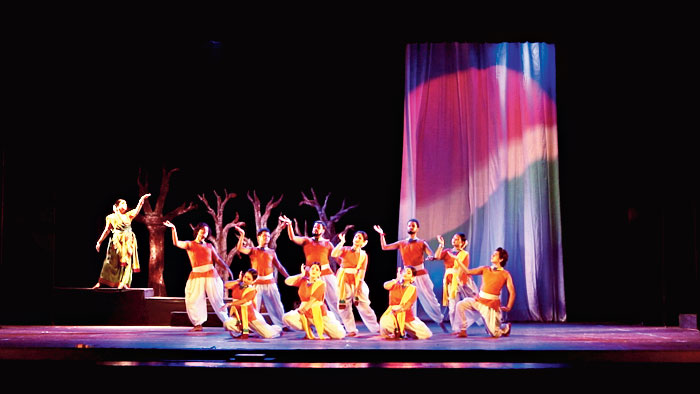 ---
Published 28.08.21, 12:25 AM
|
---
Kalashree celebrated guru purnima with performances by the disciples of the violin exponent, Kala Ramnath. The event featured 27 participants from across the globe who performed in two sessions. The first session began with a violin recital by Vishalakshi Chandramouli in Raga Bhupali, followed by Srijon Chatterjee and Antara Chakraborty playing madhyalaya and drut gats in Bhupali and Mishra Kafi, also on the violin.
Neelabh Borgohain from Assam presented a composition based on Raga Durga, while Shardul Shailesh Mangiraj, Sawani Vijay and Kabir Gopal Shirpurkar offered a vilambit gat in Ahir Bhairav. Sandeep Bhat from Uttarakhand also played an Ahir Bhairav composition set to jhamptaal. Nandini Goswami, Samyuktha Mahadevan and Kumud Naini chose to perform Ahir Bhairav as well. Kailash Joshi's rendition of Raga Sarang was sweet. Rattan Singh played Puria Dhanashree and Pamalka rendered a composition in Miyan ki Todi on the esraj. The session ended with Sarada Prasan Das's Ragasree on the violin.
The second session featured both vocal and violin recitals. Nishita's Yaman-based presentation and Ojasiya's Raga Durga-based rendition were mellifluous. Ipsha Menon sang a composition based on Kafi while Shriya sang one based on Behag with great care. Aadi played Raga Jaunpuri and Ishita Patel the Yaman on the violin. Sanjhbati sang a composition in Madhuvanti. Shivani Sharma's vocal execution in Jog and her violin recital in Yaman were enjoyable. Aadi Kale, a young talent, presented the Khamaj Bahar and Shubhanan Kulkarni the Darbari, respectively. Sruti Sarathy's Bageshree concluded the celebration.  
The Eastern Zonal Cultural Society and Kalakshetram celebrated 74 years since Independence with the dance-drama,"Mahamanaber sagor teerey", which was broadcast digitally to maintain pandemic restrictions. The performance was a beautiful portrayal of India's freedom struggle, with special focus on the eastern part of pre-independent India. The verses and songs of Bankim Chandra, Rabindranath Tagore, D.L. Roy, Mukunda Das and Nazrul Islam were an important part of the performance and the journeys of freedom fighters like Khudiram Bose, Prafulla Chaki, Surya Sen and Pritilata were captured aesthetically.
Dance performances to "Vande mataram" and "O amar desher mati" caught the audience's attention as did Aditi Gupta, Suchhanda Ghosh, Debangshu Mukhopadhyay, Debadrito Chattopadhyay and Chirantan Banerjee. The choreography by Sushmita Bhattacharya was crisp, and the accompaniment by Biplab Mandal, Subrata Mukhopadhyay, Shubham Kanjilal and Sayan Guha elevated the mood. The spontaneous narration by Shubhadip Chakraborty and Meghna Nandy added a new dimension to the offering.
The musical fraternity was recently left shocked by the loss of the popular percussionist, Shubhankar Banerjee, who fought a long battle against Covid-19. The city remembered a recent performance by the artist at the Sarod Festival held at G.D. Birla Sabhaghar. Banerjee, as always, had provided beautiful accompaniment to Majumder, who performed Behag, Lalita Gauri and Lalita Sohini in his spontaneous style.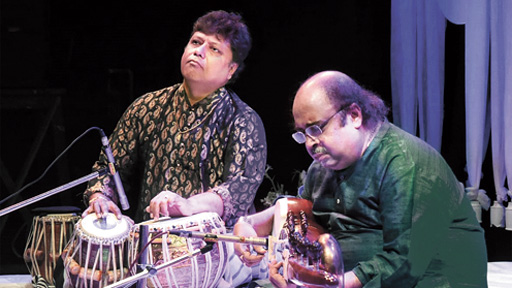 Among the other participants, Pratyush Bandyopadhyay's rendition of Puriya Dhanashree and Hambir, Vasant Kabra's Yaman Kalyan and Pilu, and Narendranath Dhar's Shuddha Nat, Jaijayanti and Bhairavi were appreciated by the audience. However, Madhuwanti, Pahari Jhinjhit and Mishra Kafi by Siraz Ali Khan as well as Parthasarathy's Nayaki Kanara could have been better. The support provided by Abhijit Bandyopadhyay, Bikram Ghosh, Arup Chattopadhyay and Sanjay Adhikari on the tabla was perfect.