A shadow of the original
Basuki Dasgupta's virtual exhibition of mixed media paintings titled Everyday Goddesses is being hosted by the Bangalore-based online gallery KYNKYNY.com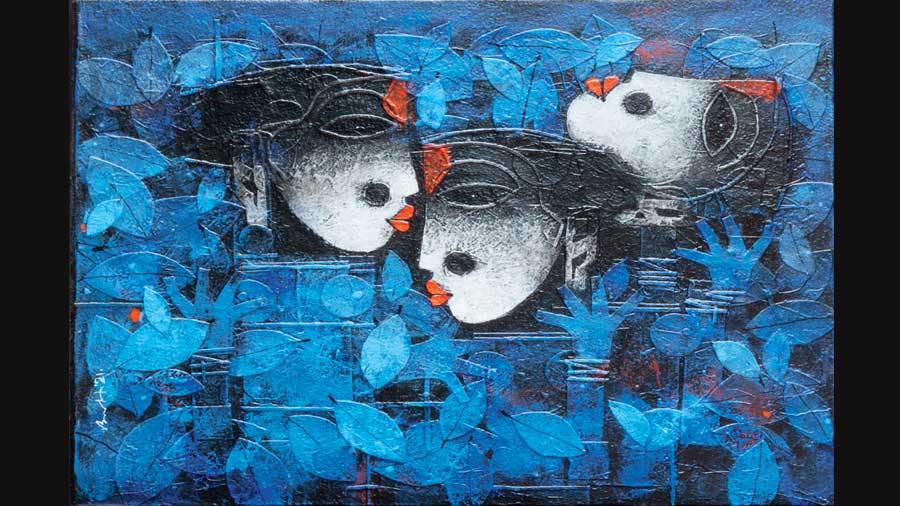 ---
Published 11.09.21, 12:35 AM
|
---
Bishnupur is widely known for its beautiful terracotta temples dating back to the 17th century. These are covered with a profusion of exquisite bas-relief panels depicting narratives from Vaishnava texts as well as those connected with other Hindu deities as well. Basuki Dasgupta, whose virtual exhibition of mixed media paintings titled Everyday Goddesses is being hosted by the Bangalore-based online gallery, KYNKYNY.com, grew up in Bankura. He was trained as an artist in Santiniketan and was apparently inspired by his mother, who symbolized Shakti for him. Like Durga, she single-handedly managed all the housework and even daubed paint on the walls of their home. Dasgupta is a lover of Baul music as well. This is quite natural. Baul music flourished in this region of red laterite soil. Women such as his mother should have been the theme of his works but, title notwithstanding, it turns out to be something quite different.
In his works, mostly monochromatic with dashes of colour, Dasgupta has followed the Bishnupur terracotta temple technique quite literally, inasmuch as he slathers thick layers of paint, tracing the contours of the faces of what look like indigenous people and of other images borrowed from nature in a manner suggestive of the layout of tiles. But there the resemblance of Dasgupta's rather tedious works to the Bishnupur temples begins and ends. They have neither the striking variety nor the intricacy of the terracotta panels.
Dasgupta reduces the human figure and the decorative elements that he introduces to their basic forms, executed with a few rudimentary lines. Thus, a human face — be it in profile or full frontal — turns into an ovoid form or a mango-like shape with a broad nose (generalization of indigenous people's facial features) and bright red bee-stung lips. A gigantic red bindi is added on the forehead of these women such that the human body approximates a geometric figure. These may remind one of rustic deities. There are single figures and they come in small groups as well. Their hands and arms have the short and stubby fingers of puppets or dolls. Depicted against the backdrop of grey tiles, these human figures are daubed with bright red, green and blue or appear in stark black and white. Instead of being symbols of power as the artist's mother may have been, these become decorative elements, helpless beings without any volition of their own. The sole Ganesha painted vermilion accentuates the prettifying intent.  
Viewers of a certain age will recognize in Dasgupta's figures throwbacks to a style that was popular among artists in the late 1960s and 1970s. It has resurfaced from time to time in the works of some artists. These are visual equivalents of muzak — soothing music played in hotel lobbies. They have none of the strength and energy of the human figures that animate the patachitras created by folk artists.
Dasgupta's pure geometric forms in imitation of the terracotta temple ornamentation are better conceived. So are his paintings of thick foliage.