A congregation of ideas
The Centum Series — Edition 2 (June 11-17), was a 'virtual show that opens a window to a tantalising glimpse of the extraordinary depth and breadth of the scope and variety of Indian modernism'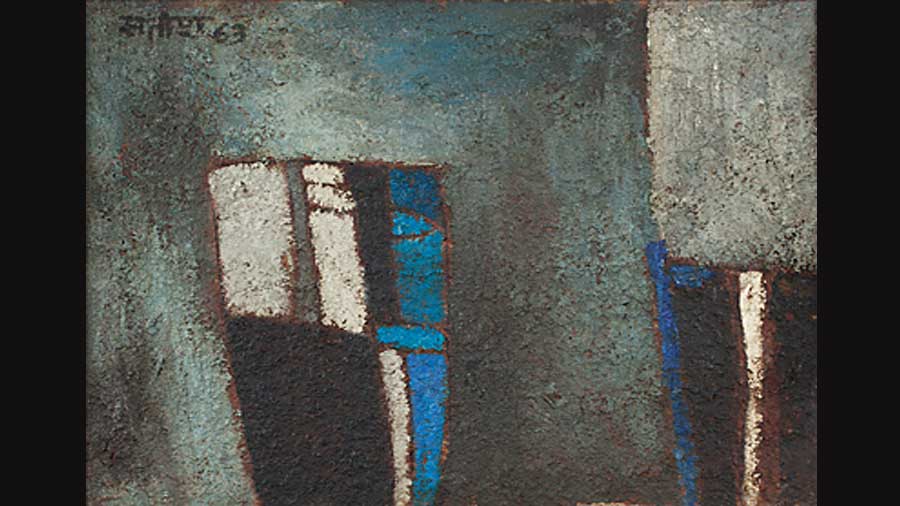 ---
Published 24.07.21, 01:22 AM
|
---
Delhi Art Gallery's exhibition, The Centum Series — Edition 2 (June 11-17), was a "virtual show that opens a window to a tantalising glimpse of the extraordinary depth and breadth of the scope and variety of Indian modernism", to quote the press release. Opened in 1993, DAG is known to have amassed a prodigious collection, mopping up everything that was for sale or whatever came its way. Thus, the exhibition featured more than 100 artists and a more or less equal number of works by artists ranging from acknowledged masters to practitioners less known, who may nonetheless have been interesting for various reasons. Quite understandably, the exhibits were in a wide variety of mediums. With an exhibition on such a scale, it was well nigh impossible to assess if it was representative enough.
After all, how does one react when one is confronted with a Thomas Daniell, a Kalighat pat, an Early Bengal oil painting, drawings by Nandalal Bose and M.A.R. Chughtai on one hand, and Bose Krishnamachari, Jogen Chowdhury, Bikash Bhattacharjee, Satish Gujral and Partha Pratim Deb on the other? It was as if DAG had dumped all the works together into one gormless show.
Of the graphic arts, there was one intriguing Krishna Reddy titled The Clown and the Flying Swans, and another Lalu Prasad Shaw, but at the same time there was an unprepossessing work by Ananda Moy Banerji. There were some sensitive landscapes by the likes of Gopal Ghose, A.H. Muller, Manu Parekh (eroticized cityscape), Indra Dugar, Chittaprosad, Nikhil Biswas, Radha Charan Bagchi, Prokash Karmakar and M.K. Parandekar. But Ajit Gupta's red flowers (supposedly canna) looked amateurish. What did Dattatraya Apte's complex and whimsical apparatus signify? It seemed to have borrowed a head mask from Spiderman.
There was one rather crude painting by Altaf, contrasting which was R.M. Palaniappan's sophisticated work. The sculptures by Prodosh Das Gupta, Sankho Chaudhuri (elegant), S. Nandagopal, K.S. Radhakrishnan, too, were arbitrarily chosen. A haphazard trajectory.