Open sesame
At Birla Academy's show, The Eye Within, Louise Bourgeois originals were in company of posters and prints of Dufy and Toulouse-Lautrec, Miro, Rodin and Chagall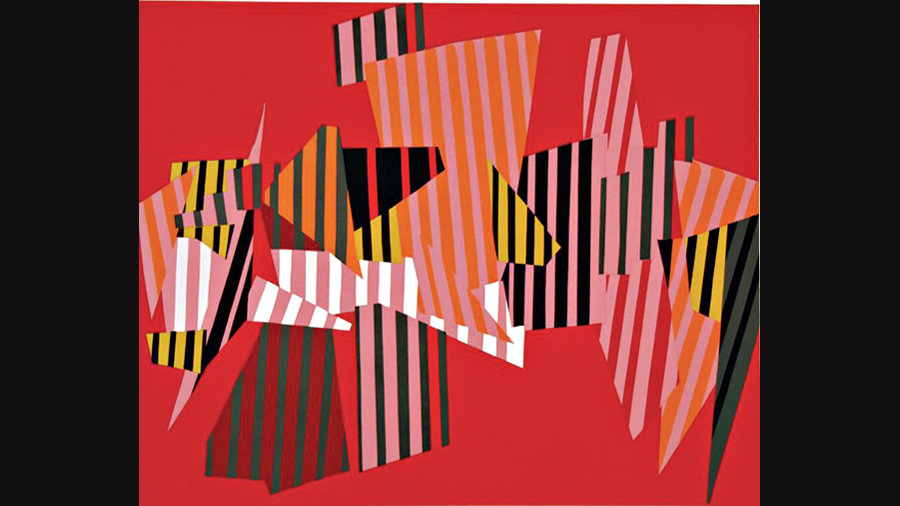 An artwork by York Wilson.
Birla Academy of Fine Arts
---
Published 05.06.21, 12:30 AM
|
---
The viewer of Birla Academy's show, The Eye Within, that was on till May 9 — largely coinciding with the monstrous second wave of Covid infections, ruling out a physical visit — may be forgiven for feeling as dizzy and dazed as Kasim did in Ali Baba, lost amid the loot in the bandits' cave. Kasim, the latter's elder brother, couldn't decide where to pause, what to pick up, what to pass over. The curator, possibly, had also been wracked by a similar dilemma. Hence, the institution's rich and varied international collection on view — of originals and reproductions, both art and crafts — accommodated with a rather indiscriminate catholicity eras and regions, leading to a problem of plenty.
Louise Bourgeois originals were in the company of posters and prints of Dufy and Toulouse-Lautrec, Miro, Rodin and Chagall. A 12th-century bronze Buddha from Nepal and a Dhakai jamdani sari from the 19th century, each unique in its own context, confounded the confusion. In fact, the line-up of Buddhist treasures — art and manuscripts — demanded a separate show, undated though much of it is. Since the Buddhas and Boddhisatvas — figures, that is, not symbols — could not be earlier than 1 CE, the oldest piece of the show was an Egyptian sculpture, dated 1000 BCE. That was something. At the other end of the range, Bani Abidi, Julien Segard and the performance videos of Nezaket Ekici and Shahar Marcus reflect contemporary zeitgeist quite tellingly.
 What does such a panoramic collection reveal about the art institution that was started in 1967, more than 35 years after the first such venture in the city, which had become the Academy of Fine Arts, still the hub of highbrow buzz? Firstly, that, instead of following the pioneer by remaining Bengal-centric, it intended to be reckoned in town as the leading patron of art, both Indian and international, a reputation enhanced by its landmark Rodin show. Secondly, that it has been acquiring works steadily over the years to keep abreast of changing trends. And, thirdly, that the neighbourhood isn't ignored. Chughtai would be an automatic pick; but Bangladesh, Sri Lanka, Thailand, East and Central Asia are represented as well.
The intriguing fact is that an informed choice was made in buying non-objective art, mostly from the United States of America and Canada. But it's not the Rothkos or Pollocks: recognized names that would easily claim a buyer's first focus; they may have been way too pricey by the time the acquisitions were made. Assembled, instead, is a line-up of lesser-known abstractionists: Henry Pearson and Mary Abbott, Jean Xceron and John Sennhauser, Anthony Krauss and Ilya Bolotowsky, York Wilson (picture) and the Klinesque Raymond Hendler, the better known Tony Rosenthal and Hedda Sterne and the British artist, Ben Nicholson, among others, some with biological roots in Europe, but most owe a spiritual debt to Malevich and Mondrian. Europe, of course, cannot be ignored. So you also saw Lars Ahlstrand and a handsome suite of serigraphs from Olle Baertling in which Mondrian's austerity is re-invented into a sharp, strident pre-Pop avatar.
No doubt, the institution was guided by the awareness of how the art axis had migrated to the other side of the Atlantic after 1945. There seems to have been a clear policy of tracing the post-war modernism that bloomed in America. This smart strategy was thus able to present a coherent series that is fairly representative of the vibrant 1950s and 1960s before Pop art reset the narrative, as did Fluxus in Europe. Perhaps the next time around, the collection could be presented as separate, well-researched segments with a specialist's insights and a scholarly catalogue.