An eclectic feast: More than hundred maestros online
VISUAL ARTS: The series was a comprehensive refresher course on Indian modern art, following no chronological or geographic order, hopping from era to era and region to region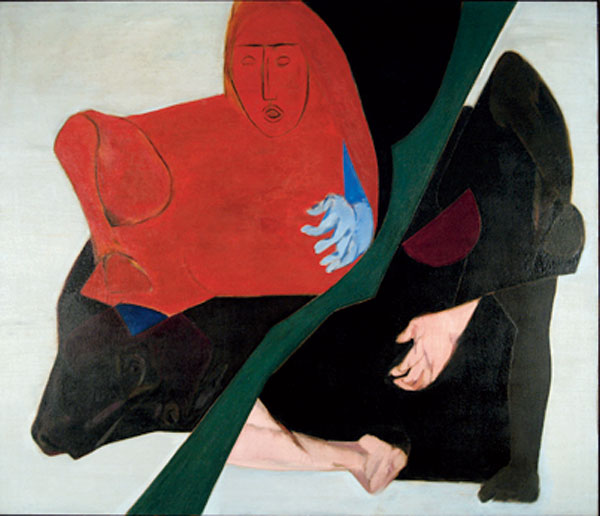 ---
---
Over 46 days from April 15, Birla Academy treated those in isolation during the lockdown to a serialized art feast comprising works by around 108 artists, almost all of them taken from its own collection. The online series was a comprehensive refresher course on Indian modern art. And like many refreshers, it followed no chronological or geographic order, hopping from era to era and region to region to offer an eclectic menu.
While trail-blazers from Bengal like Rabindranath and Gaganendranath Tagore, the Santiniketan stalwarts and Jamini Roy were, inevitably, included, there were also those masters from the other parts of the country who rediscovered and debated India's plural visual heritage and scrutinized the Western avant garde with a healthy openness to forge a robust, distinctive modernism.
If Ravi Varma represents an early adoption of Western technique for Puranic themes, as in Maneka and Shakuntala, in the tradition of the Company School, at the other end of the spectrum belong the abstract and semi-abstract experimentalists such as Gaitonde — whose soiled orange in the representative painting here has an undertow of sinking unease — and Ram Kumar, later joined by Raza and the younger Haloi and Palaniappan. It's noteworthy that India's vibrant syncretic culture inspired both Raza and G.R. Santosh to explore Hindu philosophic ideals. And though tantric symbolism surfaces intermittently elsewhere, no other artist imbibed it as deeply as did the Kashmiri painter. Noticeable, too, is the contrast between the primitivist simplification of Swaminathan's captivating landscapes and the urban angst captured by Tyeb Mehta (picture) and Souza.
What is of particular interest is the focus on some remarkable women artists, not all of them Indian. Like the redoubtable Louise Bourgeois. Another welcome inclusion was Amina Ahmed Kar — who became a recluse — though it was only the cover of her book, Angkorian Records, that was on view. Not surprising since there are hardly any of her works available now. The maverick Meera Mukherjee was, of course, part of the series. And it also recognized two exceptional contemporary talents: Gauri Gill for her intimate, intricate realism of the lens; and Pushpamala, whose subversive satire can singe hyped rhetoric as much as gender and racial arrogance.