Dark colours in furtive depths
VISUAL ARTS: The artist balances creative instinct with cerebral intent, leaving a fair leeway for chance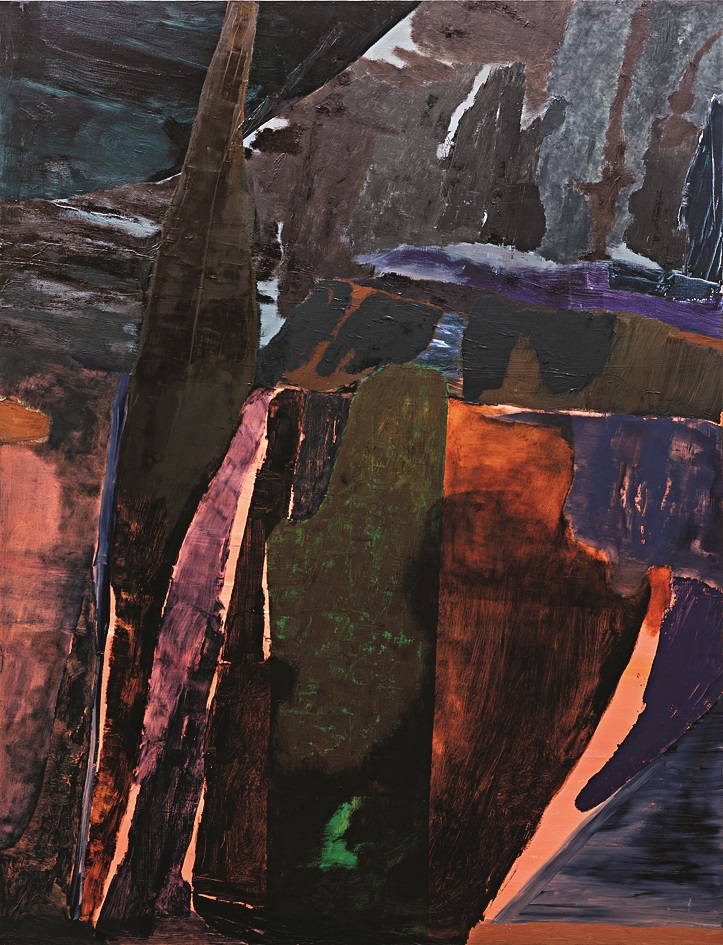 Sirens, and oil painting by Biraaj Dodiya.
Experimenter
---
Published 16.05.20, 12:06 AM
|
---
Confronting the viewer on the wall across the entrance to Experimenter Gallery (Gariahat) is this 78" X 60" oil on linen, Sirens . Obelisks of scabby greys, browns and sooty greens sheath a raw flesh straining beneath, thickets of dark paint are in a slow churn above and, in this ashen, palpably unstable geological theatre, there run these startling gashes, long and luminous, the captivating colour of tender wounds. As though the earth were gored and ripped open, oozing lava, a strange, viscous, orangey pink lava: blood from the earth.
Biraaj Dodiya's fluent architecture of strokes intimates premonitions of an apocalypse: sirens warning of doom. But the title of the solo show, Stone is a Forehead, is a line from Lorca's long poem, Lament for the Death of Ignacio Sánchez Mejías, a celebrated matador and his friend, who was gored to death in the ring. And that suggests an immediate context so that the work also becomes, in its affective power, a visual correlative of the emotional upheaval the poet-dramatist pours forth in the poem.
Dodiya is a young, Bombay-based artist who's keenly tuned in to the polyphony of paint, coaxing a range of registers from it, artfully teasing its body to whip up a tectonic dynamism. The dark colours and furtive depths, the dissonance of little slivers of highlights or distant glimmers of bright tones that signal counterpoints of motion and receding spaces, the jostling layers of paint and the restless, cunningly varied textures pulsate with an unexpected syncopation of rhythm in her oils. The Night Illuminates the Night, Skin of the Sea, Folded Sky, Veiled Gates are a few that can be cited. Another remarkable work is Memory Fume which, like all her paintings, needs to be seen up close to savour the subtle skirmish of bristles and inflected tones, elusive formations and the visceral charge of the strokes.
This visceral charge comes not so much from the movement of myriad atelier tools on paint as from an intensity of focus that brings Rothko to mind, most clearly in the eponymous work. At 30" X 22", Stone is a Forehead is smaller, and in a subdued baritone. The finely ridged blue-blacks and greys accentuate the material thingness of oil to lock into a brooding pause of penance, as it were. The artist has reined in the Hispanic extravagance of emotion in Lorca's poem and its vivid, staccato metaphors to distil its pain into a fervent stillness. So that emptiness becomes substance, and a dense absence permeates the shallow space, as Time is suspended the way it is in the poem through the insistent, agonized refrain of 5 o'clock.
The artist balances creative instinct with cerebral intent, leaving a fair leeway for chance. Hence, found objects become part of her vocabulary, sometimes paired with paintings. These objects — a door, perhaps, or a floor board or a narrow beam — torn away from their context, lose their functional identity and become forlorn discards rife with memory, for they carry associations of the past in their bruises. And Bruise is the title of Ramp 1: a weathered plank sweating a scarf of frozen resin, with a rubber tube snaking down to knee braces that look like snakeskin, it plays on the contrast of shapes, substances, textures and suppleness. The ramp slopes up to a painting with subterranean blacks, a stream of agitated greys, and folded strata of textured browns that lean precariously in an impending flux. Ramp 2 makes a steeper climb to a painting of meditative poise. But it's Ramp 3 — emaciated, bereft, abandoned on the floor — that alludes to an endgame repose.
The show can be viewed online till June 30.