Hits and misses
Ashokenagar Natyamukh's theatre space, Amol Alo, has emerged as an attractive performance hub, complete with a library, a café, a rehearsal and performance arena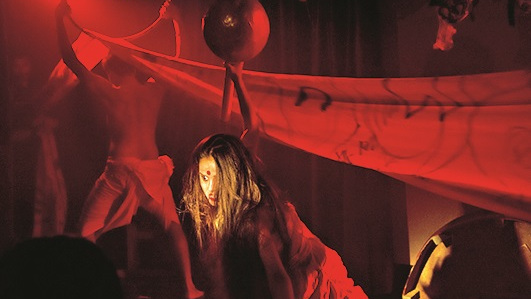 A moment from the play, Kuhakini Birratri.
Dipankar Sen
---
Published 13.02.21, 02:00 AM
|
---
Although Bengali theatre is yet to fully recover from the body-blow dealt by the Covid-19 lockdown, some stirrings signal hope. One such phenomenon is the noticeable spurt in the number of new theatre spaces, especially in the mofussils. These infrastructures are allowing the mofussils — always a fertile nursery of theatrical talent for export to Calcutta — to incentivize theatre performers to practice their art locally, as opposed to exclusively in Calcutta. Ashokenagar Natyamukh's theatre space, Amol Alo, has emerged as an attractive performance hub, complete with a library, a café, a residential cum rehearsal area and, of course, a performance arena. A testimony to Amol Alo's popularity among theatre groups and audiences alike has to be the fact that practically all evenings since December 2020 have seen the space bustle with theatrical activity.
A big positive of a venture like Amol Alo is that for audiences in Ashokenagar and surrounding areas, theatre is now accessible in the neighbourhood. If theatre has moved one step closer to people, the Ashokenagar audiences have also responded supportively by turning out in numbers for the shows, as was evident December 17, 2020, when Amol Alo hosted a home production, Kuhakini Birratri.
 Dramatized (from a short story) and directed by Avi Chakraborty, Kuhakini Birratri is a mixed bag of hits and misses. In the opinion of this reviewer, two aspects of the production — both belonging squarely in the realm of directorial responsibility — require a relook. Various components of the design (such as the mode of acting, light design and the ambient soundscape) need to be suitably calibrated to not come across as incessantly loud and garish in the relatively small-sized performance space where actor and performer share physical proximity. The other aspect demanding revision has to do with restraining the urge to manufacture eye-candy moments by relying on an idiom that is copied from cinema and pasted onto theatre.
 The best part of the play has to be the impressively fluent performance of almost all the actors, with Saswati Das standing out with her interpretation of a layered, challenging character.