The Victoria Memorial Hall in tandem with the Delhi Art Gallery held a rare exhibition, An Inheritance of Imaginations (August 7-September 6), virtual though it was. Rare, because, probably for the first time, select paintings of three prodigiously gifted siblings of the Jorasanko Tagore family, who were the two nephews (Gaganendranath and Abanindranath) and a niece (Sunayani Devi) of Rabindranath, were being displayed together. While Gaganendranath (1867-1938) and Abanindranath (1871-1951) are renowned as artists and writers, Sunayani Devi (1875-1962), has lived in relative obscurity.
While viewing the images (not high resolution) one was dismayed at the number of important works with private galleries, collectors and auction houses. Given the prevailing indifference of governments and organizations like the National Gallery of Modern Art to acquire modern Indian art, there is a real danger of the market appropriating the responsibility of "writing" history, and the aesthetic and cultural worth of a work being overshadowed by its value in sale rooms. The huge DAG exhibition of Bengal art at the Currency Building was littered with glaring errors stemming from blissful ignorance. Since the Victoria Memorial collection (on a permanent loan from Rabindra Bharati Society) was clubbed with DAG's, one hopes that those errors were corrected.
All three artists flourished in the cultural hothouse that was Jorasanko Thakurbari, and although they never travelled beyond the borders of India, they kept abreast of developments in the international art scene. Their libraries were stocked with the latest publications, and intellectuals and artists from all over the world would drop by at Jorasanko and sojourn there as well. They were trailblazers of Indian modernism, who sought inspiration in indigenous traditions and avant-garde art, rejecting colonial art education and academism.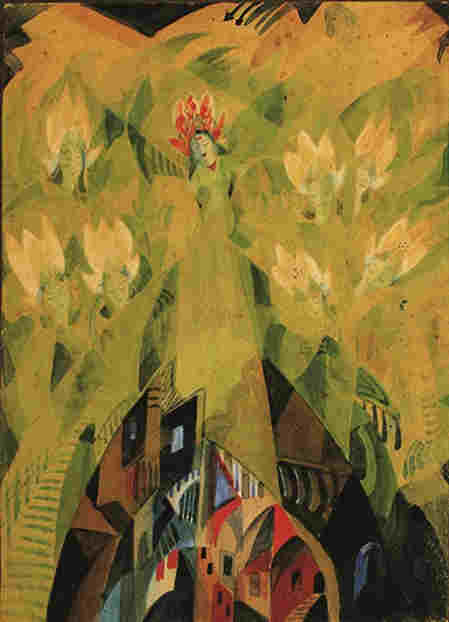 Sat Bhai Champa by Gaganendranath Tagore. Victoria Memorial Hall and Rabindra Bharati Society
It is well known that both Gaganendranath and Abanindranath adapted stories culled from world literature and gave them vernacular identities by relocating them to the world the two brothers inhabited, and peopling them with characters they encountered in everyday lives. The former's Bhondor Bahadur and the latter's Budo Angla are well-known cases in point. The creativity of both brothers found expression in the varying styles they had mastered, often by watching guest artists from Japan at work for they never really had any formal training. Gaganendra's cartoons excoriating societal iniquities were quite different from his evocation of scenes from Rabindranath's memoirs, Jibansmriti, in the wash technique he developed by watching Japanese artists as well as his individualistic experimentation with Cubism as he conjured up interiors with their mysterious interplay of light and shade and angular planes, and his more colourful paintings, where the view of a mythical Dwarka and the little girl and her seven brothers transformed into seven champak blooms (picture, bottom) are visualized as a burst of kaleidoscopic hues.
Abanindranath was a protean genius, master draughtsman and raconteur with a keen sense of humour. He excelled at retelling popular stories of Krishna, for instance, his life and his feats in various styles from Indian miniature to Odisha folk. When he reimagined the Arabian Nights, he shifted the scene to his neighbourhood Chitpur with startling effects.
Sunayani Devi, the first Indian modern woman artist, practised art for a short period of time. Using soft earth tones, her charming paintings in wash technique of Hindu deities resembling folk toys and luminous maidens (picture, top) ushered viewers to her cloistered inner world. Her innocence stood up against authoritarianism.