Reading it right
THEATRE: Calcutta Club presents Jerome Kitty's Dear Liar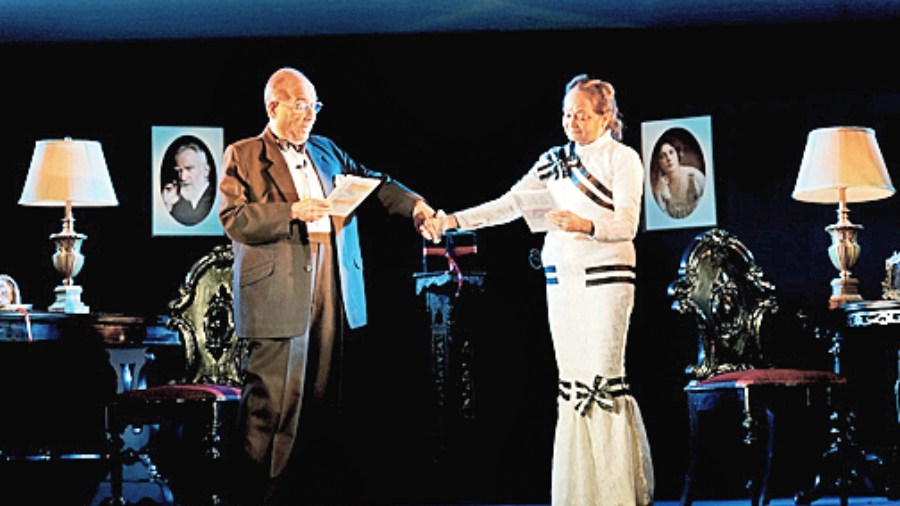 A moment from Dear Liar
Ashok Banik
---
Published 12.02.22, 05:21 AM
|
---
Dramatized reading, among the neglected forms of theatre in this part of the world, is gaining admirers amidst the pandemic. Keeping Covid-19 protocols in mind, it seems tailor-made for the period when theatre-going limps back to normal. Calcutta Club, among the last patrons of English language theatre in downtown Calcutta, presented a dramatized reading of Jerome Kitty's Dear Liar on December 11 at their air-conditioned auditorium. Members and guests approached the performance venue with an element of trepidation in their minds. The flexible proscenium set-up, boosted by good acoustics and light arrangements, made one eager for a fulfilling evening.
Essentially a comedy of letters inspired by four decades of correspondence between George Bernard Shaw and the actress, Mrs Patrick Campbell, this James Kitty play has seen many stage adaptations since it was published in 1957. It motivated many more, including Javed Siddiqui's Tumhari Amrita and Kishore Chatterjee's Clara. This time, Pradip Mitra and Piali Ray teamed up to guide us through the highs and lows of the relationship between the playwright and his favourite actress — the original choice for Eliza Doolittle in Shaw's Pygmalion. The actors, dressed in period costumes, settled themselves on two sides of the proscenium. The Victorian-era writing desks, chairs, lamp shades, photo frames, and framed photographs of Shaw and Campbell hanging on the walls completed the picture.
Directed by Ray, the production banked heavily on direct reading from the script, held together by spiral binding. As they concentrated on the printed words, occasionally interjected by glances at the audience and thoughtful looks here and there, and musical interludes, the presentation demanded optimum concentration from the audience. Judicious editing helped nonetheless. Post-intermission, the actors decided to step down a bit and brought the apron stage alive. This proximity worked. Mitra brought a sense of solemnity to his part, missing the humour at times. Ray was self-assured in her part, especially in the poignant passages reflecting Campbell's struggles in the US, and death in France.
As nostalgia reigns over contemporary Calcutta theatre, one wishes someone would attempt dramatized readings of epistolary exchanges between Rabindranath Tagore and his muses.