What the anthem teaches us, but we've failed to learn
The forgotten verses of Tagore's 'Bharata Bhagya Vidhata' are what the nation should stand up for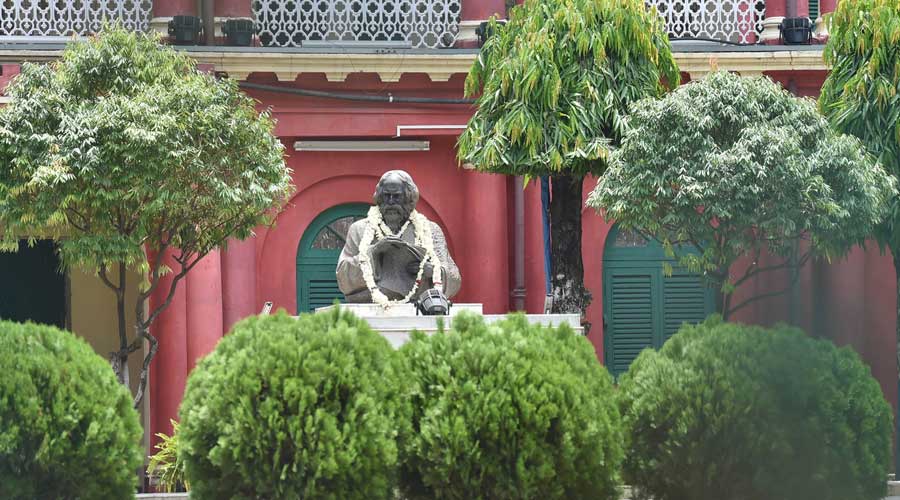 Jorasako Thakur Bari, the ancestral house of Rabindra Nath Tagore, looks deserted on his birth anniversary during the nationwide Covid-19 lockdown, in Kolkata, Friday, May 8, 2020.
PTI
---
Calcutta
|
Published 08.05.20, 03:41 PM
|
---
Almost 160 years ago, within the lime, mortar and brick walls of a villa in Jorasanko, a man was born. A man who never promised a covenant. Yet, the commonsensical literal significance of his last name has assimilated the cultural into the religious; a super canonization of sorts. Maurice Blanchot writes how "the citizen in us" is always rendered "merely" as "the indefatigable watcher of pictures." They use pictures to communicate. At every Rabindra Jayanti celebration (hopefully all online in these times), pictures are all around. Garlanded images of Tagore, or "thakur (meaning god in Bengali)", with incense and lamps burning, are accompanied by a spread of sweets or fruits just like offerings during any puja. But in making Tagore a god, a tour de force robbed of all things vital and human like vulnerability, fallibility, grief, anger, something very important has slipped under.
Incidents of people, who chose not to stand during the National Anthem at cinema halls, being bullied, heckled or even abused have been rife in India. In 2017, a disability rights activist from Guwahati met with a similar incident. Arman Ali – he is disabled – was abused for not standing up during the National Anthem in a city cinema hall. In 2018, the Supreme Court ruled that playing the National Anthem should be optional in cinema halls. The ruling talked about "showing respect" but did not spell out if that meant standing up during the playing of the National Anthem. Yet such instances haven't stopped. Even as recently as in January 2020, a young woman was heckled in a Calcutta cinema hall by a group of older women for choosing not to stand up during the anthem.
By embracing the clinicality of blind diktats born out of absolutism, we continually do disservice to the genius, wisdom and foresight of Tagore. After all, he wrote Bharata Bhagya Vidhata, though not as an anthem. Like our collective memory has obliviated the flesh and blood Rabindranath, the organic nature of his literature, it has also let go of a few of his verses - the remainder of Bharata Bhagya Vidhata which none of us sing and stand up to since these verses are not among those that make up the anthem. It's time we "stand up" for them as well.
The facilitator of mass unity
অহরহ তব আহ্বান প্রচারিত, শুনি তব উদার বাণী
হিন্দু বৌদ্ধ শিখ জৈন পারসিক মুসলমান খৃস্টানী
পূরব পশ্চিম আসে তব সিংহাসন-পাশে
প্রেমহার হয় গাঁথা।
জনগণ-ঐক্য-বিধায়ক জয় হে ভারতভাগ্যবিধাতা!
জয় হে, জয় হে, জয় হে, জয় জয় জয় জয় হে।।
Your calls resound, we hear your words of tolerance
We Hindus, Buddhists, Sikhs, Jains, Parsis, Christians
As the east west converge beside your throne
We weave a garland of love
You, who marches a people to collective unity
Victory to you the spirit of Bharat
On the morning of February 25, 2020, the third day of violence in Delhi, several Twitter users shared a 30-second video of a group of five men, who appeared to be injured and lying on the road, being surrounded by police personnel in riot gear. One of the men is shown to be bleeding. The video shows a policeman capturing the incident on his phone camera as a protester is being made to sing the National Anthem. As this is happening, a voice is heard saying, "sing Vande Mataram", while another is shouting an expletive. A third person standing up is heard, apparently taunting the men to shout "aazadi" (freedom), a popular slogan used during protests against the Citizenship (Amendment) Act.
A couple of months earlier, as the clock struck 12 on 31 December 2019, the crowd at Shaheen Bagh, the longest sit-in protest spearheaded by Muslim women against the law, burst into a cheer to greet fellow protesters into the new year. Moments later they broke into the National Anthem in unison, following it up with slogans of "inquilab zindabad". A path to progress
পতন-অভ্যুদয়-বন্ধুর পন্থা, যুগ যুগ ধাবিত যাত্রী।
হে চিরসারথি, তব রথচক্রে মুখরিত পথ দিনরাত্রি।
দারুণ বিপ্লব-মাঝে তব শঙ্খধ্বনি বাজে
সঙ্কটদুঃখত্রাতা।
জনগণপথপরিচায়ক জয় হে ভারতভাগ্যবিধাতা!
জয় হে, জয় হে, জয় হে, জয় জয় জয় জয় হে।।
We have walked the chequered ways of life for ages
Guided by the luminance of your vehicle
And even amidst the clamoring of joyous revolution
We hear your clarion call, you who deliver us from peril and sorrow
Victory to you who guides us to progress, victory to you the spirit of Bharat
People from the northeast are the worst affected by racism in India. Even in the wake of the Covid-19 outbreak, students from northeastern states in New Delhi, Bangalore and Hyderabad, among other cities, have had to face discrimination. One man allegedly spat on a girl from the northeast at Kalina Market in Mumbai in April 2020, calling her "corona". 
The other day (May 2020), Indian woman footballer Dangmei Grace of Manipur, who was adjudged the Emerging Player of 2019 by the All India Football Federation (AIFF), said, "I think the people whoever thinks that we are from other countries, they need to think twice that we have the same language and same National Anthem. So, instead of putting racism against the northeastern people, I think they should realise we all are the same. This will be better for everyone."
For a better tomorrow
ঘোরতিমিরঘন নিবিড় নিশীথে পীড়িত মূর্ছিত দেশে
জাগ্রত ছিল তব অবিচল মঙ্গল নতনয়নে অনিমেষে।
দুঃস্বপ্নে আতঙ্কে রক্ষা করিলে অঙ্কে
স্নেহময়ী তুমি মাতা।
জনগণদুঃখত্রায়ক জয় হে ভারতভাগ্যবিধাতা!
জয় হে, জয় হে, জয় হে, জয় জয় জয় জয় হে।।
রাত্রি প্রভাতিল, উদিল রবিচ্ছবি পূর্ব-উদয়গিরিভালে –
গাহে বিহঙ্গম, পূণ্য সমীরণ নবজীবনরস ঢালে।
তব করুণারুণরাগে নিদ্রিত ভারত জাগে
তব চরণে নত মাথা।
জয় জয় জয় হে জয় রাজেশ্বর ভারতভাগ্যবিধাতা!
জয় হে, জয় হে, জয় হে, জয় জয় জয় জয় হে।।
During the bleakest of nights
When the country was sick and in swoon
Wakeful remained your incessant blessings
Through nightmares and fears
You protected us on your lap
Oh loving mother
You who deliver us from misery
Victory to you the spirit of Bharat
The night is over, the sun has risen
Over the hills of the eastern horizon
The birds are singing, and with a breeze that purifies
We drink from the fountains of life
Guided by your compassion,
Bharat is waking to glory
We bow to you
Victory to you, victory to you the spirit of Bharat
In August 2019, JD(U) leader Ajay Alok tweeted that the Indian National Anthem had been declared "best in the world" by the United Nations Educational, Scientific and Cultural Organization (UNESCO), and revived a hoax that went viral first in 2008. His post was circulated widely on Facebook, Twitter and WhatsApp. UNESCO has never even pondered the idea to rate national anthems from around the world. After all, who would want to be part of such a crass and counter-productive exercise?
We live in a post-truth world, surrounded by deep fakes and spurious WhatsApp forwards. One cannot be sure about anything. Hence, fact checks are mandatory. But no fact check is needed to iterate the ethos and sentiments preserved in the National Anthem. It's very definition resists regimentation. So, while paying homage to Tagore and his anthem, let's not merely stand up. Let's stand up for what they enshrine.