Primal bond
Kurbaan dramatises the Sarat Chandra Chattopadhyay classic, Mahesh, a supremely popular tale about a philozoic attachment between man and cow amid extreme exploitation and deprivation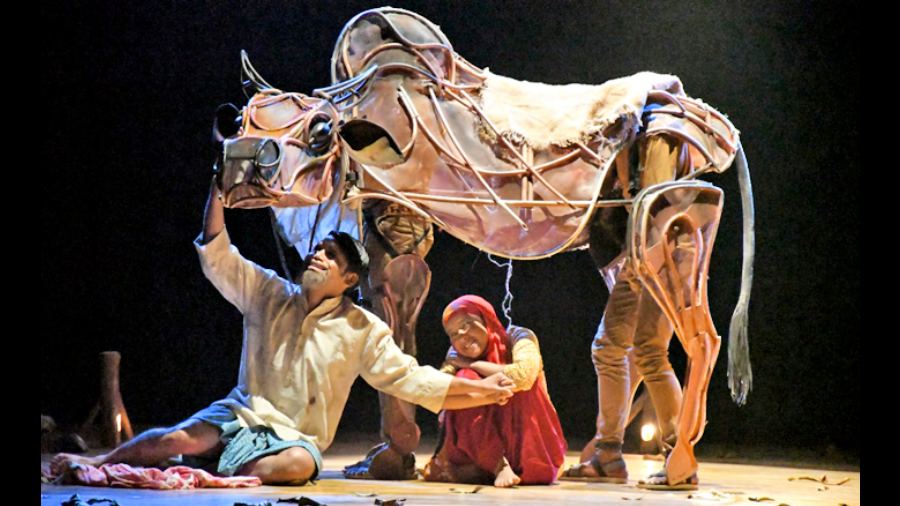 ---
Published 10.09.22, 03:07 AM
|
---
Kurbaan, produced by Thakurnagar Pratidhwani, has gloriously foregrounded a rather under-explored aspect of theatre — the interface between puppet and human actors. There exists in West Bengal a strand of puppet theatre, practised robustly by groups such as Dolls Theatre (Calcutta) or Silpanjali (Gobordanga), in which puppets dominate the action. Then there are occasional productions that will employ puppets fleetingly. But Kurbaan is different as it is built around a scrupulously equal synergy between puppet and human actor. The director, Bhaskar Mukhopadhyay, has done a laudable job of enriching theatre through a voracious feeding off the technology and technique of the allied art form of puppetry.
Kurbaan dramatises the Sarat Chandra Chattopadhyay classic, Mahesh, a supremely popular tale about a philozoic attachment between man and cow amid extreme exploitation and deprivation. Given the centrality of the cow in the narrative, the main challenge in front of anyone dramatising the story has to be a theatrically-effective portrayal of the animal. And this is where Kurbaan scores; the life-size puppet of Mahesh seamlessly takes centre stage along with its human co-actors. The team that has constructed the puppet (Soumyajit and Bhaskar of Scenogrphica) and the one that works it on stage (Arup and Santu) have excelled themselves. While the hyper-realistic shape of the cow is in sync with the form of the play that is peppered with Brechtian breaks, the skilful manoeuvring of the puppet conjures up a remarkable verisimilitude with the real animal, which, of course, is instrumental in stirring the emotions of the audience.
Sumit Kumar Roy disappoints with an act that is too much body and too little soul, faltering when he has to depict a frail, broken Gafur, as the brawny energy he brings to his character seems inapt. Rimil Sen as Amina impresses, effortlessly wringing out the vulnerability of her character. The attempt to offset the emotional integration of man and cow in rural Bengal against the politically-motivated shenanigans of today's cow vigilantes deserves fuller treatment.