Poetic drama
Termed 'shruti drishyayan' (aural visualisation), this presentation format emphasises verbal aspects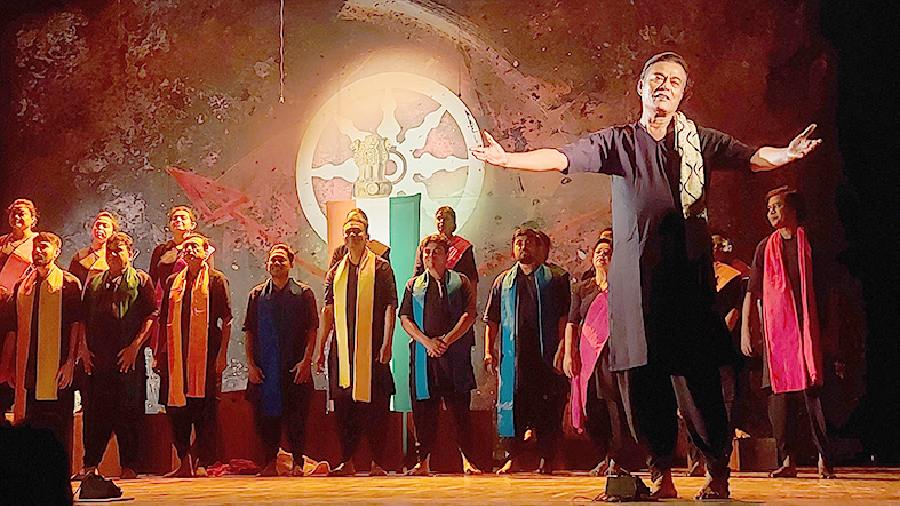 ---
Published 18.03.23, 04:06 AM
|
---
Belgharia Shankhamala, one of the leading elocution groups in West Bengal, loves to indulge in theatre and that too, in good measure. This reviewer has fond memories of experiencing its Jalasrot Katha Kay, about two decades ago, which attempted an ode to the city of Calcutta through poetry down the ages. If Jalasrot Katha Kay was a baby step towards theatre aesthetics, Mahaboidurya, its latest production, marks the group's maturity in engaging the audience theatrically. The January 10 show at Rabindra Sadan was proof of the pudding.
Termed 'shruti drishyayan' (aural visualisation), this presentation format emphasises the verbal aspects. Guided by Sumantra Sengupta, with his decades of experience in elocution, the Shankhamala members first remember their lines, explore the poetic nuances and the character patterns, and then enter the physicality of stage presentation. In Mahaboidurya, written by Amitava Kanjilal, Sengupta collaborates with the theatre director, Biplab Bandyopadhyay.
Bandyopadhyay designs a set that utilises the vast opening of the proscenium and then moves like a funnel, placing the Lion Capital atop the Tricolour deep at the centre stage. He also places wooden blocks in strategic positions to adjust the hierarchical pattern etched in the narrative.
Taking a cue from the Mahabharata, Kanjilal's poetic drama gradually emerges as a courtroom drama wherein all the major players of the epic take the centre stage one by one and field questions from the co-actors who resemble members of civil society. In spite of its archaic Bengali registers, Mahaboidurya holds the audience captive by referring to the events unfolding in contemporary India. There comes a time when key questions remain unanswered. At this point, 90 minutes into the drama, Vyasa (essayed by Sengupta with gravitas) makes an entry through the audience and takes up issues plaguing the country. The promise of a socialist State with democratic principles comes to the forefront; how the ruling class has betrayed the country to satisfy sectarian gains also comes under scrutiny. The play ends with the actors punching their fists in the air, embracing an egalitarian India.