Pandemic introduced Shreya Ghoshal to virtual recording
'Angana morey basically stemmed from my need to do something which is closer to my heart' — the singer on her new single that just released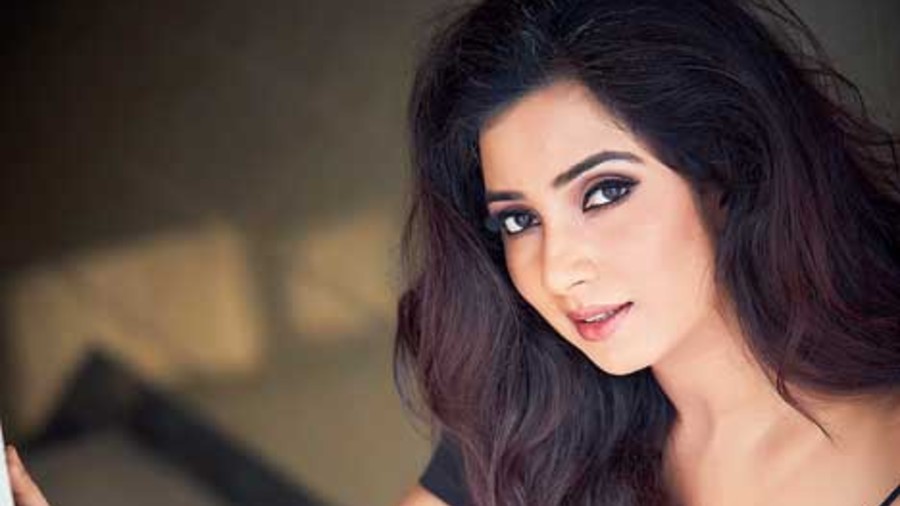 Shreya Ghoshal
Sourced by the correspondent
---
Published 02.02.21, 10:46 PM
|
---
Shreya Ghoshal releases her new single called Angana morey today. The popular singer, who has collaborated with her brother Soumyadeep on the single, chats about the number, the year gone by and what she's looking forward to.
Congratulations for Angana morey. What can you tell us about the song?
This new song is a fun, independent project. It is inspired from the style of a 'bandish', so it's a composition that is slightly classical in nature. I, however, did not want it in just a traditional format and that's why I collaborated with my brother Soumyadeep Ghoshal. He really transformed this song into a very unique experience. There are a lot of modern elements that give it the mood of a trance piece. We had many amazing musicians on board, and also the Budapest Orchestra to give it larger-than-life instrumentation. 
Angana morey basically stemmed from my need to do something which is closer to my heart because in film music, you don't always get to do something experimental like this. It's not just an experiment though, but a very unique blend of genres, and I'm kind of excited, happy and proud of how this song has turned out. 
This is your first song in the pandemic and required you to record virtually with the team bringing it together. What was the experience of making a song like this in the new normal? Going forward, do you think this will become the norm rather than an exception?
This is the first song that I did independently in a virtual format, but otherwise I was constantly working from home during the pandemic and recorded film songs, which will start releasing soon. Virtual recording is a little difficult, but at the same time, it is a new experience for me. I have actually never recorded from home before the pandemic, but now I have set up my home studio and have learnt to record my own voice without an engineer.
Angana morey was created from scratch and was not like the readymade songs that were coming to me for recording. For Angana morey, I was constantly in touch with my brother who lives in the US, so there was a time-zone difference and the ideas were developing during FaceTime and on Zoom calls. All the other musicians were also in different places. Some were in New York, some in Delhi, someone was in Dallas and the Budapest Orchestra was in Hungary. Still, this experience was great fun and there was a lot of learning.
I think people have realised that it's possible to work remotely, but I would not like it to become a norm. I really like being in the studio with the musicians working together. I think that creates a lot of flow in the exchange of ideas. I don't want to be isolated in my home studio and work like this forever. What was it like teaming up with your brother for the song and how alike/ different are the two of you musically?
We have done a song (Nah woh main) once before and this is our second such collaboration together. Soumyadeep's style is very varied as he has had a lot of exposure to all kinds of music. Of course, he has also seen me learn classical music and he learnt tabla in his childhood. Now he is more inspired by Western music, rock, jazz, blues, and all that is contemporary and cutting edge. I think he brings this global perspective to my music and I really enjoy that. He has really opened me up to a different world. Although he has the same roots as me, he adds a completely different dimension to my voice. I am really enjoying this new phase and that's why I want to do more such work with him.
Besides making music, how have the last few months been for you?
Year 2020 has definitely been an eye-opener for all of us. I actually enjoyed being at home and it was a welcome break from the non-stop career responsibilities that I have had for almost 20 years now. I got a lot of time for myself, to be with family, listen to music, learn, get back to riyaaz, think and to be in a very creative space without having deadlines or the pressure of planning how many boxes I have to check tomorrow.
I learnt that I actually like being a normal person and enjoy doing very normal household things like cooking, gardening and cleaning. These simple things really ground you. It is a time for a lot of people to finally focus on things they really enjoy, to pursue their passions instead of just running behind money, material things and careers. There's no peace left in anybody's life and in the choices they make. I think I have really reached that phase in my life where it will be hard for me to go back to the crazily hectic routine I used to have a year or two ago. Not that I'm not missing it, but I will take it easy for sure from hereon.
A lot of us turned to music to help us cope with these trying times. Was it the same for you?
Yes, without music it would have been impossible for me to survive. Listening, learning, exploring... this process was definitely happening throughout. Creatively, I did a lot of interesting work. Sometimes, creation is not meant for a formal deadline or a professional purpose. It is just something for me... just me experimenting for the joy of it. So musically, a lot of things were happening throughout this time, and if that was not so, I would have really gone mad.
Have you plunged full-time into work, in terms of recording and playback singing? What can we expect from you next?
I was working from home even during the lockdown. The flow of projects is going to be resuming soon with all the big-budget films going on the floors. Last year around August-September, shoots had resumed and a lot is in the pipeline that cannot be mentioned right now. But yes, on the anvil are some really big films and songs, along with independent collaborations with new artistes, composers and songwriters.
I also have regional songs in Tamil, Telugu, Kannada, Malayalam and Bengali. After Angana morey, there will be more independent projects that I am really excited about.