On Swapnasandhani three-decade-long journey
Koushik, Reshmi and Riddhi Sen look back at the 29-year journey of their theatre group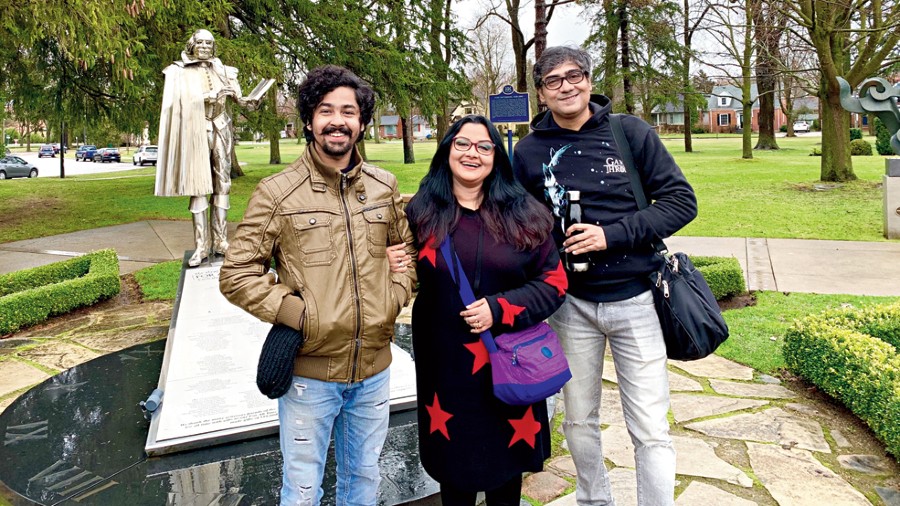 ---
Published 04.06.21, 12:30 AM
|
---
On May 29 a group of youngsters started Swapnasandhani, a theatre group from Calcutta, 29 years ago. Koushik Sen and Reshmi were among the founding members. Years later their son Riddhi Sen joined them too. A candid chat on their almost-three-decade-long journey.
Koushik Sen
The origins: Swapnasandhani was founded in 1992 on May 29 and our founder president was Soumitra Chatterjee. My father, Shyamal Sen, was the vice-president. I got my guidance from both of them. Tiktiki, an adaptation of Anthony Shaffer's Sleuth, was directed by Soumitra Chatterjee himself, which is an important production and gave me a firm footing as an actor in Bengali theatre. I recall a very funny memory associated with the play. Soumitra Chatterjee's grandson and granddaughter were very young and had come to watch our rehearsal one day. There was a scene where I, as a police officer, had to arrest him and they started crying seeing that scene and protested also. (laughs)
The appreciation: We have travelled abroad with various productions, but the first time was special, when we went with Tiktiki in 1995 to the US, London and Bangladesh. Reshmi and I got married that year and it was sort of a honeymoon for us too! We staged Buddhadeb Basu's Prothom Partha, my first directed play for the group in 1997 and it was staged in various cities across India. That play gave me a firm footing as a theatre director, and through it Swapnasandhani became familiar to literary geniuses of Bengal too like Shankha Ghosh, Sunil Gangopadhyay, Tarapada Roy, Joy Goswami and Jaya Mitra, who came to see that play many times. We used to maintain a review book at that time and all these people had written personal hand-written letters to us and that is a jewel box for Swapnasandhani.
The festivals: At one point in time we used to stage shows at Sujata Sadan on every Saturday and famous theatre set designer Jean-Guy Lecat of Peter Brook's plays had come to watch our show and was quite impressed with our production. Kabir Suman, Reshmi and I played out the characters of that play called Somudrer Mouno and it was invited to the Ranga Shankara Theatre festival in Bangalore and Bharat Rang Mahatsov by NSD. In 2018, our play Nirbhaya, an adaptation  of Bertolt Brecht's Mother Courage and her Children, was invited to the Theatre Olympics held by NSD and the Government of India and our whole team of 30-35 members had participated in that play. The selection of that play for performance was very encouraging for us.
The challenge: The year '97 was especially challenging for me as well as the group as Soumitra Chatterjee had directed our first play that was very popular and people had an expectation from the group. They were expecting him to direct or act in our plays but he always wanted me to go ahead without his assistance. So, it was challenging for me as a director  and for our actors too. But he used to always come to watch our plays and give suggestions.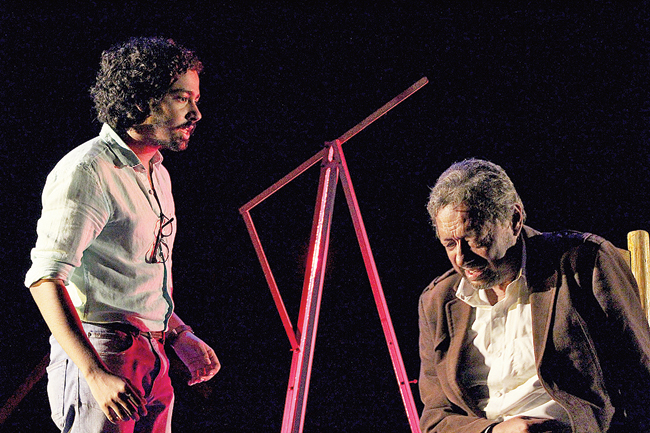 Reshmi Sen
Creating the ambience: In Sujata Sadan, we had tried to create a very different theatre space where people would know that they could come and watch theatre every Saturday and Sunday, and didn't have to follow advertisements to find out whether there were any ongoing shows. It was a small and uncomfortable hall yet our productions of that time stood out and remained in people's hearts. From those days, I specially remember a play called Prachya, where Riddhi had performed when he was three and a half years old. He had to speak in 'Bangal language'. I was a little apprehensive at first but Koushik was very confident.
Connecting with children: We had also staged Jaya Mitra's Bhalo Rakhash er Golpo at Sujata Sadan and Riddhi used to play the character of Bhalo Rakhash. It was a big hit with the children and they used to write poems and letters to us based on the character of Bhalo Rakhash and we used to keep those decorated. In that play, Riddhi had to run to the back stage from one wing to another but he was so small that he couldn't do that fast, so I had to carry him and run in between scenes.
Performing in a wheelchair: I got to perform many challenging roles in Swapnasandhani over the years. I would like to mention the character in Somudrer Mouno. Koushik and my character were such in that play that we couldn't talk, we mostly had to express everything through gesture and body language by holding back our emotions. People still tell me about the character I played in Malyoban. Before the first show staging of that production, I remember, I was practicing at Tapan Theatre the day before the show and I fell down and broke my leg. But I told Koushik not to cancel the first show and went ahead with my broken leg. I was carried in a stretcher up to the stage and was made to sit on a wheelchair. I learnt to manoeuvre the wheelchair hours before the show and played my character sitting on the wheelchair. The audience did not understand it before Koushik told them at the end of the play and they were very overwhelmed to know that.
Memorable casting: I remember two of our cast members who always left me in awe with their performances were Soumitra kaku and my mother-in-law Chitra Sen. I have been a huge fan of my mother-in-law's acting since a tender age. She used to play a role in Buddhadeb Basu's Anami Angana. There was so much to learn from them. I had a very good experience working with Sumanda and Anjanda too, we used to have adda sessions after rehearsals and we would have conversations about various things apart from theatre too, and that is something I still cherish. I fondly remember a review
Anjanda had written after watching my character in Macbeth, and a compliment from Tapan Sinha after watching our play Mukhomukhi Boshibar.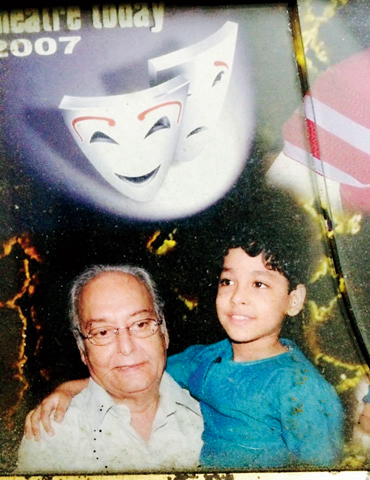 Riddhi Sen
Starting young: I have been a part of the Swapnasandhani family from the time I was born. I had heard that in one of our earliest productions called Tara Teen Bon there was a scene where a kid had to be carried in a perambulator. The kid was supposed to be fake but later I was carried in that! I was only six months old and didn't even realise when I started developing an attachment towards the stage gradually. Rehearsals were nothing out of my mundane routine of going to school and playing. What is special about Swapnasandhani for me is that it was never stuck in time. It has always progressed and they have always contextualised the relevance of the present time in every story they adapted.
The taste of appreciation: Rabindranath Tagore's Dakghor was one of our famous productions and has been quite a landmark moment for me as a kid also. I was seven years old when I acted in Amal's role and it was an emotional journey for me. Soumitra Chatterjee was always my favourite actor. I remember this was staged in Sujata Sadan in 2006 and he had roamed the entire hall carrying me on his lap for the character. That was quite a fanboy moment for me. Around the same time, we did a production on Bonku Babur Bondhu and I played the alien. It was a fun character to play and was staged at Rabindra Sadan as a part of a theatre festival that used to happen every year on December 31. I have fond memories of that whole night festival, and I remember, I saw the biggest theatre hall of Calcutta for the first time while performing for that play. I remember, after an important scene the whole audience had clapped and that was quite a memorable moment for me. I had experienced it for the first time and recalling that still gives me goosebumps.
Playing Macbeth's witch: A phenomenal production of Swapnasandhani is Macbeth. I used to play the witch and the way my father had interpreted it by degendering the character was amazing. It was a huge learning experience as my role in Macbeth helped me to explore my physicality as an actor. I took contemporary dance lessons at Sapphire. It made me undergo physical changes and forget about a lot of inhibitions. My amma (Chitra Sen) had told me that my grandfather (Shyamal Sen) had also played the character of the witch in Utpal Dutta's production of the play. It is a strong regret that I couldn't witness his work.
A lesson learnt: Taray Taray is one of our most popular plays that happened in the recent times and it would get full house in no time. It is one of my most favourite plays of Swapnasandhani. My character in the play is very close to me. We prepared for the play in a very short span of time with just 10 rehearsals. I got to interact with Anjan Dutt yet again through this play in 2019. He has a great role to play in this journey and interacting with him is any actor's delight. One of the most important lessons I learnt from him is how he has never forgotten his moments of failure, hurt and the mistakes he made and used those emotions for his characters whenever applicable.