Old fights
In Taj Mahal Ka Udghatan, Ajay Shukla's expertise in colloquial Hindi and his ability to hit hard at the bureaucracy remain razor sharp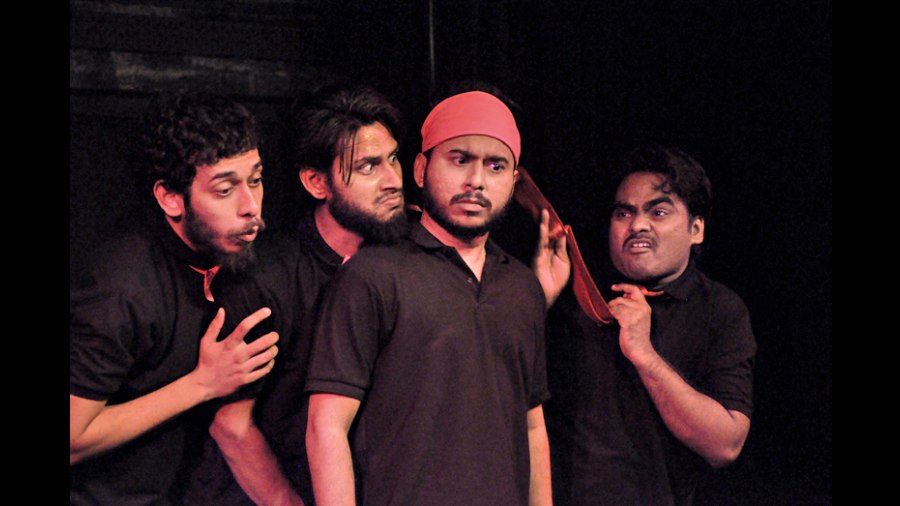 ---
Published 16.07.22, 03:24 AM
|
---
Since the controversy erupted over the design of the national emblem on top of the new Parliament building and the seemingly-menacing look of the lions caught the nation unawares, the situation seems tailor-made for a satiric take on how the State functions. Street theatre activists have already responded to it. Closer home, Padatik and Rikh have collaborated to respond to the never-ending soap opera surrounding the ruling regime and the bureaucracy — neck-deep in corruption and redtapism — with Taj Mahal Ka Udghatan. Sounds familiar? Well, the same Ajay Shukla who scripted the roller-coaster comedy, Taj Mahal Ka Tender, in 1999 has come up with a sequel of sorts; this time addressing the issues related to the completion of the Taj Mahal project.
In Taj Mahal Ka Udghatan, Shukla's expertise in colloquial Hindi and his ability to hit hard at the bureaucracy remain razor sharp. Set in contemporary India, where Aurangzeb still rules and strives to complete Shah Jahan's dream project, the play reverberates with the issues of the present. While the chief engineer, Guptaji, returns to pursue the project, Dara Shukoh leads a people's movement. The Supreme Court also intervenes, compelling Aurangzeb to fight an election.
Spanning more than 95 minutes, Taj Mahal Ka Udghatan marks the beginning of Rikh's 'Theatre in Jeans' performances that strive to involve the younger generation of theatre actors and audiences in a more flexible and meaningful way. Designed and directed by Vinay Sharma, the quality of production makes one leap for joy. There are several reasons. One, Sharma's proficiency in dealing with a variety of scripts surfaces once again. Two, the director's handling of newcomers, making them perform like professionals, is impressive. Three, Sharma utilises the interval to switch the actors playing Aurangzeb and Guptaji — Subham Kumar Singh and Rohit Basfore — thus reversing the roles played by the two.
The play was premiered at Padatik Little Theatre II on April 8. Although set in a proscenium frame, Sharma makes creative use of every nook and cranny of the interior. This is cost-efficient, good theatre at its best.