Newsmakers from the music industry in 2020
A few of our favourite defining moments in the music world…and beyond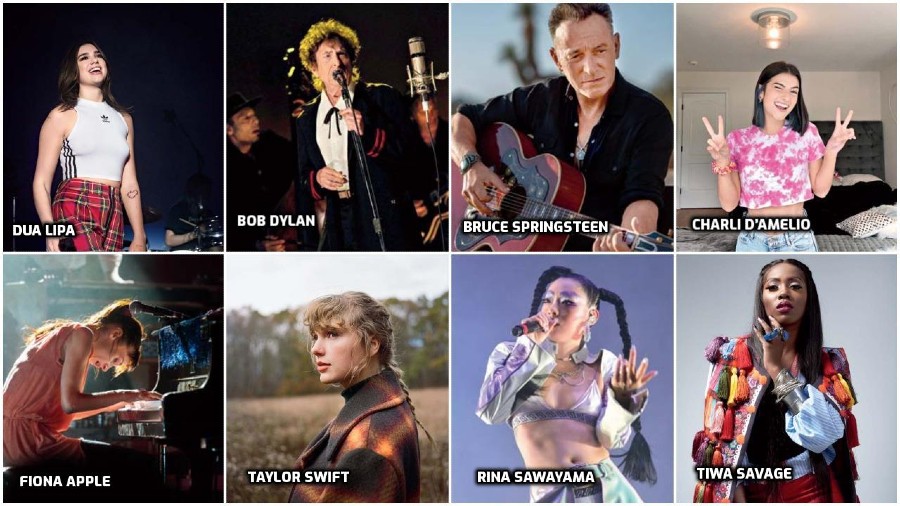 Sourced by the correspondent
---
Published 28.12.20, 12:59 AM
|
---
1. Outsiders-insiders
Tiwa Savage, 40, has lived in Nigeria, London and America, giving her music a wide expanse. In a career marked by four albums — the latest came through this year — she has worked behind the scenes in the British and American music businesses while having songwriting credits on albums by Fantasia and Kat DeLuna, besides singing backup on Whitney Houston's final album and onstage at Wembley Stadium with George Michael. Celia, her latest album, is packed with Afrobeats grooves and "powerful messages of empowerment".
A decade younger is Rina Sawayama, who was born in Niigata, Japan, but was raised in London, giving her a dual identity. She grew up in a world when Britney Spears and Destiny's Child ruled but her debut album, which released in August, is much more than that; it's turn-of-millenium-inspired pop. And she understands politics well, which has much to do with her Cambridge days where she studied politics, psychology, and sociology.
Finally, it has also been a great year for Dua Lipa, 25, who has spent a considerable amount of her childhood between Kosovo and London. Her second studio album, Future Nostalgia, blends '70s disco and '90s club jam, leaving no trace of the bleakness which 2020 has to offer in heaps. It is a break from the darkness that surrounds us.
2. The Boss is the boss
Bruce Springsteen's first record with the E Street Band in several years is full of grit, glory and a lot of that evergreen gravely vocal power. The New Jersey man's twentieth studio album — Letter To You — is as much a lyrical bash up of Donald Trump (like on House of a Thousand Guitars about "the criminal clown" who has "stolen the throne") as it is a journey into the unknown (I'll See You in My Dreams). Beyond music, he simply ended up having fun with the Band at his home studio while delivering an Apple TV+ documentary to accompany the album. The Boss still has his lyrical chops intact as he sings in Last Man Standing: Snakeskin vest and a sharkskin suit/ Cuban heels on your boots/ Kick in the band and side by side/ You take the crowd on their mystery ride. The album truly has the 71-year-old rock star pack a punch like no other.
3. Rising star
Let's get this straight, 35.5m of her Instagram followers and 100m of her TikTok followers can't be wrong. Charli D'Amelio has got her strategy right to win over a new generation of smartphone users. Agreed she is a dancer and social media personality but much of her 2020 life unfolded through short dance routines that play out to cool music on the banned (in India) Chinese app. The 16-year-old belongs to a generation that's looking beyond YouTube. The Connecticut-born dancer appeared on the scene in 2019 but not to lip-sync; her strategy involves coming up with short dance routines, which come across as instinctive. In fact, she is sparking a new generation of content makers, which can be seen across platforms, especially on TikTok and Instagram. Perhaps the secret to her appeal is that her suburban family roots didn't stop her from becoming a teen idol.
4. Swift evolution
Taylor Swift proved her mettle with two back-to-back albums in 2020 — Folklore and its sequel, Evermore. Both albums highlight the lyricist in her as well as the ability to easily change gears when the occasion demands. The songs on the two albums were written together: "It feels like we were standing on the edge of the folklorian woods and had a choice: to turn and go back or to travel further into the forest of this music. We chose to wander deeper in," she has said. Both albums prove her ability to conjure up beautiful imagery, shift focus from personal relationships that are at the heart of her previous albums. Also, it was a welcome change to experience two beautiful albums as opposed to just one single after another. There is a connection between songs. Fuelling the success is the contribution of Aaron Dessner and Jack Antonoff.
5. Jamming with Apple
Back after eight years, Fiona Apple makes every song on Fetch the Bolt Cutters sound real. It's an intense experience as she allows an outlet to a lifetime of injustices. Kick me under the table all you want / I won't shut up she sings on Under The Table while on Heavy Balloon she says: I've been sucking it in so long / That I'm bursting at the seams. Much of the album was recorded at her California home with the acoustics offering an intimate feel. She grapples with insecurities while pushing her voice to the extremes. It's an album that provides ammunition for one's ears.
6. The poet soldiers on
Bob Dylan's first album of original songs in several years is mischievous and somber, oscillating between Go home to your wife, stop visiting mine on Black Rider and I paint landscapes, and I paint nudes on the album opener, I Contain Multitudes. Rough and Rowdy Ways is full of wordplay as well as twilight-age reflections. One of the highlights of the album is a 17-minute historical reflection, with the assassination of John F. Kennedy as its core. It was also the year Dylan sold his entire catalogue for anything north of $300 million.