Day 01
1 Cigarettes After Sex made for a happy start to the show and the black-and-white theme (much like their album covers) drew us in. The band created a mellow, subtle and ambient vibe which one would enjoy at a small home gathering. Though there was no live audience, one could conjure up images of the audience going wild hearing the intros for K, Affection and, of course, Apocalypse. Greg Gonzalez, the lead singer of the band, ended the performance saying: "Thank you guys so much. We love you, we miss you and see you really soon."
2 The performance turned in by Hiatus Kaiyote was power-packed and fun; it was groovy, funky and jazzy. Not only did they add some electronic sounds to their jazz set, Naomi "Nai Palm" Saalfield hit the high and low notes like a boss! Besides the music, we also loved their stage set-up; it was done up in blue and purple hues, complete with laser lights. Bonus points to Naomi for her out-of-the-box outfit. She was dressed in a black jumpsuit and her hair had a touch of pink.
3 Taba Chake's performance was shot on a sunny hillside. Other than having multiple cameras pointed at him, there was also a drone to give us a view of the entire scenery. His soulful music was mixed with some rock elements which created a happy vibe. Taba, switching between his guitar and ukulele, kept the positivity up with performances of Shaayad, Walk With Me and this year's release, My Other Side.
4 Electronic duo Nothing Anonymous did their NH7 virtual set in the most convenient place ever — a terrace! Dressed in white, the artistes from Mumbai sure know how to put up a performance. Since there was no live audience, the two kept their energy up with dancing and funny banter between songs. Their drum-and-bass playlist included Pieces, Find You and the 2020 release Waste Away.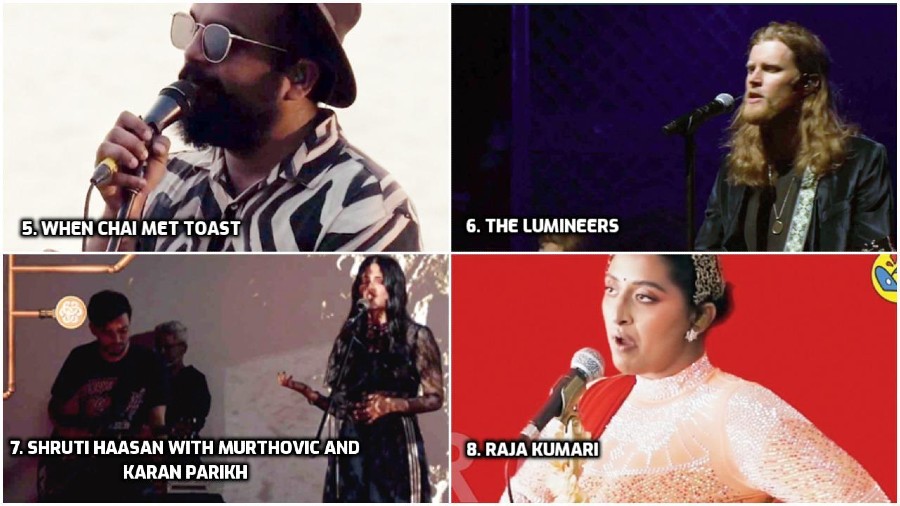 The Telegraph Picture
Day 02
5 When Chai Met Toast's performance was a happy one. The location was a beautiful grass-covered spot overlooking the ocean. Their 45-minute performance started during the day and ended around sunset. The chirpy playlist was uplifting and soothing at the same time and created a feeling of positivity. After performing songs like Kahaani, Nee ara and Firefly, Achyuth Jaigopal told t2: "It was great to see NH7 go online this year and they have put up an amazing line-up. The fact that we shot our set during sunset on a cliff overlooking the ocean, was a great experience itself."
6 The Lumineers sure gave their performance a live feel. The band performed at The Ogden, a theatre in Denver, and although it was a virtual gig, they tried to keep the audience engaged by explaining the story behind each of their songs before performing them. Other than turning in some of their known country-and-soulful tunes, like Ophelia, Sleep On The Floor and Ho Hey, Wesley Schultz, the lead vocalist and guitarist, also slipped in some songs from his recent solo album, Vignettes.
7 Actress-singer Shruti Haasan was the headlining act for The Dewar's stage on the second day. She had brought on Murthovic and Karan Parikh on board for a performance that struck a good balance between soulful and rock elements. Dressed in black, Shruti pushed the boundaries of her voice by hitting long notes and adding a roughness to it that made it edgy. While she did not shy away from a little bit of dancing, there was a lot of visuals to keep the audience engaged.
8 Be it virtual or live, Raja Kumari's performance continues to slay! Not only did she have her choreography on point but also had great visuals to offer, which made her set appear like a music video. Camera angles kept changing, keeping audience interest alive. But we sure did miss her throne from her performance last year in Meghalaya, which she definitely deserved. Her set included hits like Shook and City Slums, besides new numbers like N.R.I. and Bindis and Bangles.