Pure gold: remembering Salil Chowdhury
One of the surprise inclusions in this tribute was also the introduction of Moenika Chowdhury, the late maestro's granddaughter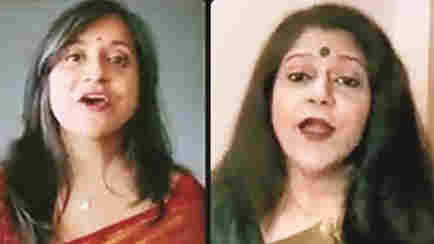 ---
---
The year-end bonus came in the form of Salil Chowdhury's 95th birth anniversary where his family got together on YouTube to showcase his ingenuity and his legacy. Titled Prantorer Gaan Amaar — a 1953 composition that was greatly popularized by the late Utpala Sen — the anniversary session involved an audio recording of the maestro himself rendering this song. Later, a new version was performed by his talented daughter, Antara. As usual, she sailed through the song, adding her signature lilt and swing to this delightful composition.
Chowdhury's lesser known daughter, Sanchari, doubled up as the articulate anchor of the show and also lent her voice to at least two songs — "Antabeheen" and "Adhikar ke kake daye". Her confident harmonizing and fresh style was a great support to the main singers at times. Antara lived up to expectations and, as the leading torchbearer of Chowdhury's compositions, sang the lion's share of the songs. Although she did mention her mother — the late Sabita Chowdhury — being the 'heart' of her father's songs, she herself rendered the flighty "Bou kotha kou bole pakhi" as competently as her mother. One was also delighted that she included the beautiful "Teri galiyon mein", from the Hindi film, Minoo, in this tribute which, though a children's song, has complicated twists and turns that perhaps only a descendant of Chowdhury can deliver with confidence. Even after so many years, Antara put the same freshness into her version.
One of the surprise inclusions in this tribute was also the introduction of Moenika Chowdhury, the late maestro's granddaughter, who proved to be a chip off the old block, presenting the Madhumati song, "Dil tadap tadap ke", on the flute. With her nimble fingers running effortlessly over the instrument, an inspired Moenika looked like she was thoroughly enjoying paying tribute to her grandfather.
Also joining the session were Chowdhury's sons, Bobby and Sanjay, who made appropriate references to their father's music. Sanjay, a well-known composer of background music, even joined his sisters in rendering "Adhikar ke kake daye". The session also had snatches of recordings of old songs such as "Kono ek gayer bodhur kotha" and the spirited "Manbona e bondhone manbona" from the collection of the Indian People's Theatre Association.