Transcending boundaries with music
MUSIC: French Baroque and Eastern traditional songs in harmony at age-old Calcutta cathedral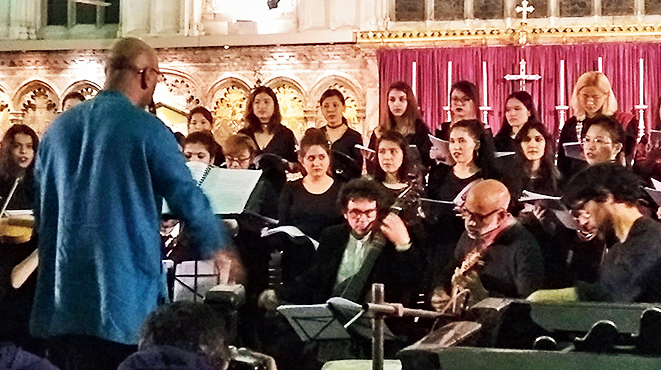 ---
---
"Give me the flute and sing/ Forget illness and its cure/ People are nothing but lines/ Which are scribbled on the water."
These lines, by Kahlil Gibran, resonated within St Paul's Cathedral as Calcutta witnessed a seamless amalgamation of French Baroque and Eastern traditional songs. The concert, From Earth to Heart, was organized on December 16 with singers from more than 25 countries affiliated to the Asian University for Women Choir attesting to the fact that music surpasses boundaries. The French ensemble, Son Ar Mein, lived up to its reputation with its performers playing with confidence and dexterity.
As the first notes struck the violin, the silence in the cathedral gave way to joyous melodies filled with Christmas cheer. The base notes of the cello soon seeped in and although the Arabic composition, "Give me the flute", has had numerous interpretations, this duet was, arguably, the most spectacular piece of the night. The lyrical notes of the santoor — Keyvan Chemirani was the musician — followed swiftly. The maestro — he confided that his Iranian heritage has had a major role in his musical development — also played percussion in the Cambodian folk song, "The river man", which was harmoniously balanced by the treble notes of the violin. The choir displayed touches of brilliance. One must mention the soprano from Sri Lanka, who sang the Naga song, "Love of god".
The pièce de résistance was Rabindranath Tagore's "Anandadhara", which blended the versatility of the choir with such instruments as the violin, cello and percussion that are traditionally associated with Western classical music. This particular interpretation was rich in lyricism. The crescendo, in particular, stayed even after the performance had ended. The concert encompassed diverse cultures and social identities that were bound by melody, testifying to the power of music as a universal language.