Instant, intimate connection
MUSIC: Glimpses from 'Durbar-E-Padabali' and 'Madhur Tomar — Songs of Tagore'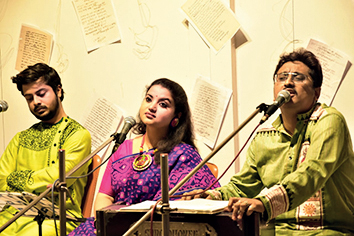 ---
---
Two recent events in the city stood out for their intimacy and instant connect with the audience. The first one, Durbar-E-Padabali, at the Birla Academy brought out the essence of padabali or baithaki songs through the robust style of the young Debalina Ghosh. Accompanied by Debashis Bose as narrator, she presented a repertoire of songs that brought in a whiff of fresh air, including Jaidev's Srita Kamala Kucha Mandala with Gautam Bhattacharya on the sreekhol and Vidyapati's Madhaba Bahuta Minati Kari. These set the mood of the evening and a pace that did not falter.
Debalina also had amazing control over laya in the complicated madhyagati doshkosh beat song, Mridumadhurmurali, with Sanjay Banerjee's flute lifting it to dizzying heights. Dishari, who played the santoor, kept up a fitting background score.
In the second event, Kaustav Goswami pulled off an excellent feat at Madhur Tomar — Songs of Tagore, presented by Cozmic Harmony at Gallery Gold. Giving Goswami good accompaniment in vocals was Aratrika Bhattacharya and Krittik Ghosh, the narrator. Of particular mention was Goswami's Abar Jodi Ichha Koro, for which the audience broke out in spontaneous applause. Aratrika, slightly slow on the tempo, still made pleasant listening with Ami Keboli Swapano and Godhuli Gogone Meghe. Almost all the songs highlighted Tagore's stellar moments in Siladaho or on the boats of Padma, from where he composed inspirational songs. Goswami and Bhattacharya did full justice to the script, read out articulately by Ghosh.