Endless melody
Amra Korbo Joy – a digital concert on YouTube on the occasion of World Music Day – was helmed by the popular duo, Sourendro-Soumyojit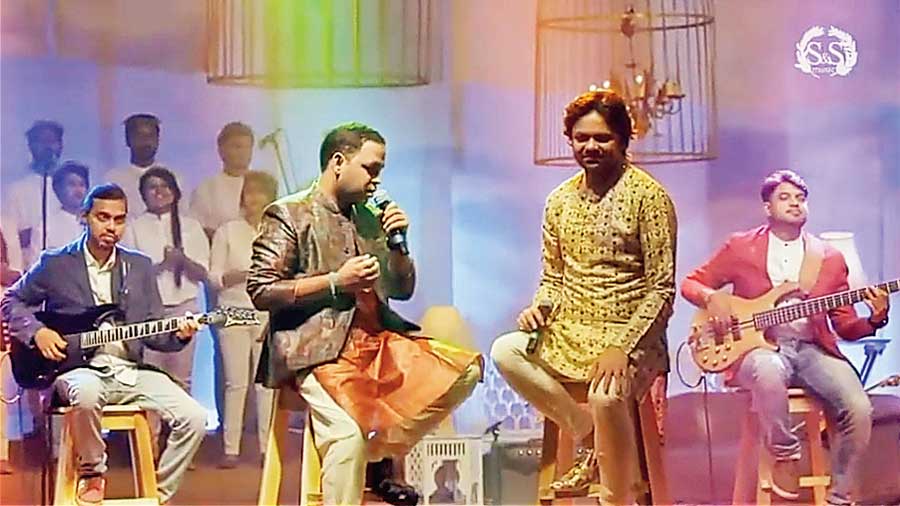 A moment from the show.
YouTube grab
---
Published 21.08.21, 01:44 AM
|
---
One of the highlights of the concert, Amra Korbo Joy, was the actual music space curated wonderfully with the lighting aptly accentuating the moods of the various songs sung or played. This digital concert on YouTube on the occasion of World Music Day was helmed by the popular duo, Sourendro-Soumyojit.
The short duets of Arshad Ali Khan and Soumyojit combining classical bandish and popular Bollywood numbers kept the listeners engrossed. Some musicians added a personal touch — the sarangi (Sarawar Ali Khan) in "Nayi subah aayegi" and the guitar (Prasun Bhattacharya) in "Baarish hai aayi". This made the renditions refreshing. The backbone of each song was Sourendro Mullick on the piano in his charismatic style. The brilliant tribute to singers such as Akhil Bandhu Ghosh and Madhuri Chatterjee by synching their archived performances with the concert (led by Soumyojit) was one of the best presentations. A motley of current singers (Rupankar, Subhamita, Jayati, Somlata, and others) provided a fitting finale as they gave their trademark twists to the title song, "Amra korbo joy".