Music as therapy for the parched soul
Music lovers relish the 70th Dover Lane Music Conference amidst the April heat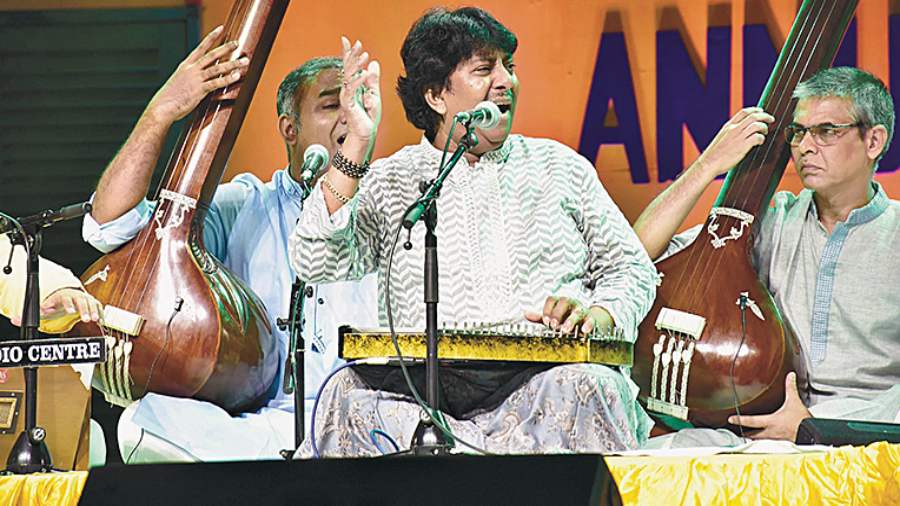 ---
Published 30.04.22, 04:20 AM
|
---
The 70th Dover Lane Music Conference was a celebration of music against all the odds posed by the pandemic. Amidst the April heat, the conference showered music lovers in Calcutta and beyond with live performances. The first day was dedicated to the tabla maestro, Subhankar Banerjee. Hasan Haider Ali Khan on the shehnai and Sudip Chattopadhyay on the flute complemented each other well in Raga Puriya Dhanashree. The Kuchipudi performance by the mother-daughter duo, Vyjayanthi Kashi and Prateeksha Kashi, was a visual treat. Both of them were expressive and skilled, as was their troupe, especially in the part titled Putana. Subhankar Banerjee's son, the young and talented Aarchik Banerjee, showcased different kaydas, relas, antyaksharis and chakradhars from various gharanas, focusing on compositions by his father and Ustad Karamatullah Khan. His ease with the instrument held great promise.
The vocalist, Tushar Datta, tried to capture the mood of Malkauns with Samar Saha on the tabla, but failed to meet the audience's expectations. Rahul Sharma's santoor recital, in spite of revealing the unavoidable influence of his father, Pandit Shivkumar Sharma, was striking owing to his individuality in Raga Chandrakauns. This was followed by a melodious Kirwani recital. Ashwini Bhide Deshpande's vocal rendition of three closely connected compositions in Lalit elevated the mood, which was further enhanced by Raga Bibhabati and a Meera bhajan. The Nat Bhairon on the Mohan veena by Viswa Mohan Bhatt lacked maturity.
The dhrupad and dhamar by the vocalists, Prashant and Nishant Mallick, in Raga Jog and Durga, brought out their expertise. Vishal Krishna's Kathak performance is always a visual pleasure and the Dover Lane stage was no exception. The clarity, generosity and modulation of Kumar Mardur's voice highlighted each aspect of Kaunsi Kanada wonderfully. Raga Jhinjhoti on Nayan Ghosh's sitar left a lasting impression. His son and the bright percussionist, Ishaan, accompanied him on the tabla. The vocal magic of Rashid Khan began with Raga Lalit, which left the audience wanting more. In Sohini, Khan was more spontaneous. L. Subramaniam created a charming ambience with the violin, rendering a kriti by Thyagaraja followed by ragam tanam pallavi in Raga Bahudari. The vocalist duo and sons of Pandit Rajan Mishra, Ritesh and Rajnish, sang kheyals in Jogkauns followed by a tarana in Jaijaiwanti and a bhajan, enchanting the listeners with their style and improvization. Radhika Shetty's Bharatanatyam performance along with Ayana Perla and Rashmi Udupa to different ragas and a bhajan was pleasing. Rakesh Chaurasia's spontaneity and depth on the flute in Raga Jog was reminiscent of his father, Pandit Hariprasad Chaurasia. He also lifted the mood with Desh and Pahadi. The presentation by the senior artist, Parthosarathy, in both Darbari Kanada and Yogkauns, was below par. The sitarist, Shujaat Hussain Khan, started with Bilaskhani Todi, speaking in brief about the training he received in this particular raga from his illustrious father, Ustad Vilayat Khan, and from Ustad Amir Khan. A melodic alaap and jor was followed by a slightly scattered jhala. But he found his way back in the gats. He played some compositions in Bhairavi as well.
The showstopper was Amaan Ali Khan (picture, right), who filled the final night of the conference with musicality, dedicating his performance to Ananda Gopal Bandyopadhyay. Amaan came up with a surprise package of different ragas in different beats with Pandit Kumar Bose on the tabla. He began with an alaap in Desh, setting the tone for the evening, and carried on in the same vein in the gats in jhamptaal and old teentaal gats composed by his father, Ustad Amjad Ali Khan, his grandfather, Ustad Hafiz Ali Khan, and Ustad Vilayat Khan. This was followed by ektaal gats in Saraswati and Hamsadhwani. He was mellifluous in Rag Nandkauns and concluded perfectly with ada chowtaal and teentaal gats in Lalit. In every raga, he showed virtuosity, improvization and playfulness, especially when it came to interacting with the percussionist on the tabla.
Gouri Pathare's vocal recital was a wonderful discovery. Kheyals in Bageshree, a mesmerizing Chaiti and a Dadra sounded charming in her voice. The solo vocal recital by young Armaan Khan, the son of Ustad Rashid Khan, showed that he has the potential of becoming a powerful vocalist. The inner sublimity of Puriya Dhanashree was well expressed in his kheyals and tarana. Sharmila Biswas and troupe gave a praiseworthy performance in Odissi. The talbadya by Drums of India with the percussionists, Bickram Ghosh, Gopal Burman, S. Sekhar and B. Rajsekhar, was partially impressive.
The vocalist, Kaivalya Kumar Gurav, presented his vocal range and quality in ragas Bhairon, Vasant and Bhatiyar. But his style of performance could have done with some variety. This music festival could not have been possible without able accompaniment from Samar Saha, Ramkumar Mishra, Arup Chatterjee, Bivas Sanghai, Mukundraj Deo, Amit Choubey, Shariq Mustafa, Subhajyoti Guha, Sanjoy Adhikary, Subhen Chatterjee, Subhashis Bhattacharya and others on the tabla, Jyoti Goho, Hiranmay Mitra, Sanatan Goswami, Rupashree Bhattacharya, Jyotirmoy Banerjee, Vinay Mishra, Gaurab Chatterjee and others on the harmonium, and Murad Ali and Sarwar Hussain on the sarengi.
The conference was dedicated to Pandit Subhankar Banerjee, Pandit Birju Maharaj, Rajan Mishra and Ananda Gopal Bandyopadhyay