Mind, matter and history
VISUAL ARTS: Arresting geometry in shades of textured gold marks Hemali Bhuta's letterpress print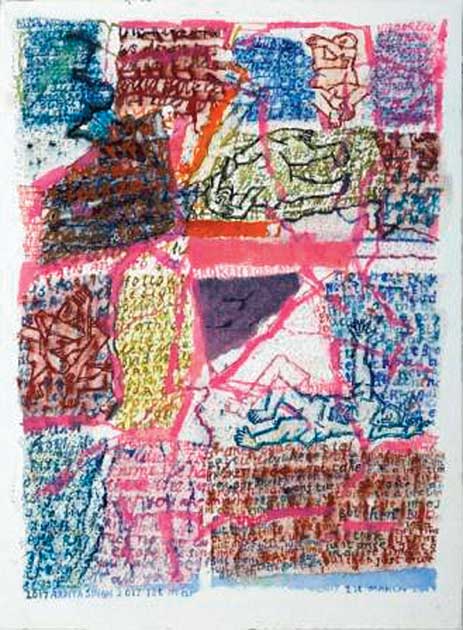 An artwork by Arpita Singh at the Birla Academy
Source: Birla Academy
---
Published 14.03.20, 09:12 AM
|
---
Erasure: Time's sport with the mind, with inert matter and, of course, history; deletions to refine expressions; brutal excisions to re-fashion narratives of the past, like the air-brushed photograph in Kundera's Laughter and Forgetting. Gayatri Sinha, the curator of the invitee section of Birla Academy's recent Annual show — its 53rd — perceptively picked a theme that, fractured by interpretations and warring claims, is of critical significance at this point in the nation's journey.
Tagore's manuscripts introduce the theme, delving into the enigmatic scribbles that inadvertently, spontaneously merged into strange, unbidden shapes. Could these have gestated in those unfathomed recesses of the imagination that his writing didn't plumb? If Ganesh Pyne's Jottings map his art's journey from the greenroom to the stage through conversations with himself, Arpita Singh's tentative tapestry of ideas, cursory sketches, ill-formed letters and doodling compose an exhilarating jigsaw. Pink Routes and Just one page unveil a fragile mind space where blurred, fluid childhood recall seems to float and coalesce into dark intimations. Secret News is a kind of private soliloquy, while another work of teasing reticence traces an insidious montage with silhouetted figures.
Arresting geometry in shades of textured gold marks Hemali Bhuta's letterpress print. Her tiny Maquette evokes both disruptive erasures in history and objects of remembrance by alluding to coins and seals, for coins were struck anew with each king's accession to the throne. Jitish Kallat's slapdash mixed media work, artfully weathered, takes on the immediacy of an unfolding drama. Ravi Agarwal's impressive suite of prints warns against a proprietary, wilful degradation of the environment. Chittrovanu Mazumdar's installation with bulbs becomes a hushed altar of sinister portents, while his painted paper sheets don the solemn museum identity of relics that have escaped eclipse.
Stone and terracotta pieces from 300 BCE to the 20th century from the Academy's collection contextualize Manjunath Kamath's wry obeisance to Time's ravages through sculptures that quote traditional iconography. Like a Maithun couple or Anantashayana Vishnu. How culpable human agencies are is indicated in L.N. Tallur's 64"-tall statue. The tussle between form and raw material takes on a menacing edge when a sawing disc, poised to slice through it, becomes a halo, lending it divinity while pronouncing its doom.
The remarkable walls Pooja Iranna erects with stapling pins are as much about forbidding barriers as about passages of surreptitious communication. Atul Bhalla's video of a floating canoe, On Dvaipayana, brings to mind multiple suggestions around the episode of Satyavati and Parashar in the Mahabharat. And Rohini Devasher's video delights in a cosmic dance that soars from notional micro to macro scales. It begins with nothingness that's then sprayed with dots; the dots turn into a form — of branches — then scatter off into space as stars and, finally, are lost in a vast nothingness that's then sprayed with dots all over again...
It's good to note that the gravitas of awards doesn't banish humour from the competitive section. Nilmoni Raha, for example, gets Dr Shetty to examine Abanindranath Tagore's dying Shah Jehan; Chandra Saha turns knowledge into spicy scraps downloaded from Bhoogol; and Soriful Mondal makes a snide political comment. Soumik Ghosh gives a farcical edge to the battle of political rhetoric Indians are prisoners to, as Anirban Saha smirks at everyday chatter.
Anirudra Mondal, Bibek Roy and Intaz Ansari turn textures and shapes into articulate tools. Shahanshah Mittal is curiously self-absorbed in a meditative anxiety, while Palash Baidya and Rajindar Singh weave fine lines with sprightly ease. The dark insight of Sukanta Hazra and Abhijit Das matches the dystopic warning of Subrata Saha and Viswanath. Nazia Rushdi's assemblage and Kanchan Karjee's video speak of timeless ideas through casual, playful idioms.