Messages in contrasts during a pandemic
VISUAL ARTS: Development means degradation of the environment. With government approval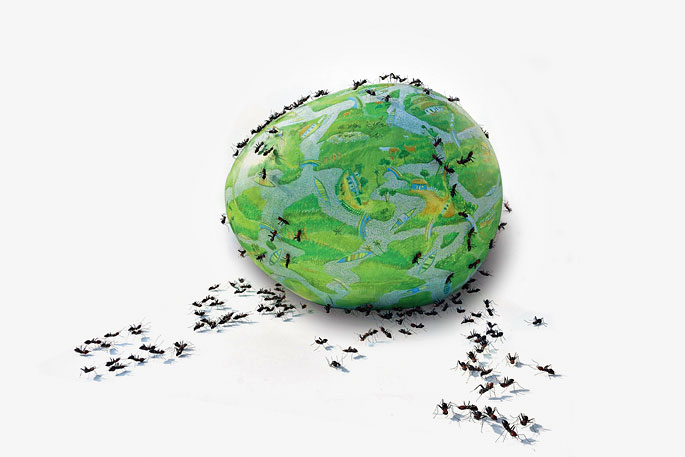 An artwork from Subhash Pal's solo show at Maya Art Gallery.
Maya Art Gallery
---
Published 05.06.20, 09:19 PM
|
---
While industrialists and environmentalists have been looking at the dark and the bright sides of the lockdown, Calcutta's Emami Art Gallery invited patrons to visit Black, White and More. Virtually, of course, joining similar online initiatives in serving up the creative experience at home. Five of the six artists chosen had established their reputation by the 1970s, while the sixth is decades younger. And Subhash Pal's solo show, held in March at Maya Art Gallery, brooded over the Lost Horizon the world had become in an idiom of quaint child-art mix of perspectives that replace logical visual clues.
The contrast of black and white itself becomes a message at times. Could Guernica ever be in colour? Or Jalsaghar? Design grammar understands its power in riveting the eye inured to colour. Dasrath Patel (1927-2010), designer, photographer, sculptor, knew that only too well when he used black as a highlight to define the white of the paper in his two drawings. A few wriggly ink lines slithering downwards turn the flat space into undulating slopes, fracture it with a network of streams or take on dancing levitation. His photo of an elaborate interior, a film set, apparently, could be straight out of Satyajit Ray in its depth, muted light and pensive atmosphere.
Black becomes Rabin Mondal (1929-2019) more than colour, though colour, in his paintings, is weighed down with Rouaultesque, impasto outlines and dense smudges. The two heads in this show each assumes a personality where fortitude is tempered by a certain equanimity. Jogen Chowdhury, of course, is a specialist in black, the signature virtue that stemmed from necessity: working in poor light as a student in his cramped home, reflecting the disturbing times he was passing through in the late 1950s and the early 1960s. The examples here, though, are what emerged later with bald lines that run unfaltering like alpona and come close to folk decorativeness — seen in Landscape II — but can also pack in a tight emotional charge, as in Crying.
Manu Parekh, known for his night scenes of Varanasi, reverses his strategy with a white silhouette in Benaras Landscape 3, with touches of greys and browns and quick little strokes in colour. His heads are sculpturesque, sketched with a spontaneous, amusing ease. And a spontaneity of lines marks not only S.G. Vasudev's untitled ink sketches but also, surprisingly, his two tapestries. In one of the sketches the artist's nervy lines hint at an ascetic's weary resignation in his spiritual quest. Lastly, in Bose Krishnamachari's untitled works on paper and painted wood, tiny flecks of yellow blink in a flat, black space like a teasing jack-o'-lantern, nudging a play of illusions.
The centrepiece of Pal's show is a striking egg-shaped world, 107 cm x 89 cm x 76 cm, painted green and blue to represent the only planet in the cosmos that's known to have given birth to a mind-boggling diversity of life forms. But it's infested with giant black ants (picture). Are they the dark forces destroying Nature? Or are they victims, as endangered as trees and tigers, trying to escape the relentless human onslaught that causes Pangs for the Lost World?
In his lost world, toxic clouds drop black rain during Monsoon on land that's shorn of forest cover and parcelled into tiny crop fields, pathways and buildings. Where a leaf, brown and brittle, lies lifeless, "approved by government", as though it were a Covid corpse, suggesting that development means degradation of the environment. With government approval. But the joyous isn't banished altogether: the child in Web 1 is as irrepressibly buoyant as his soaring kite.