Marty Friedman features in Antariksh's solo song
Their new track— 'Quest' has a Carnatic rhythm pattern, blending with progressive metal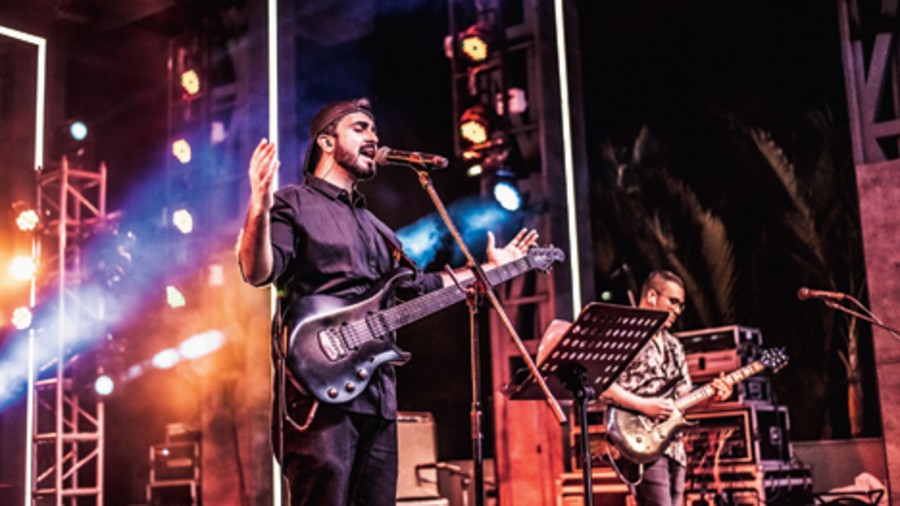 Varun Rajput of Antariksh
Sourced by the correspondent
---
Published 08.04.21, 12:26 AM
|
---
The mix of Eastern melodies with a Western influence often make for good music, something Antariksh — a progressive rock band from New Delhi — has taken a few notches higher in their latest release, Quest. How? The four-man band, lead by Varun Rajput, got rock star Marty Friedman on board. Yes, the lead guitarist is known for his tenure with Megadeth. Sonically, the song has a Carnatic rhythm pattern, blending with progressive metal. Marty's solo adds an edge to it. A chat with Varun Rajput, the founder of the band.
How did the collaboration with Marty Friedman take place?
The collaboration with Marty happened in probably one of the most unique and fascinating ways one can imagine. After playing at the Bacardi NH7 Weekender Festival in Shillong  (in 2019), I was flying back to Delhi with my band, Antariksh, and that's when I realised that Marty and his band were sitting two rows ahead of us. Throughout the flight, I kept thinking how cool it would be if I could get Marty to play a solo on Quest, which we were recording at the point in time. In my head, it was almost as if that song was begging for a signature Marty Friedman solo. When we landed in Delhi, I went up to him and introduced myself. We spoke briefly about some of his recent music, his collaborations with Skyharbor and Keshav Dhar and that's when I first asked him if it would be possible to have him play a guest solo on one of our songs. As expected, he politely declined, mentioning that he doesn't do a lot of sessions but he asked me to write to him and send him some of my music.
After he went back to Japan, we exchanged a bunch of messages in which I sent him some of our existing pieces, which he took time listening to and replied saying that he found it really interesting and unique coming from an Indian act. It was then I sent him a demo of Quest. He agreed to come on board for the project. I am just ecstatic and absolutely in awe of his humility and the fact that he found our music worthy of playing on.
What was it like to attend his live gig?
Antariksh played on Day 1 of the NH7 Weekender Festival and Marty was scheduled as the headlining act on Day 2, so obviously I stayed back. I have been a fan of his playing for almost 15 years, ever since I first heard his music with Megadeth. However, watching him live was something else. I was completely blown away and moved by his intense and charismatic playing. Whether it's fierce metal riffs or delicate melodic passages, his control over the instrument and expression is literally flawless.
Do you feel like you're living a rock star's dream to collaborate with him, especially when he's such an inspiration to you?
Absolutely! I couldn't ask for more. The journey from being someone who picked up playing the guitar by watching Marty's guitar instructional DVDs 15 years ago to having him play in one of my songs is insanely gratifying. I mean, we've seen stuff like that in the movies, but something like this happening in real life is just amazing and overwhelming. I guess things like these are milestones in any musician's journey. The key, however, is to keep learning, keep creating and keep collaborating.
Coming to the song, it speaks about societal problems. What instigated you to write the song?
I have a natural tendency to write about topics which question the status quo, be it politics, social constructs or ideologies in general. The idea for the theme for Quest dawned upon me while I was driving to a rehearsal. My car, along with a bunch of cars, were stopped to let a politician's vehicle pass through and I got really irritated as I was getting late for rehearsal. That felt like a brazen misuse of power. The fact that some people have the audacity to think that their time is more important than that of another person is plain ridiculous.
That thought triggered another one where I had this realisation that no matter how much power and control one may think he or she has, life is still so fragile and we do not have any power or control over our lives in the real sense or the number of breaths we are left with. All in all, the feeling of being in control is only a thought — a mere illusion. I remember coming up with most of the lines of the verse as well as the chorus sitting in my car and humming along while this thought went through my head and, of course, the lyrics evolved over a bunch of sessions.
There's a child in that song trying to run away from his past and bring about a change. Who is that child?
The child is symbolic of everyone who has an inflated ego and believes that he or she alone can bring about a change without realising that they are as much a part of the problem as the system. In the video, the protagonist runs away from home after witnessing a lot of evil and inequalities of society... to try and bring about a change. In this journey, as he grows, he falls into the slow rut of society and becomes a part of it. This leads him to almost lose his mind until something nudges him to realise that the quest itself is the purpose. So the ending is a bit open-ended.
The song is influenced by Eastern as well as Western melodies. How long did it take you to find the perfect sound?
I've grown up listening to a wide variety of music, including Hindustani classical, retro Bollywood, ghazals, qawwali, rock, heavy metal, progressive, blues, funk and pop music. I have this constant urge to experiment and fuse different styles with as much coherence as possible. With Quest, the idea was to bring together some Carnatic rhythmic ideas and Eastern melodies along with Western progressive metal. I don't know if there's anything as a "perfect sound" but I guess the idea is to work on an idea until you can't better it. For Quest, it started with the guitar riffs and drums. We played around with a bunch of clean guitar sounds and some electronic synth elements in the chorus. Later, I got this idea of bringing in the sitar.
The video is inspiring. How did you and the team work behind it?
It'd been a dream to create an animation video for one of Antariksh's songs and Quest, for various reasons, seemed the perfect song for it. I reached out to Pratik Dey, an amazing visual artist and video director based out of Bangalore, who resonated with the concept behind Quest and agreed to come on board for the project. We began working on the video in September and it took almost six months of extraordinary effort to finish the project.
It started with Pratik mapping out the energy dynamics of the song, choosing a narrative style, visual direction, and then narrowing down to the concept and character designs, which we all like.
Marty Friedman tells The Telegraph How does it feel to be a part of a song by Antariksh?
Marty Friedman: I'm excited to play with musicians with such depth and I am always happy to be a part of something that makes you feel positive after hearing it or watching it.
What do you think of their music and how did you curate your parts in the song titled Quest?
MF: I enjoyed the mix between western rock and Indian motifs. It seems to me that when Western artistes try to adapt Indian motifs, that they are not nearly as complex as what people in India are used to. But in this case, the sound is very Western but the content feels very fresh to me, I am sure that there is a lot of real-life India in the music, including its beautiful complexities. I tried to tap into my wonderful first experience in India to come up with something that gave the song a feeling like I belonged in it.