Mapping nature in fluid lines
Ganesh Haloi's scroll paintings, which have more in common with the Oriental variety, have, like most of his works, an identity of their own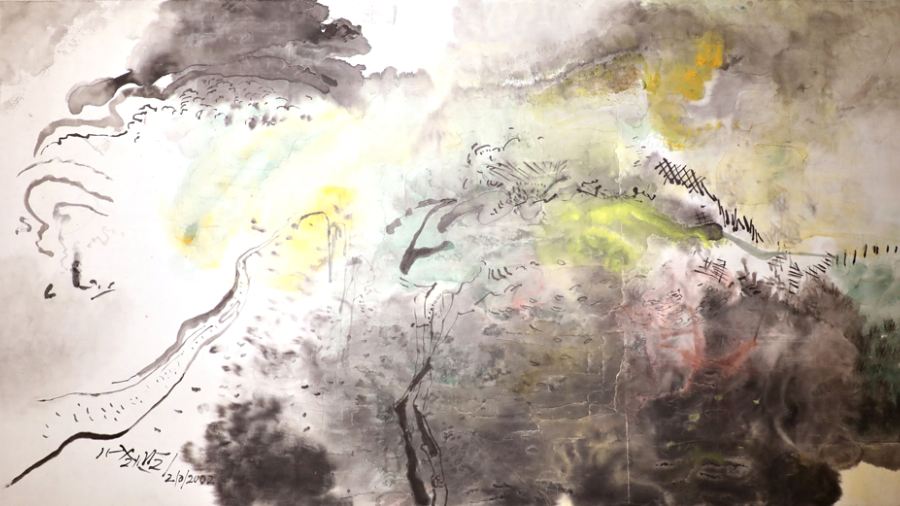 ---
Published 23.07.22, 03:44 AM
|
---
Colourful, animated and innovative in the manner in which they acted as visual aids to narratives, traditional Indian scroll paintings told stories usually narrated by the artists themselves or by peripatetic bards and mendicants. Although their format has changed drastically over the years as they became part of modern home décor, the patachitras of Bengal and Odisha, the phad from Rajasthan, the cherial paintings of Andhra Pradesh and the chitrakathi from Maharashtra still tell stories in an engaging and visually-appealing manner.
These are quite different from the hanging scrolls of East Asia, the pre-eminent types of which are the treasured Chinese landscape scrolls and the Japanese variety that tell tales through paintings.
Ganesh Haloi's scroll paintings, which have more in common with the Oriental variety, have, like most of his works, an identity of their own. These were displayed at an exhibition (April 23-July 16) curated by Jesal Thacker with the rather pretentious title, The Architectonics of Form, at Akar Prakar. Yet, having incorporated various decorative elements inspired by natural forms — as he has been, of late — Haloi's scrolls also have something in common with their traditional Indian counterparts, which are ornamental in their various manifestations.
Haloi used Japanese paper for these 23 works, all of which, save one, had vertical frames. Japanese paper being thin, it has to be framed with a support behind it. Because of their length — 5 feet by 20 inches — Haloi had to think of natural forms that best suited their vertical display. Thus slender and elegant climbers, criss-crossed bamboo slats, snaking patterns formed on the rippling surface of waterbodies and rivers, grooved bamboo trees, the luxuriant leaves of plants, undergrowths and jungles, aquatic vegetation and the chequerboard of farmland lend their forms to build up rhythmic compositions in which they are either reduced to their basic structures by using broad black strokes of Chinese ink sticks or they blossom into explosions of fine lines that embellish the Japanese paper with lush floral and foliage motifs. Haloi often used touches of varicoloured gouache to embroider them. So they are either in the realm of the abstract, as in calligraphy, or they turn into fanciful flourishes. Haloi rarely draws living creatures, but here he turns a winding line into a crane holding a fish in its beak. These works resemble tapestry with their variations on bold strokes and fine, delicate lines.
The only horizontal composition in this show (picture) was as otherworldly as the vertical ones were earthbound. Once again, nature is behind it all as this is a misty mountainous landscape where craggy forms are more suggested than delineated. Here, too, Haloi used gouache and Chinese ink stick in a very limited manner.
The artist seems to observe the earth from an elevated plane as swirling mists and clouds roll beneath. Haloi uses various gradations of grey — from dark to the faintest — and hints of ochre, pink and green. The diaphanous curtain seems to have been removed cautiously by an invisible hand to reveal a range of wooded hills, mountains and rocky outcrops observed from a great distance. The only sign of human habitation is the fencing in the right hand corner. The meditative calm of this painting is in sharp contrast with the exuberance of the scrolls.