Magical strings
The mellifluousity of Amaan's style, depth, expertise with detailings and the gorgeous conclusion struck a balance between the retreat of the monsoon and the onset of autumn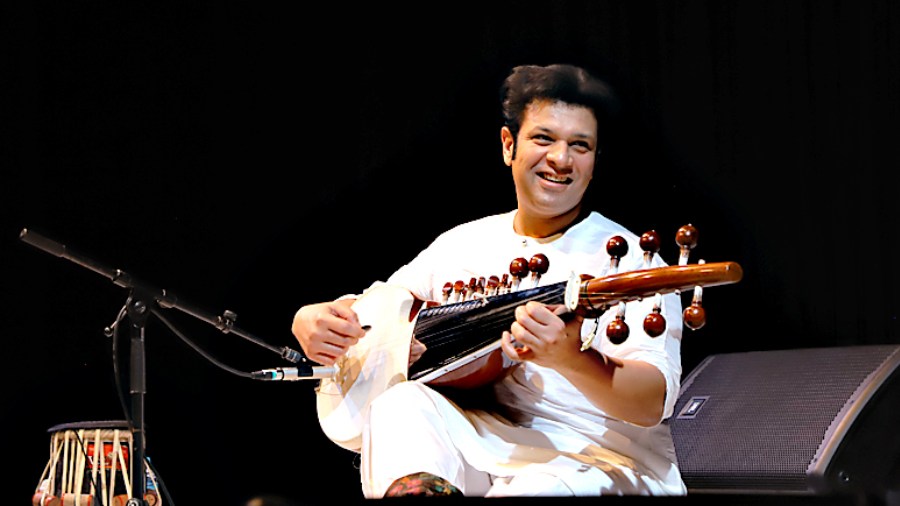 ---
Published 17.09.22, 03:44 AM
|
---
Amaan Ali Khan kindled the city's festive spirit with a solo sarod recital at G.D. Birla Sabhagar, an initiative of Sutanuti Patakatha, along with the young and promising Ojas Adhya on the tabla. Amaan touched the soulful inner quietude of Raga Yaman Kalyan, taking his time with an elongated alaap, with necessary pauses between the keynotes and a rotational standing to let the magic flow. Amaan seldom follows conventional patterns and this performance was no exception — he added flourishes with gayaki from the lower to the middle octaves. The movements in the lower octave and the escalation to the middle octave with the alchemy of two madhyams made Amaan's rendition unique. In the jor, the artist used three octaves intelligently to set the pace. The raga bloomed in the jhala, where speed, spontaneity and smooth, yet complicated, movements enthralled the audience.
Amaan showcased his legacy in the vilambit jhamptaal gat. A sincere follower of Ajrara-Delhi gharana, Ojas Adhya displayed his talent and ability to keep time with the sarod. Not only was Amaan patient in explicating the charm of the raga but the technique of his strokes also added a special dimension to it. His skill lies in creating chemistry between innovative taans and tihais. The audience was treated to this in the jhamptaal where the coordination between the tabla and the sarod was rhythmic. The rendition of the drut gat in teentaal was the perfect portrayal of Amaan's hardwork and consistent riyaz. Yaman Kalyan was certainly the best part of the performance. It was obvious to those present that Amaan is increasingly becoming unparalleled in his domain.
The aochar of Tilak Kamod in his signature style spread instant cheer. Amaan played two compositions in Ustad Amjad Ali Khan's ekhara style in teentaal. The amalgamation of taans and vistaars and the vibrant interaction with the tabla were perfect for this jovial raga. This was followed by a wonderful Miyan ki Malhar. The mellifluousity of his style, depth, expertise with detailings and the gorgeous conclusion struck a balance between the retreat of the monsoon and the onset of autumn.