Magic amidst the mundane
VISUAL ARTS: The Society of Contemporary Artists gets its groove back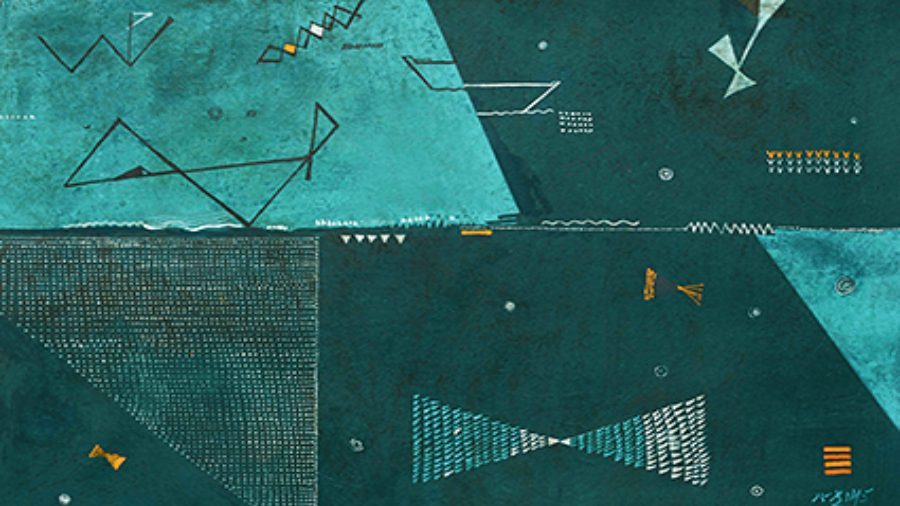 Rita Datta : An artwork by Ganesh Haloi
SCA
---
Published 26.03.22, 12:17 AM
|
---
The Society of Contemporary Artists seemed to have tackled its midlife crisis not so long ago, despite the death of several stalwarts. So if routineness had crept back into its annual show at Birla Academy in December, part of the blame must lie with the circumstances: meeting the annual commitment in the backdrop of Covid uncertainties.
But no routineness stales Ganesh Haloi's poesy and play as scattered lines, dots and shapes scurry, skip and criss-cross across captivating blues and greens of tempera (picture). Pradip Maitra also chooses brevity, putting aside his blurry objects to step into a spare, weathered mirage of parched beige and smoky stains in the best of his four watercolours, while seductive textures and spontaneous doodling flow from his versatile brush to infuse a youthful brio in two other works. Manoj Mitra, on the other hand, teases watercolour to a grainy tactility as though it were the mottled, aged coating of a mural, articulated well in Singer and Horse Rider. And tempera is handled with an assured sense of colour and geometry by Saumen Khamrui.
Atanu Bhattacharya's signature blacks are not without an oppressive menace, but the surprise that usually lurks around them is missing. Linking demagoguery and war makes Rajen Mondal's etchings particularly relevant in the context of the war in Ukraine. But it isn't the rather overused imagery that claims attention but the texture and tone he works up in them.
A sinister imminence still stalks David Malakar's chrome yellow city. But repetition fetches diminishing returns. In his two best works, therefore, it's the flyovers and towers that appear more ominous than his black cat on its night vigil. Aditya Basak plants a circuit of intriguing clues in his dark universe, while Bimal Kundu's inscrutable head recalls Easter Island sentinels. Painstaking craft is what's noticeable about Akhil Das' sculptures. But Pankaj Panwar's imprisoned Houseboat is rife with allusions. Is it about a ban on crossing kalapani? Or about the way an individual's journey is thwarted by multiple societal hurdles?