Luminous masters, bright students
It bodes well for future of Indian art that even after being dazzled by masters, newcomers in awardees segment still managed to steal show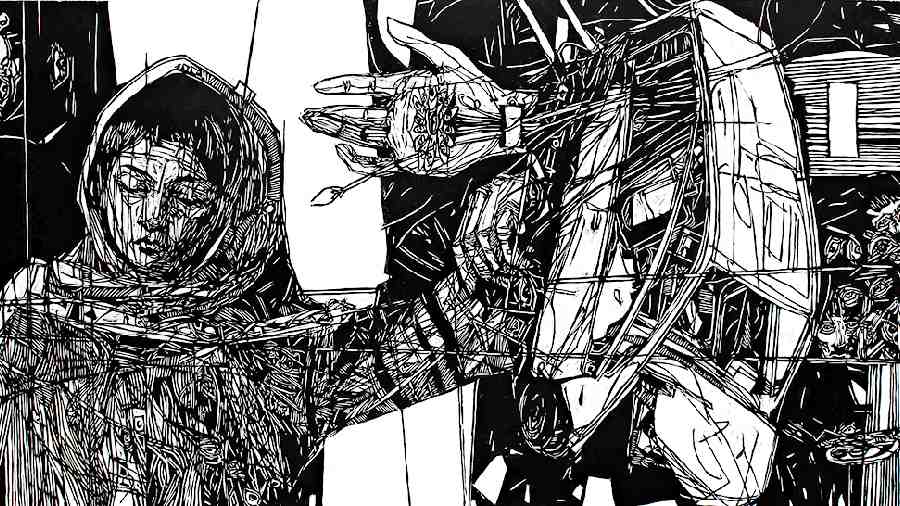 ---
Published 18.03.23, 03:57 AM
|
---
The first segment of Birla Academy's 2023 annual show could well have been called a crash course in Indian art history. Divided into sections like "Bombay Progressives", "Shilpi Chakra and Ukil School", "Madras Art Movement" and so on, it was a breathless procession of maestros covering several generations. Be it the busy details of S.H. Raza's Udaipur Bazaar, the mesmerising serenity of Paramjit Singh's emerald green landscape, the colourful Gond imagery of Durgabai Vyam, the sheer versatility of Ramkinkar Baij, the wide range of works on display was a treat for art lovers. What stood out amidst these oftentimes large and multi-hued canvases was a small, faded sketch by Sarada Ukil. The lines have all but disappeared into the fraying, yellowed paper but the grief of a lady bent over a tomb is still fresh and palpable.
It bodes well for the future of Indian art that even after being dazzled by the masters, the newcomers in the awardees segment still managed to steal the show. The eight frames of Umesh Jana's untitled work with an urbanisation-ravaged landscape — buried skeletons, charred houses, abandoned politicians' podiums — set the grim tone that informed most of the works in the awardees section. Here is a generation of artists deeply moved by and concerned about all that is ailing the world around them. Srihari Datta's smokey-grey landscape, Soumyadip Manna's clouded scenes from a war, Manoj Baidya's woodcut of an apocalyptic storm, Sarthak Banerjee's sculpture imagining barren trees as burnt-out matchsticks and Rakesh Sadhak's Working Class, wherein a man is stabbed and picks himself up only to be stabbed again, are some of the works that reflect contemporary concerns with striking artistry.
The most engaging print, though, was by Nutan Kishor Nishad. There is Winter in My Heart (picture), a breathtakingly detailed woodcut, has a young girl clad in a hijab with her eyes shut. But can shutting her eyes insulate her from the chaos brewing around her — the barbed wires cutting across the frame, hands reaching out to grab her? Her insides are not immune to gales either. From Kashmir to Karnataka, thousands of young Muslim girls would identify with her. Equally remarkable was the wooden sculpture, Game, by Panna Haldar where a biscuit is dangled over a boy's head, close enough for it to be an incentive but too far for the boy to ever reach it. It casts an ominous shadow owing to clever light placement by the gallery. A chilling reminder of the trauma of grief was captured by Ushnish Mukhopadhyay's video installation which played primal, guttural sounds signifying the failure of words.
There are also artists who long to return to the lap of nature and to more equanimous times. Priya Ranjan Purkait, for instance, weaves mesmeric paths through a patchwork field; these paths are created not of concrete but of years of passing feet. Samiran Das's man co-exists with nature in a prelapsarian world, while Sukla Chakraborty explores ideas of home. Souvik Roy's pen, ink and colour tint on canvas (Primordial Forest) is so minutely detailed that hours can be spent unravelling its layers. Even more intricate is Supriyo Karmakar's Mundane Meadow where the cross-hatching is so fine that it looks like the weave of a cloth. In stark contrast, the minimalism of Anirban Basu's Darkness and the Valley II hints at a serene homecoming
The segment on photography stood out for Gauri Gill's moving documentation of childbirth. Stripped of colour and tourism potential, Rajasthan is scoured at the nomadic margins, revealing lives in transition. Mohammad Ayazuddin Patel's portrayal of heritage in Bijapur and Arjun Chakraborty's intentionally underexposed Scapes of Gujarat also caught the eye for their austere idiom. The segment on the evolution of Indian film posters was interesting. It charted the balance of art and photography in them as well as the way in which these influenced cinema.