Laced with irreverent wit
It is Ashit Paul's series of self-portraits, that, in lampooning himself, imported a mocking, comical irreverence to replace earnest engagement with an established genre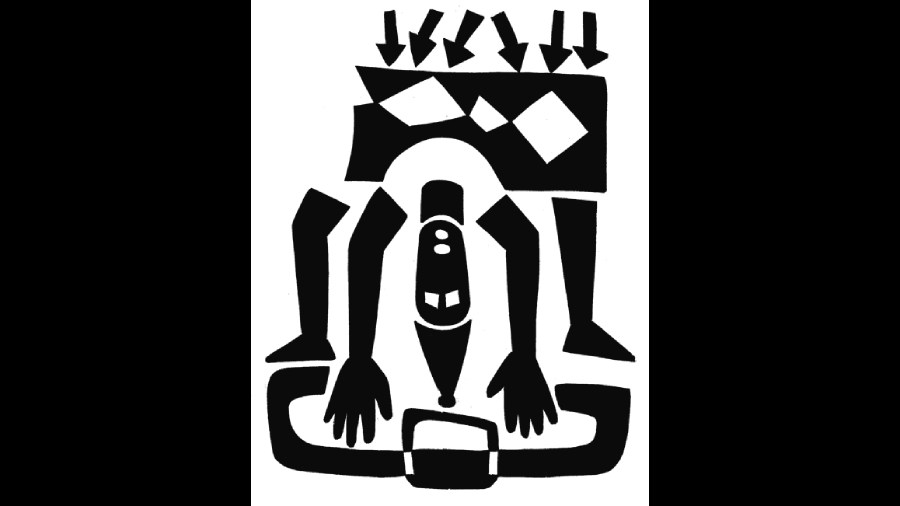 ---
Published 25.06.22, 03:09 AM
|
---
When a creative journey of fifty-plus years unfolds in a retrospective, its period resonance lingers. A painter, print-maker, sculptor, writer and activist, Ashit Paul has been both prolific and plural in his vocabularies, sometimes reverential — as in the mystical lyricism of his Chaitanya series — sometimes wryly deprecating — as in his self-portraits — but quite clearly representative of the 1970s and 1980s in his stylistic exploration.
But there was another reason for the nostalgia that marked the show at the Academy of Fine Arts in March organised, it seems, with the artist's reluctant approval. And that was his homage to battala woodcuts and late19th to early 20th-century pre-offset advertisements, both captivating in their quaintness. So cunning is his craft that the approximation of woodcut in mixed media works like Nachni would fool the unwary eye from a distance. But instead of soggy sentimentalism, there was a distinctly impish tone in revisiting popular iconography and text, particularly in his hilarious ad spoofs.
The earliest works — the usual drawings and watercolour landscapes typical of exercises — were from 1968-69 and the most recent ones were dated 2021, with an inexplicable gap for the 1980s. What buoys many of them, particularly the linocuts and woodcuts and the mixed media paintings, is wit, at times with a dark underside. If Prayer referred to the three wise men of the New Testament, it also archly looked at religious fervour as a tutored gesture without individuality. And Clown Bhisma or deathlessness (picture) stood out for the black humour in its spry brevity.
Several ink paintings were noticeable. Like the emaciated, bedraggled cat in The Old, a symbol of prickly vulnerability and neglect. But it was Paul's series of self-portraits, whether in mixed media or in ink, that, in lampooning himself, imported a mocking, comical irreverence to replace earnest engagement with an established genre.
Obviously, he was at ease with different media. Did this ease spur him towards the stylistic nomadism that spurned the anchor of an unwavering, individual idiom?