Kumar Sanu on his new single
The king of melody talks about the track, his first steps in Bollywood and music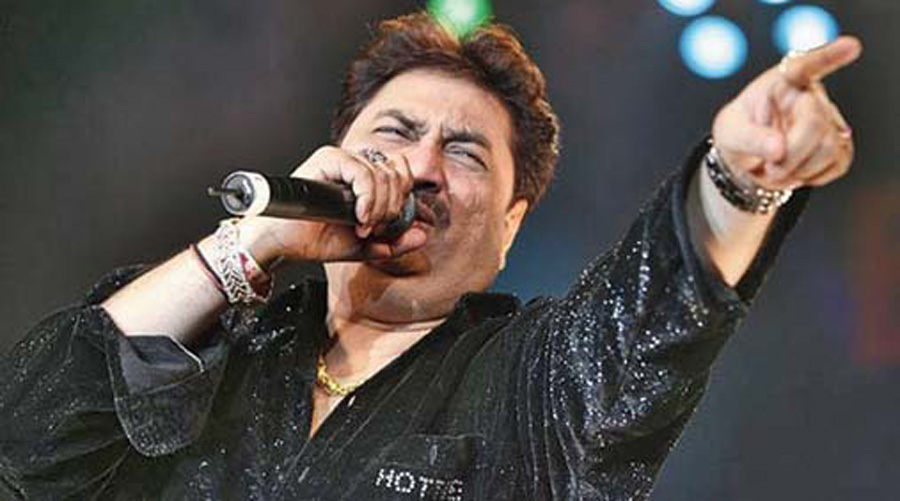 Kumar Sanu.
Sourced by the correspondent
---
Published 26.02.21, 11:44 PM
|
---
If there's anything that has remained unchanged in Hindi film music from the early '90s to now, it's the king of melody aka Kumar Sanu's magical voice. In Calcutta to record a single for the YouTube channel, Ministry of Muzik, the singer was his usual self — a booming voice and tongue-in-cheek humour. The singer talks about the track, his first steps in Bollywood and, of course music, in a t2 chat.
Tell us about this single...
It's titled Bheegi bheegi that will be launched on Ministry of Muzik. Shiladitya-Raj have composed the music, while Shabbir has penned the lyrics. It's got a '90s flavour to it.
When did you feel you had got a foothold in Bollywood? Was it after Aashiqui or after winning many awards?
After Aashiqui, I started getting offers. In those times, getting an award was an encouragement in itself. Sometimes, undeserving people win awards and the truly talented people are not considered. In those days, there used to be a healthy competition among singers.
How did Kishore Kumar's songs inspire you?
He is still an inspiration. Kishoreda, Mohd Rafi saab, Mukeshji, Lataji, Ashaji — they will always inspire me. Every artiste looks up to someone as an idol but he/she also needs to establish his/her own style. Kishoreda too had his idol in K.L. Saigal. Rafi saab looked up to G.M. Durrani saab. Lataji was inspired by Noor Jehanji. Ashaji followed Geeta Duttji.
What did you learn about nuances of playback when you sang for the early movies?
Talent can never be suppressed. It depends on who spots your talent and mentors you. I was working in a film being produced by Gulshan Kumar titled Jeena Teri Gali Mein. The song was called Tere hum ae sanam, which was a hit. So Gulshanji put his faith in me to record an album. Initially Aashiqui was a music album called Chaahat. But along with talent, other factors come into play too.
Your take on the kind of music now?
We still have good music being created now. The onus shouldn't be on the singer only and blame him/her for singing each track in the same manner. If the composer is not versatile, if the compositions don't have variety, then the singer can't display his/her range. How do you see the future of playback with technical modulation, remixes and remakes?
We have progressed quite a lot technically but vocals will always take centre stage. To be successful, one needs timing, luck and talent. Without these three, no singer or artiste can make it to the top. Even if any one of these is missing, you won't make it big. Luck can push you up to an extent but without talent, you will be ousted soon. Without the perfect time, you will not get that kind of an opportunity. So one needs to wait for his/her time.
How do you feel when iconic songs are remade?
I think remakes should not alter the original music. The arrangement can be tweaked. I have sung Mirchi lagi toh from Coolie No. 1 and earlier Aankh maarey for Simmba. Also many youngsters don't know the original singer... a remake will introduce them to him/her.
Was your approach different this time compared to earlier when you sang Mirchi lagi?
It was different then. We had recorded it at Mehboob Studio. There was a lot of creativity around. This time, the song was okayed on my first attempt. It is nice that I am the voice of young actors like Varun Dhawan and Ayushmann Khurrana and others. So it's almost like I have stayed around for three generations. I have lent my voice to Vinod Khanna, Sunny Deol and now for actors like Ranveer Singh and others. I have sung for Naushad, Hridaynath Mangeshkar, Ravindra Jain, Laxmikant–Pyarelal, Kalyanji–Anandji, then came the generation of Nadeem–Shravan, Anand-Milind, Bappida. Now there's the likes of Jeet Gannguli, Tanishk Bagchi or DJ Chetas or Lijo etc.
What's a usual day in your life like?
I wake up at 6.30am and hit the gym. I run on the treadmill for 30 minutes. I have breakfast around 8am and lunch between 11.30am and noon. I have my tiffin around 4.30/5 in the afternoon and dinner is between 6.30 and 7pm. In between I have to meet a lot of people, there are recordings.
And riyaaz?
That's in the morning.
How do you take care of your voice?
I don't do anything. Maybe that's why it hasn't let me down. I am not finicky about it. I might savour an ice-cream or have pickles. Nature has given me that voice and nature will take care of it.
It's been a long journey. Any regrets?
No regrets. I just want to say that there has been no proper recognition from the government of India. I don't want to point out any regime but the Indian government has not acknowledged me as a singer.
Future projects/plans...
I don't think of the future. I will keep singing. If the songs are hits, I will feel good. If they are not hits, it's still okay. I won't be able to live without music. I will try to sing as long as I can. Let's leave that to God.
How has Covid-19 changed your life?
We have learnt a lot from Covid-19.  We are more hygienic now, we wash our hands more frequently now. We avoid roadside food. The corona virus has taught us about food value, protein intake, vitamin-rich food etc.
And you learnt to cook too...
I know how to make biryani now. I cook biryani without the
masalas but I won't share the recipe with anyone. Let it be mine. I also learnt to make a lot of chicken and mutton dishes apart from veg items.