Keep it simple
The exhibition, Between The Self and Silhouettes featuring Soma Das and Anjan Modak's work stresses on the virtues of simplicity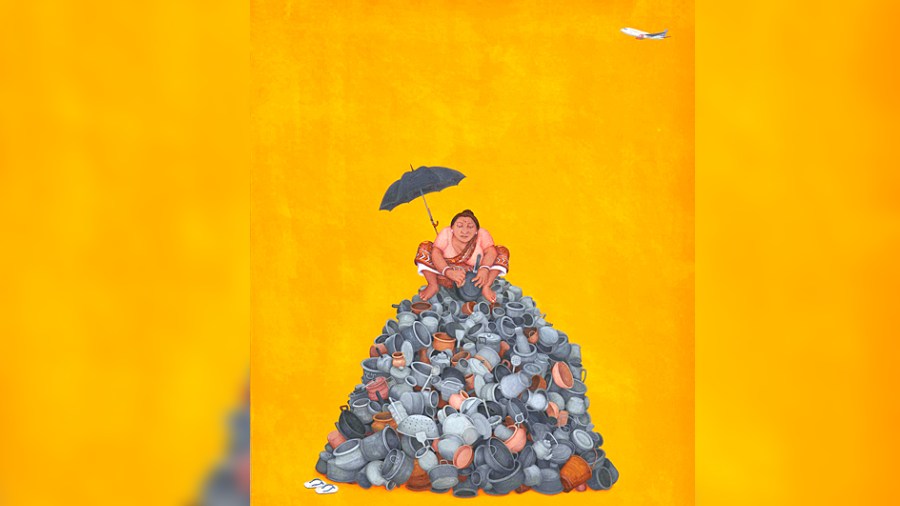 ---
Published 09.07.22, 03:44 AM
|
---
The virtues of simplicity cannot be overstressed. The exhibition, Between The Self and Silhouettes (April 8-June 4) — a rather overloaded title — featuring Soma Das (born 1979) and Anjan Modak (born 1982), curated by Adip Dutta and held at Emami Art, makes this adequately clear. Both artists were trained at Rabindra Bharati University in Calcutta. The humdrum and often harsh lives of ordinary people are what Modak and Das are interested in but their approaches in most cases are as different as chalk and cheese. Where draughtsmanship is concerned, both are equally skilled. Yet how differently they deploy these gifts.
So long as Modak presents men and women engaged in hard physical labour in his gritty ink drawings, he is excellent. The influence of a Bengal master and one of Modak's former teachers is obvious in the cross-hatching and the whimsicality of his work. Fine skills in one so young. But his images are often cluttered with his highfalutin ideas on certain predictable and trendy issues. They become laboured, ponderous and knotty for no reason at all. And like some artists of his generation, he takes a predictable anti-capitalist stance.
Das, on the other hand, sings a paean to Everywoman (picture). Her meticulously observed works in a variety of media may remind one of Sondheim's glorious Pretty Women, although these homebodies with sagging frames and flabby stomachs encased in saris and nighties are most anti-glam. But what they do possess is a certain freedom of spirit that liberates them from their workaday realities. They are engaged in household chores but their minds seem to have escaped elsewhere, far from the sordid surroundings of slums and cramped flats that human roaches call their homes. These women sweep, wash the bottoms of their children, cook, enjoy meals, scrub utensils, and light up coal-fired ovens. But they are also capable of daydreaming and have an inner life of their own that keeps them alive.