Journey to the end
In recent months, Ensemble and Shohan have given us two extremely polished Bengali adaptations: Dhawsh and Jharer Churoy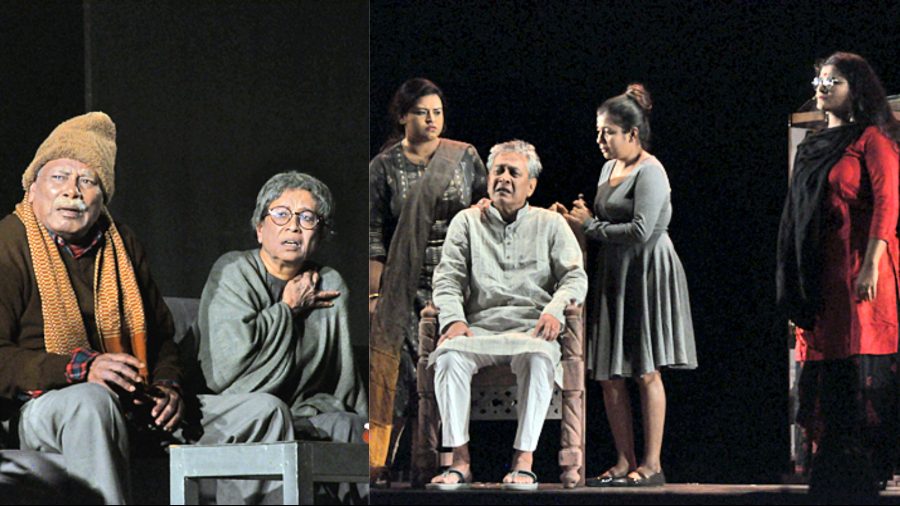 Directed by Sohag Sen, Dhawsh holds a mirror to the world we live in
---
Published 04.06.22, 02:44 AM
|
---
Innovation remains the hallmark of Group Theatre practice in downtown Calcutta. When it comes to adapting contemporary plays from distant shores, Calcutta never seems to be out of wits. In recent months, Ensemble and Shohan have given us two extremely polished Bengali adaptations.
Ensemble's Dhawsh (picture, left) is adapted from The Avalanche, a Turkish play by Tuncer Cucenoglu. Translated by Sohag Sen and Kaushik Bose, the script has strong political undertones. Set in the present time and located in 'any country', it opens in a one-storeyed cottage, surrounded by mountains. As a totalitarian regime engulfs the area, the villagers live in the fear of an impending avalanche as any loud noise might spell doom for the community. When the daughter-in-law of a middle-class family conceives — against the sanctioned schedule of childbirth — the family finds little to cheer about. A sense of claustrophobia grips the atmosphere.
Directed by Sohag Sen, Dhawsh holds a mirror to the world we live in. The distinctly grey tone of the set, designed by Chitralekha Ghosh and Kajjwal Ghosh, was in sync with Sutapa Ghosh's costume design. It was complemented by Bablu Sarkar's lights. Kaushik Bose's sound design was understated yet effective at crucial moments.
Dhwash also maintains the group's high production standards, especially in terms of finely-tuned naturalistic acting. Sen's penchant for exploring psychological tensions through subtle gestures and glances was evident in the sequences featuring the mother (Sutapa Ghosh), the son (Sunayan Khotel) and the daughter-in-law (Madhuritu Dasgupta). Roping in the veteran actor, Asit Basu, to play the grandfather against Sohag Sen's grandmother was a casting coup. How the senior citizens hold on in a rapidly-changing world was portrayed with remarkable compassion.
Shohan deserves a pat on the back for adapting Florian Zeller's French play, The Height of the Storm. It was translated into English by Christopher Hampton and received a warm reception in London a few years ago. With Jharer Churoy (picture, right), Saumya Sengupta adapts it to a predominantly Bengali situation where an aged couple — a writer (Sengupta) troubled by his gradually diminishing memory and his pragmatic wife (Suranjana Dasgupta) — face a crisis that is triggered by dementia. The play keeps adding layers of sensitivity, gradually involving the two daughters (Sreelata Sen and Madhumita Mukhopadhyay) and a mysterious lady from the past (Laboni Sarkar) to explore the workings of a feverish mind.
Directed by Anish Ghosh, Jharer Churoy premiered on November 20 last year. This reviewer caught the action at Rabindra Sadan on March 16. Watching this delicately-mounted production made one feel happy inside; not only for a glorious performance in the lead role by Sengupta, or Goutam Ghosh's inscrutable background score and Soumen Chakraborty's experiments with lights filtering in from veiled sources, but also for being a part of a discerning Calcutta audience that rarely fails to appreciate excellence in theatre.