Meet Ayushman 'Bobo' Mitra, the artist
Art defined by use of colours aplenty, the recurrent leitmotif of love and the motif of eyes — big, bold and bewitching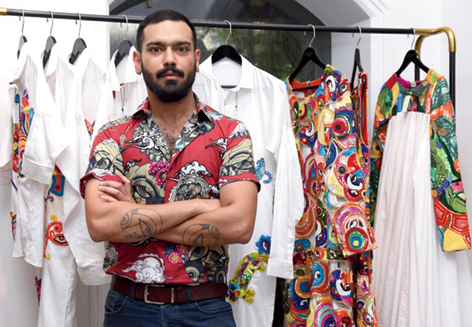 ---
---
Since I can remember, Ayushman "Bobo" Mitra has been an artist — whether making films as a videography student at St. Xavier's College, holding an exhibition of his paintings inspired by the names of all his college friends, acting in indie films, studying fashion in London or now, as he makes clothing inspired by his artistic style for Bobo Calcutta. He absolutely refuses to define the style of his art himself but to the eyes of the onlooker, it is defined by his use of colours aplenty, the recurrent leitmotif of love and the motif of those eyes — big, bold and bewitching.
"As far back as I can remember, I have always been inspired by alpona, Ma Durga and things of beauty such as how the goddess was decking up. I am not religious but I have always been drawn by the eyes of Ma Durga — it's such a Bengali thing. The fact that she had 10 hands seemed so cool to me as a kid," explained Bobo when I caught up with him.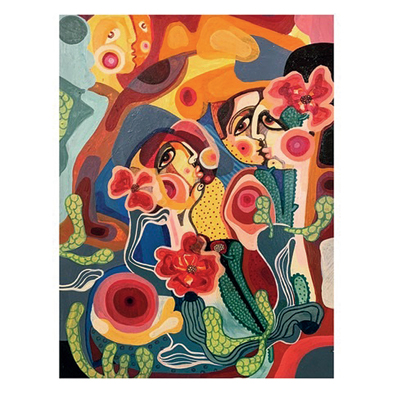 Chats with him, whether over the phone like in this case or even upon running into him at the most crowded of places, are always peppered with good-humoured banter. This particular one was triggered by his outpour of art during this period of lockdown, one stunning painting after another. It made me realise that in the many, many years of knowing him, I had never spoken to him about his art, which governs his purpose over all else.
"I have my artwork on my hands in the form of these faces with those eyes, tattooed on them and people realise that I have an obsession with eyes, which I do," Bobo added. His first painting ever was that of goddess Kali when he was around seven and he credits his initiation into art to his grandfather, as he reminisced: "My grandfather, who was a great aesthete himself and who everyone in my family says that I have gone after, always encouraged and allowed me to do what I wanted — even when my alpona was bad, he still allowed me to draw it. And that first bold painting of a naked, angry goddess made by a kid still hangs in my dad's office."
Transferring his art on to his clothes was an organic process with a certain amount of happenstance, for instance, when someone at a crowded nightclub during his time as a fashion student in London, would shower him with praise for his artwork. "Most people there at fashion school thought what I was doing was great and that's when I was like 'Oh, shit! I must be on to something'. People always liked my art but not everyone can own it so that's when I thought of making art on fabric as I could design clothes and make art and everyone would know it's me!"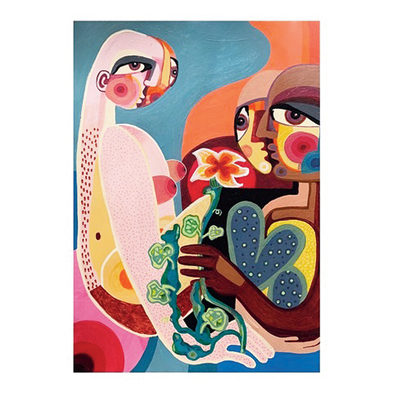 With over 10 paintings during the lockdown, he has used up his stock of papers and acrylic paint at home. "I was done chilling and it was time to be productive. I have very erratic sleeping and eating patters, and sometimes I work on each painting for hours on end. Most of my art is for selfish reasons — to make myself happy. It gives me validation and the confidence to do more in life," admitted Bobo. His recent body of paintings include Kamala — The Flower Vendor, Tumpa & Jonaki — The Sex Workers, and even one modelled after Sky, his beloved pet dog. Each of his paintings have been inspired by his area of preoccupation at any given time spanning his personal life to the world around, expressed through bold strokes of colours and a mix of his signature motifs of 'bloom' and the eye.
In the past, Bobo has often also expressed his view on important issues with his artwork on social media and always made a case for beauty and love through paintings featuring kissing faces, flora and fauna aplenty and more recently, through Bagh Begum, a life-size installation for The India Story in December, that he referred to as "citizen Bagh" while chatting with me back then. He continues using traditional Indian design elements in his works such as paraphernalia for a puja, a parrot or the colour red from the quintessential laal paar saada sari. But they all fit into the contemporary, just like when he effortlessly transfers the aforementioned designs on to a pair of Levi's denims or a fitted corset with a sweetheart neckline.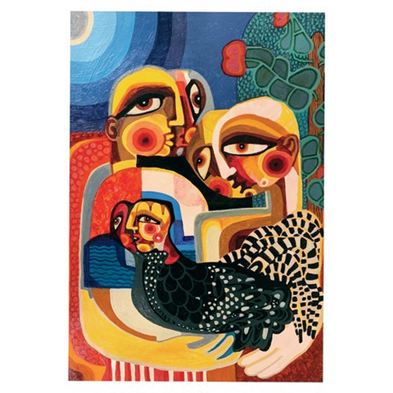 At some point, his dida joined in the conversation and added in Bengali: "He has always made art and I can't think of a time when he didn't, which is just like his grandfather too. He is a storyteller and that in itself is art — it's like his thing."
Though, to most, he is better known as the designer of artsy clothes that have been worn by names such as Deepika Padukone, Madhuri Dixit Nene, Jim Sarbh and Radhika Apte, he is a man of art foremost, irrespective of the medium. And for the naysayers who dissuade, he cites the example of the Japanese-bred, America-based artist Yayoi Kusama, who is regarded as one of the most important artists of New York's avant-garde art scene of the '50s and who now voluntarily resides in a mental health hospital — "She keeps repeating herself to death with her art but that's what she does and she got science into art, way before installations were installations. Look her up, you'll go mental!"