Infectious band chemistry sets them apart
American boy band Why Don't We on their new album and spreading good vibrations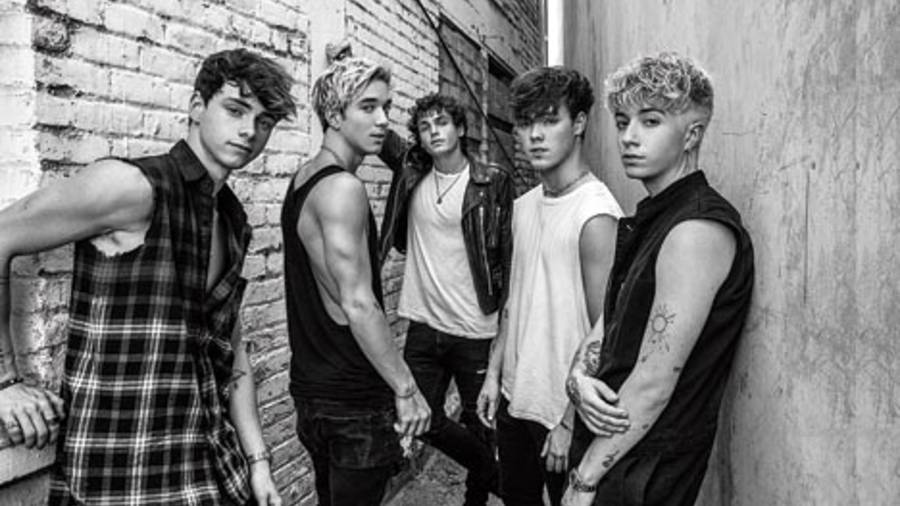 (L-R) Corbyn Besson, Daniel Seavey, Jonah Marais , Zach Herron and Jack Avery of Why Don't We
Sourced by the correspondent
---
Published 03.12.20, 03:33 AM
---
It was a dream of making it big that got them together. With millions of fans latching on to their every word now, American boy band Why Don't We are ready for the big league. The band's music has taken a more edgy, rockish turn now. Their performance at the MTV Europe Music Awards 2020 (which streamed live on Voot Select and VH1 India) was proof enough. We caught up with the band after the performance.
We've had many boy bands in the music industry but what sets you guys apart?
Corbyn: I think what immediately sets us apart is our story. Before Why Don't We, we were all solo artistes that had met and become friends on tour and at other shows. We weren't manufactured by the industry as "boy band robots". I also think our band chemistry is pretty infectious. We're a bunch of goons and when we're together it's all good times and people can feel that energy when they're around us. We love making people happy and spreading positivity! Our next album is also going to set us even further apart because of how different and diverse the music is compared to our previous catalogue and what other bands are putting out. We are so excited for the world to hear it!
How did Zach Herron, Jack Avery, Daniel Seavey, Corbyn Besson, and Jonah Marais come together to make Why Don't We?
Corbyn: Jack had hit us all up one day in summer 2016 and said he knew a guy who knew another guy who was looking to take a band to the top. We decided that since we were all friends with the same big dreams, we'd be fools not to take this opportunity. We almost literally said, "why don't we?". Next thing we know, here we are four years later about to drop our first entirely self-written and self-produced album.
Why call yourselves Why Don't We? Is there a funny story behind it?
Corbyn: The name comes from how spontaneously we became a band. We are also pretty spontaneous people in general so that definitely plays a part.
Congratulations on your MTV EMA performance this year! Was it different performing virtually for shows that take place live?
Corbyn: Thank you! Performing virtually is entirely different from performing on stage in front of a crowd. This year was crazy... touring was our entire routine and lifestyle, and it got ripped from under the whole industry's feet. It's definitely been interesting to figure it all out, but we've had a lot of fun preparing some really cool performances. The thing we miss most is the energy inside a room full of our fans. There's just nothing like it. I really do miss touring and cannot wait to get back on the road to perform the new music!
Since it was a pre-recorded performance what steps and measures did you take to ensure safety?
Corbyn: Pandemic rules are taken seriously in the industry! On set we always have Covid-19 testing outside the venue and everyone is required to wear masks at all times. We've been getting tested two to three times a week for all of the stuff we've been doing to prep the album and it feels nice to know everyone around you is clear and we can all focus on making the best content and music possible! Praying this all goes away soon, so that we can get back on the road!
Many say that your performance was commendable and brought in that rock factor to the show. What do you have to say about this new image?
Corbyn: We all grew up playing instruments and felt like now was the time to switch it up, take it back to our roots, and show the world who we really are. We've done so much growing up through travelling the past couple years and it feels like all of that growth is leading up to this moment. This album is the most honest and arguably the most vulnerable music we've ever made. From upbeat bops to ballads it has something for everyone and I'm so excited for the world to hear it! What is the difference you guys see in yourselves from the Why Don't We in 2016 to the Why Don't We in 2020?
Jack: I would say there's been a drastic change in our mindset towards things, maturity, and creativity. When we say, "We're finally the band we've always wanted to be", it's basically us saying that we've finally hit a point after learning so much from so many people, that we can finally create our own art, our own music, and our own destiny.
We believe you guys took a break from social media at the beginning of this year. What were the five of you up to during that time?
Jack: We took this break to really hone in on making this next album perfect, and I believe with all the hard work we just put in over this quarantine has definitely got us to that point.
The pandemic has affected the music industry. How have you been dealing with this?
Jack: I've been doing alright! This whole pandemic has definitely tested my mental strength, but I'm thankful for it because it's taught me so much.
Let's talk about music. Fallin' (Adrenaline) was your first release this year and was received well by your fans. Where does the message of the song stem from?
Jack: I think it stems from us and how it's just scary to fall for someone at this moment, but at the same time if you really are into the special someone you'll do it for the hell of it.
We heard that Kanye West had approved of the drum sample from Black Skinhead for Fallin' (Adrenaline). Tell us the story behind it.
Jack: Well, originally when Daniel started making the beat for Fallin' he heard the same drum pattern from one of Borns's (American singer-songwriter) songs and thought it would be cool to incorporate it into one of our songs. It just so happened that Kanye's drums matched perfectly so we sampled them and Kanye and Daft Punk cleared it for us so generously because they liked the song!
Would you say sonically the song is a little different from your previous releases?
Jack: This song sonically is definitely way different from anything we've ever put out. It's a lot more rock and edgier.
Fallin' (Adrenaline) is from your upcoming album The Good Times and The Bad Ones, which comes out on January 15, 2021.
Jack: The album is a masterpiece in my eyes and for an outside listener I would say not expect any song to sound the same to another. There's so many different genres on this album which make it so unique. Do the other songs on the album pack a punch like Fallin' (Adrenaline)?
Jonah: Every song on this album definitely packs a punch in its own way. There is no other song directly like Fallin' on the rest of the album but they're all so good!
Describe a day in the studio for Why Don't We.
Jonah: First I'd wake up, get a text from Daniel that he's working on a beat around 2pm, pull up to the studio and walk into the room and hear the beat and some melody ideas Daniel laid down. I'd throw in some concept ideas and lyric ideas and when one resonates we just run with it!
What is it that you like about each other's talents that made you form this band?
Jonah: I genuinely think we all have really amazing vocal ability, and our tones really complement each other. Also the fact that we all play instruments is huge.
Rapid Fire
Dream collaboration: Taylor Swift
Dream venue to perform at: Our own headlining show at Target Center in Minneapolis
An instrument you want in your collection: A Steinway & Sons Grand
A song you'd like to cover in your own way: Take It To The Limit by The Eagles.
The most memorable compliment you have received: That we have a big potential to inspire a lot of other people.