Rustic charm: Nakshi Kanthar Math
In this Naye Natua production, Goutam Halder starts from the scratch and directs a small team of young actors supported by seasoned musicians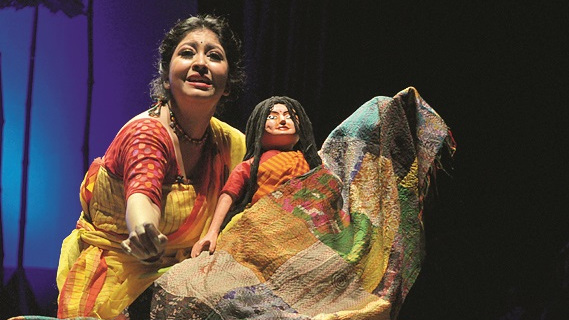 A moment from Nakshi Kanthar Math.
Anshuman Bhowmick
---
Published 06.03.21, 12:02 AM
|
---
Goutam Halder loves to look back. A few years after he stormed the Bengali proscenium stage with Meghnad Badh Kavya (1995), a Nandikar milestone that combined traditional performing decorum with modern stage sensibilities, he guest-directed Nakshi Kanthar Math (The Field of Embroidered Quilt) for Kalyani Natyacharcha Kendra. With Khaled Chowdhury designing a deceptively simple yet multi-functional stage and Tapas Sen illuminating the harsh reality of rural Bengal, this KNCK production stood out as a model for dramatization of narrative verse marked by stupendous team work, à la Nandikar. Twenty winters after, Halder returns to Nakshi Kanthar Math and once again tries to reorient an indigenous performance tradition like pala gaan for a predominantly urban audience.
In this Naye Natua production, Halder starts from the scratch and directs a small team of young actors supported by seasoned music accompanists led by Satyajit Chowdhury on the violin. The director takes charge of all the major departments like stage, light and music. The rustic nuances of Jasim Uddin's 1929 publication were not compromised and Halder's signature was unmistakable all over the Academy of Fine Arts auditorium on February 6. Most importantly, he casts Dyuti Ghosh Halder as the sole narrator taking the centrestage flanked by two sets of supporting actors — male and female. The tale of two villages set apart by a field was denoted by simple bamboo pole arrangements on either side of the proscenium. Two small puppets standing for Rupai and Saju — the star-crossed lovers — added to the ethnic charm.
Although the costumes looked too crisp and colourful for the subject, and the all-important kantha missed the regional look, the 125-minute-long production rode smoothly on Ghosh Halder's broad shoulders. This multi-talented actor breached the fourth wall in no time, took the audience into confidence, switched roles with commendable finesse and never let the tempo fall. Halder makes ample use of her singing voice that registered pathos at regular intervals.
I wish the light design helped the mood shifts. Lit in azure blue all along, the cyclorama not only strained our eyes but contributed precious little to our journey into the heart of rural Bengal.