Glorious past
Titled Esther Leach, the hour-long drama, written and directed by Sudip Ghosal, traces the life and times of the most celebrated Calcutta actor of her generation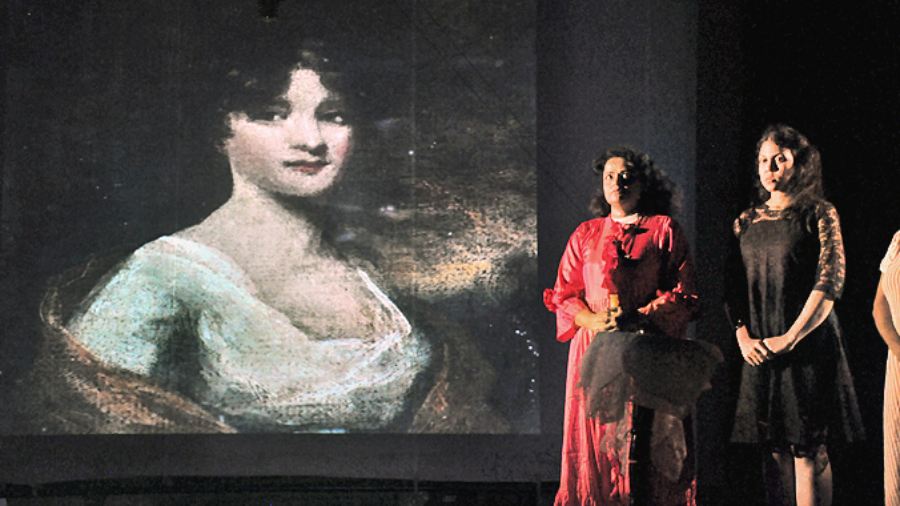 ---
Published 19.11.22, 03:10 AM
|
---
Yesterday marked the 179th death anniversary of Esther Leach (1809-1843), arguably the first woman actor-cum-director of proscenium theatre in India. Yet, hardly any Calcuttan ever visits her grave at the Bhowanipore Cemetery to offer a wreath. St Xavier's College, which Jesuit fathers established on the ashes of Sans Souci Theatre — the most sought-after entertainment address in colonial Calcutta of the early 1840s — never really preserved the memory of the place on which its auditorium stands. The Archbishop's House building situated next door, where Leach breathed her last after succumbing to burn injuries 16 days after her dress caught fire while performing at the Sans Souci Theatre, stands as a mute spectator.
While there exists a collective amnesia about the torchbearers of proscenium theatre practice in Calcutta, Howrah Srijan staged a biodrama on Leach. Titled Esther Leach, this hour-long drama, written and directed by Sudip Ghosal, traces the life and times of the most celebrated Calcutta actor of her generation. Ghosal, to his credit, has done his research. He refers to the colonial theatre practice in cantonment towns like Meerut, Berhampore and Dum Dum and throws light on the tradition of staging Shakespearean drama alongside farces. Leach's personal life — its moments of agony and ecstasy — is dealt with sensibly, especially her engagement with Sanskrit plays like Malavikagnimitram. However, while reconstructing a scene from rehearsals, Ghosal goes a bit overboard and lets anachronistic elements seep in. Esther Leach ends with the projection of a photograph of the actor's grave and then the author's portrait on the cyclorama. The moment caused goosebumps.
Srijan does not have many good actors. However, Ghosal plays to his strengths. Taramani Ghosh, who plays Leach with passionate intensity, deserves a pat on the back for carrying the production on her shoulders. Ghosal chips in towards the end and plays out scenes from The Handsome Husband with Ghosh. For a moment, one was transported to the Park Street of the 1840s where the movers and shakers of colonial Calcutta assembled to appreciate the magic that is theatre.