A Subramaniam-McLaughlin 'jugalbandi' for the first time
I wanted to do just an alaap concept where we bring out the beauty and colour (of the notes) with slow expression and absolutely no accompaniment, says LS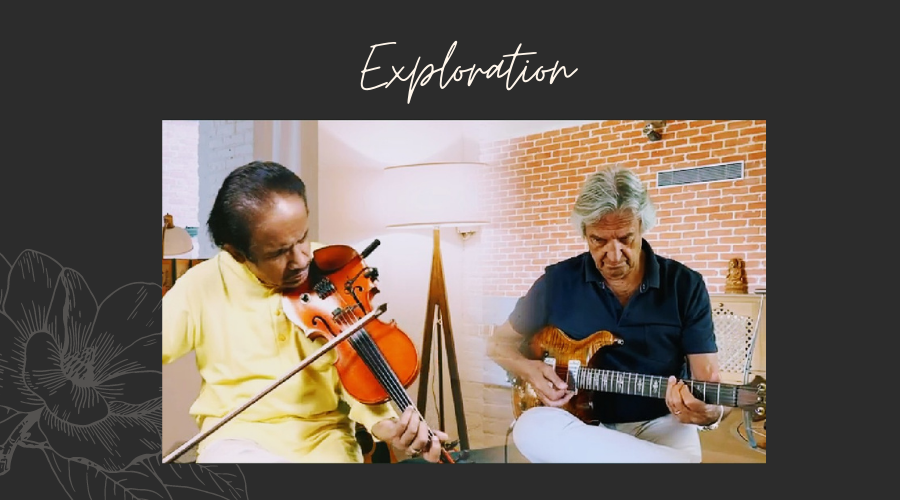 ---
---
Violin meets guitar. Separated by the seven seas, two legends come together for the first time. The Conversation acquires a new dimension. For, there's Lotus Feet on the other side. L Subramaniam meets John McLaughlin, playing together for the first time ever, even though they've known each other for decades.
Exploration is not the typical confluence of two maestros coming at each other all notes blazing. Instead, it is soft, mellow, serene. It is about silence, the kind you feel in a drop of mist on a lotus in full bloom. It is about the beauty you can wake up to if you want to at dawn no matter where you are: rainy Bangalore, dusty Calcutta or crystal-clear Monaco.
The headlining performance of the 30th edition of the Lakshminarayana Global Music Festival which Subramaniam organises annually in memory of his father, this collaboration, along with other performances, is being unveiled digitally through January. The festival is to celebrate the legacy of Shree Lakshminarayana whose vision and untiring effort at developing salient playing techniques have helped the Indian violin emerge as a bonafide solo instrument on the world stage.
Both Subramaniam and McLaughlin have spent their musical lives crossing boundaries hitherto deemed unsurmountable; LS with his international collaborations, symphonic and otherwise, with the likes of Yehudi Menuhin, Stephane Grappelli, George Harrison, Herbie Hancock, Jean Luc Ponty and many others, and JM, who having blazed a trail with Miles Davis and his own time-bender fusion band Mahavishnu Orchestra in the 60s through the 70s, went on to shine a light on Indian music with Shakti and most recently, his album Is That So?
The opening performance of the first episode, now streaming on YouTube, is by the European Recording Academy Orchestra of Bulgaria playing Jupiter Symphony. Composed by LS in the confines of his home during the pandemic, but played and recorded abroad, it is a searing ode to hope that seeks to rejuvenate our senses atrophied by a vicious pandemic that is nowhere near its end. The fitting finale to the half-hour long episode is archival footage of an unreleased interview of Yehudi Menuhin wherein he discusses improvisation with Subramaniam during the 50-year celebrations of Indian Independence.
Dr Subramaniam recorded Conversation with Stephane Grappelli in 1984 while Lotus Feet is McLaughlin's signature tune composed in the mid-70s when he was helming Mahavishnu Orchestra. With Exploration, LS and JM get to meet musically. Finally.
That was reason enough to reconnect with Dr Subramaniam. The hour-long conversation over Zoom was revealing in more ways than one. Excerpts:
Namaskara, Dr Subramaniam. It's nice to reconnect in these difficult times.
Namaskara, yes indeed.
Let's start with Jupiter Symphony that premiered about a week ago. How did it come about?
We were touring Australia and New Zealand during the early months of the Covid crisis and managed to reach India two days before a total lockdown was imposed. It was an unprecedented situation, to be cooped up in our homes, not being able to meet anyone, having no contact with people.
So, I decided to work on my pending projects. I had a huge backlog… and I started collaborating with various musicians. We did a composition on the theme of Vasudhaiva Kutumbakam (the world is one family where everyone tries to look out for each other), it was a song called Earth Anthem with Kavita Krishnamurthy Subramaniam and Bindu Subramaniam. Then we did Vande Mataram, which we released on August 14, 2020. That had a host of musicians like S.P. Balasubrahmanyam (one of his last projects), Hariharan, the European Recording Orchestra, conducted by Derek Gleeson, and soloists Ronu Mazumdar (flute), Debashish Bhattacharya (pushpa veena), Ambi Subramaniam (violin), Sanjeev Nayak (violin) and Tanmoy Bose (tabla).
When these worked out well I got the impetus to try and record a symphony for the 30th edition of the Lakshminarayana Global Music Festival which I hold annually as a tribute to my father. Usually, we have several renowned musicians join us on a multi-city tour of India and the world. But because of the pandemic we had almost given up hope this year. But now, I feel, we haven't done too badly as we have conducted several collaborations which are now all available digitally for everyone to enjoy.
Why Jupiter?
This composition turned out to be Jupiter Symphony because the day I finished writing and received the first recording, we were in the throes of the 'Great Conjunction', the coming together of planets Jupiter and Saturn. (The December 2020 spectacle was special: it was nearly 400 years since the planets passed this close to each other in the sky, according to NASA).
I noticed the harp.
Yes, the harp has a major part in the piece, something I hadn't done in a long time. Jupiter is our 'guru' planet. And I considered the coming together of the 'guru planet with Saturn as some sort of a blessing. That's why we have Kavita joining in, extolling the virtues of Lord Brahma, Vishnu and Maheswara.
On to your collaboration with John McLaughlin. You have studied western music, while he has embraced Indian music. Yet it took you so long to come together.
I have known John for many, many years. He did Shakti with my younger brother (L Shankar). Also, when we took our Violin Trio to the US with Palghat Mani, the stalwart of the mridangam, John organised a concert in New York. In fact, John accompanied us to several places… as he reminded me the last time we spoke, he used to sit next to Palghat Mani so that he could experience his powerhouse playing. And he would often tell me what an amazing experience it was for him to see and hear Palghat Mani play.
But you two did not play together till now?
As I said, I have known John a long time, but since my brother was involved with Shakti, I did not want to get into that… ethically, I was not OK. Subsequently, we met several times at various hotels while touring.
How did you reconnect?
Well, in your city. Last year, when I was in Calcutta for the Behala Music Festival I got to meet him. I had finished my concert and I was leaving when I met Zakir (Hussain) ji and Shankar Mahadevan. Then John's manager asked me if I could make the time to see him. So, I met him before rushing off to the airport. We exchanged our personal numbers and promised to talk later.
Now, while planning for the Lakshminarayana Global Music Festival, I called him and asked if he would like to do something together. He agreed and that's how we started.
And how did you decide on Exploration?
He set it up and it took me some time to go through everything and decide how to make it one collaboration where we are playing and answering and reacting to each other. Because of the pandemic, we couldn't sit across each other and play. But when you hear the piece, you won't even know it was done separately. It is as if we are sitting next to each other, musically I mean.
So, it looks like a total musical piece spontaneously done, created not to mimic phrases _ you know, the kind where he does one and I do one. I am very, very happy at the way it has come out.
Absolutely…
I told John I want to do this raga concept _ not virtuoso kind of things which people normally expect _ you know, two of us playing fast. I said I wanted to do just an alaap concept where we bring out the beauty and colour (of the notes) with slow expression and absolutely no accompaniment. That's what has happened.
The combination is beautiful, the way the pure sound of the violin complements the unique guitar tone.
In fact, John mentioned to me that for the last 20 years, he has been working on this new tone on the guitar. It is a unique and beautiful sustained tone. Of course, he is a virtuoso player. I mean, anything you want him to play, he can play on the guitar. And to bring this feeling musically… he is a master.
Have you pursued this idea with other musicians?
I followed the same concept with Pandit Jasraj when we did the Alaap Series. When I told Panditji, he agreed, but asked 'who will listen to it?' I said as long as it has depth and emotion people would listen _ ultimately, it's the emotion that draws people _ excitement is transient, but people are drawn to emotion and tend to stay there. We tried it first in Chennai with only a tambura, voice and violin. And we just improvised. It turned out so beautifully that he asked if we could do it in the US. And we did it in Chicago, Pittsburgh and other places!
So, this is different?
In a way, yes. I wanted to launch the festival with John, because (as I said earlier) I have done this with a classical musician. But this is the first time, kind of, when I explored this concept with a virtuoso jazz and fusion guitarist whose boundaries are far, far wider.
Both Exploration and Jupiter Symphony are so apt. In any case our festival is about going beyond boundaries. In fact, my latest album is called Beyond Borders (with George Duke, Stanley Clarke).
Which for you is the most exciting moment while you are composing? Is it when an idea strikes? Or is it when you hear the composition when it's ready? Or is it the journey of getting there?
There are two things. I don't start anything unless I hear it in my mind. I never sit and start writing (music). Before it had to be hand-written. Nowadays you can play notes into a computer and orchestrate everything. When I did Fantasy on Vedic Chants, I had to write everything for the New York Philharmonic Orchestra. And since they cannot read my handwriting, I had to have a copyist to write it out beautifully as they did in Hollywood with film scores.
So, once I hit upon a theme, it works as an inner light. Getting that light is the most important thing for me. Very rarely, I even dream of a melody. Then, I get up immediately and hum it into my phone _ earlier I would scribble it on a piece of paper. So that is the first step. Then it leads me to the structure and duration. And I have to hear everything. So, unless I hear a line, say, on the harp, I don't write it out for the harp. It's not as if I write out lines and then distribute it for various instrumentalists to play.
Even in fusion projects, say, Conversations, I was hearing (Stephan) Grappelli and so I wrote for Grappelli. I didn't write a piano line and ask him to play. For Jupiter Symphony I was hearing the harp and piano.
And when it's done?
When I finish writing, it's like a dead sound on a computer. But when the entire recording is done, and if it is good, it's an unbelievable experience. It is difficult to express the happiness and satisfaction, to think that the inner voice you had heard, brought you this far.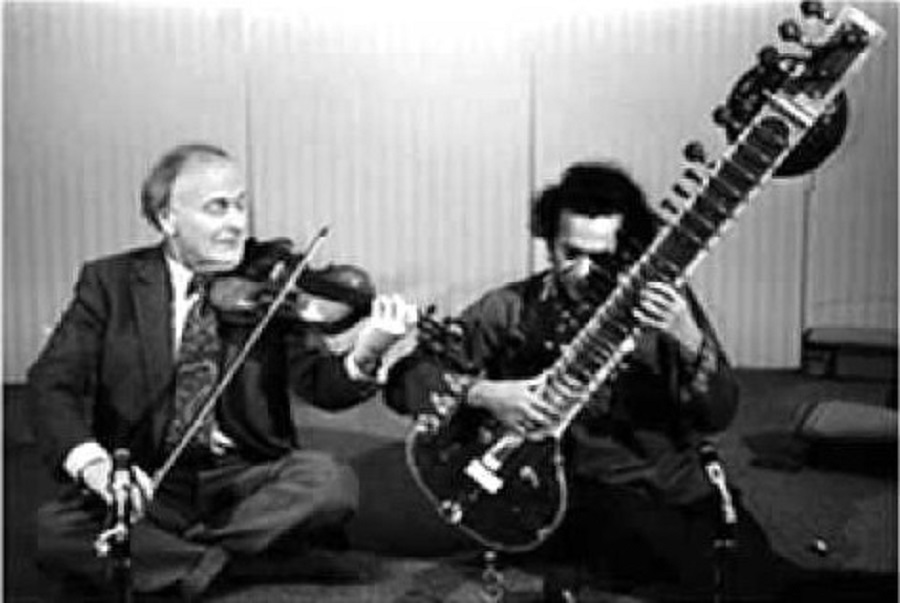 Your interview with Lord Yehudi Menuhin, conducted when he was in India circa 1997, is fascinating. On the two broad classifications of music, the system of improvisation and the performance of music that is written out, Menuhin says: 'Like all contrasts, they look as though they are in opposition when they're really complimentary to each other _ and they are serving each other.' Your views since your music has been about crossing over.
You know, I have been trying to do that… not only say between Indian and western classical or Indian classical and jazz. One way of looking at the schools is that one becomes a master of one school and then goes beyond that tradition. When two schools of thought try to cross over and play, if you know the other school and study it well then you can create circumstances to bring their best and also push their boundaries. Hearing whatever they do best is one thing, which they do anyway. But if both players try to push their boundaries and explore something which has never been tried, then that will stay for a longer time _ like what John and I did with Exploration. In it both of us try to push our boundaries to create something new.
What else has been planned for the festival?
We have some more music and interviews of, among others, Stephane Grappelli and Ilaiyaraaja.
Looking forward. Thank you, Maestro.
Thank you. It was a pleasure talking to you again.