Exploring pain: A tribute to Dinkar Kowshik
Visual arts: A December 2019 show at Birla Academy paid a tribute to the artist and academic Dinkar Kowshik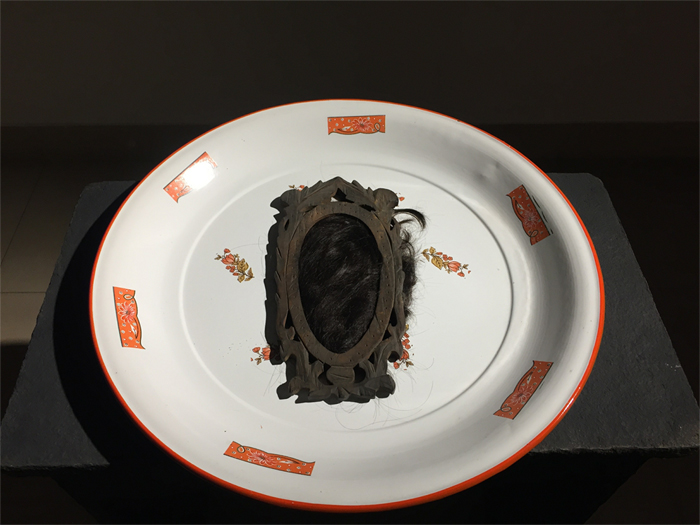 ---
---
The rootedness and the reaching-out that mark the Visva Bharati ethos is apparent in Dinkar Kowshik (1918-2011) himself. After all, he'd imbibed its searching eclecticism as a student in the 1940s, and infused this legacy with contemporary practices as the Kala Bhavan principal in the late 1970s.
A December 2019 show at Birla Academy paid a tribute to the artist and academic by bringing together more than 200 works by his teachers, associates and students, and included some 18 by Kowshik himself. Semi-geometric oil figures that are like spry cut-outs; dappled watercolour stains; a chatty litho of tiny marks and scratches: they gave the viewer a taste of his explorations.
Nandalal Bose — with a litho from his Bengal School phase — Benode Behari Mukherjee and Rankinkar Baij were, of course, represented. So were those reputed artists Kowshik had lured to Santiniketan. Like Somnath Hore, whose litho of a rugged moss-green topography edged with arid earth tones could be a mindscape of Wounds. Or Sanat Kar, whose cardboard intaglio recedes into a spectral zone of nonplussed, disintegrating faces. Or Lalu Shaw, investing his monochromatic etching with the contrary pulls of inert structure and motion to yield a riveting tension.
Sushen Ghosh's sculpture has a similar anchor of binaries: austere geometry and biomorphic hints, stillness and movement. Suhas Roy's works from his earlier years reveal what art-lovers lost to his She obsession. A beguiling imminence imbues Paramjit Singh's landscape, while Arpita Singh's print pulsates with the heave and jostle of threadbare fragments.
The chance scatter of lines on dry smudges in Akmal Husain's abstraction; the simmer and turmoil in the paintings of Jayashree Chakravarty and Nabina Gupta; the tectonic terrain in Maneswar Brahma's woodcut; the wild, withered undergrowth Chandan Bezbarua examines; and the ravaged forest Pralay Chakraborty's digital print mourns are landscapes to note. Shreyasi Chatterjee's heaped scraps of appliquéd fabric and Krishnendu Bag's wry interplay of mandalas in his textile weaving tease out an off-beat, infectious rhythm. And Haren Thakur's flat, archly geometric forms confirm that folk idiom hasn't lost its naive charm.
But no naïve charm disarms Mallika Das Sutar. Because the reality women combat daily is just too grim. Hence, her installations, on view at the Academy of Fine Arts last month and based on extensive research, were poised between argument and empathy. The motif that recurs in them is hair: a metaphor for feminine pride and seduction but also — if one remembers Draupadi and Frieda Kahlo — for protest.
Mona Hatoum has, indeed, evoked a spectrum of nuances in her installations with hair. Sutar takes a related path in suggesting its intimate, erotic and painful associations in the Indian context as she probes the sanctioned injustices women are brainwashed or browbeaten to bear. Giant letters formed with nylon hair on a board scream I can't bear it, echoing an anguish that, she seems to insinuate, no cushioning can mute. For, on the other side, are quilted cushions with stitched-in lines of information on brutalized women: a strategy to reinvent domestic material and craft into an emphatic feminine creative identity.
The artist's sound installation captures the rustic authenticity of Manasha Mangal. The village women who sing it are always somebody's wife and somebody's mother, always a nameless, featureless, undifferentiated group, denied individuality. While Sutar's Nati Binodini remembers one kind of exploitation, the demeaning narrative of exploitation of women workers goes on elsewhere, too. And since the legal guarantee of equality is routinely violated, she adopts a gesture of nonchalant subversion by cutting a pit through the relevant pages of a statute tome. For the burial of hair, feminine hair, of her own clipped tresses.