Experimenting with art
Birla Academy's annual show has young talent experimenting with options of risky marketability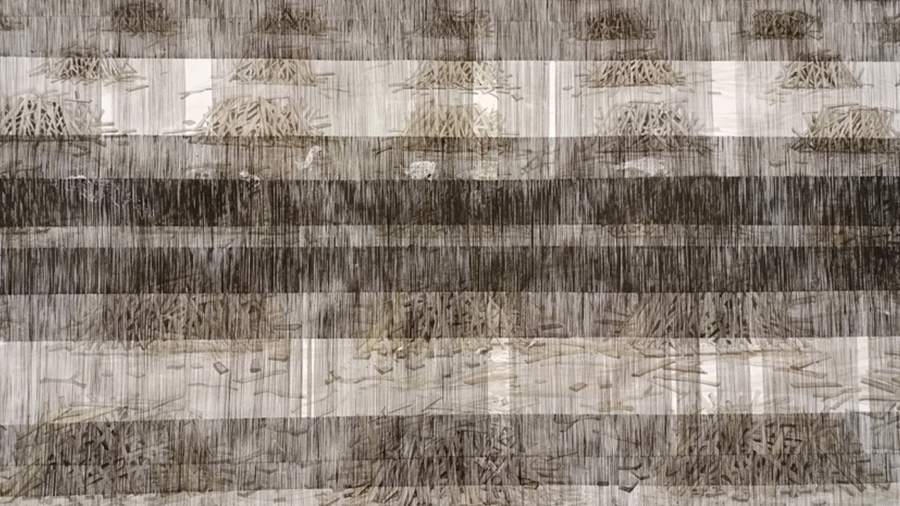 An artwork by Pratap Manna
Birla Academy
---
Published 12.03.22, 01:21 AM
|
---
A welcome rescheduling of the invitee section for a later time ensured that the spotlight wasn't stolen by established seniors from the 210 competitive entries at Birla Academy's recent 55th Annual show. What became clear once again is that the qualitative shift in art practice that had begun here sometime in the 1990s, stimulates young talent to experiment with options of risky marketability.  
The example to cite is Balaram Koley's When Water is the Memoir, which could be indebted to Hans Haacke's Condensation Cube and to Damien Hirst. Its terracotta pitcher, boxed within a glass case, gasps for breath, as it were, while vapour forms little beads on the inside. This metaphor for slow death speaks not only of Nature and creatures that breathe but also, archly, of non-conformist individualism. But When Breath Becomes Air, people become anonymous pyres: Pratap Manna's watercolour of whispered monotones thus merges physics with philosophy (picture, top). And Priya Ranjan Purkait's snow-bound land of wrinkles and stitches of white and tan acrylic resembles an aged wrap, patched-up yet elegant, as it maps a Journey towards elegiac silence.
The awardee, Javed Akhtar, reduces lovers to spectres in the bleakness of greys, while Srihari Dutta's bleached, shaggy greys conjure up a desolate vista. Chiranjit  Mitra's lens pauses on the Land Art sculpted by a receding tide in grey sand banks glinting in the morning sun. But Soumen Mondal knows how merciless the tandava of the sea can be. An edgy flux marks Ravi Moriya's collage, while there's an unstated disquiet brewing in the wind-swept night of Priya Shah. Yet romanticism survives in the delicate tea tints and fragile details of Moumita  Basak's plants. If Prosenjit Das celebrates heritage, Bikash Gurung celebrates difference: tiny cubes, neatly arranged, wear bright colours and motifs like distinctive badges of identity, affirming apartness in unity. Cityscapes, however, are shorn of identity in Shatrudhan Gupta's mock-Mondrian colloquialism, Rajesh Biswas' vertical façade with little cuts and protuberances in white Braille paper and Prerna Sharma's blue-grey architectural patterns. Nilmoni Chatterjee's quaint wood and iron homes seductively cradled in the protective jaws of a tree trunk could prove as precariously situated as Chaganti Durga Prasad's colourful structure if Nature turned wrathful.
The epic trial that Nature's wrath exposes man to, is portrayed with a raw, cinematic realism in Sanjay Yadav's etchings, Covid 19. By linking a hacked tree to a shroud, Rohit Dolui tacitly diagnoses this wrath as a backlash. The same clinical aloofness makes Shantinath Patra's back-lit prints of body parts on OHP sheets a contrast to the intimate tone of Anirban Saha's Covid chronicle (both awardees). Biswajit Roy's sullenly watchful villagers, gathered under a van Goghesque sky, seem to be in a grim limbo. Awaiting what? Santanu Dey's dark, surreal abyss (picture, bottom), perhaps? And Supriyo Karmkar's theme is food. As a resource and a class/community ritual — replete with socio-religious symbolism like in The Last Supper — that's denied to the needy but dumped by the privileged.
Praveen Muniyappa's video, where the lone protagonist invents games with herself in jump-cut sequences, is European in temper, perhaps even a little Buñuelesque.
Sanjib Barui's installation, a wry play of geometric shapes, lines, material and shadows would still hold attention without its kinesis. Akash Chanda, Anand Prakash, Chandan Bhowmick, Sayantan Sengupta, Deepak Kaushalya, Surabhi Chowdhury, and the awardees, Gavara Satyanarayan and Subhankar Haldar, deserve a mention as well.