Experience love and its pitfalls on a new song by When Chai Met Toast
When We Feel Young as an album itself is about what you feel when you've gone through different relationships in life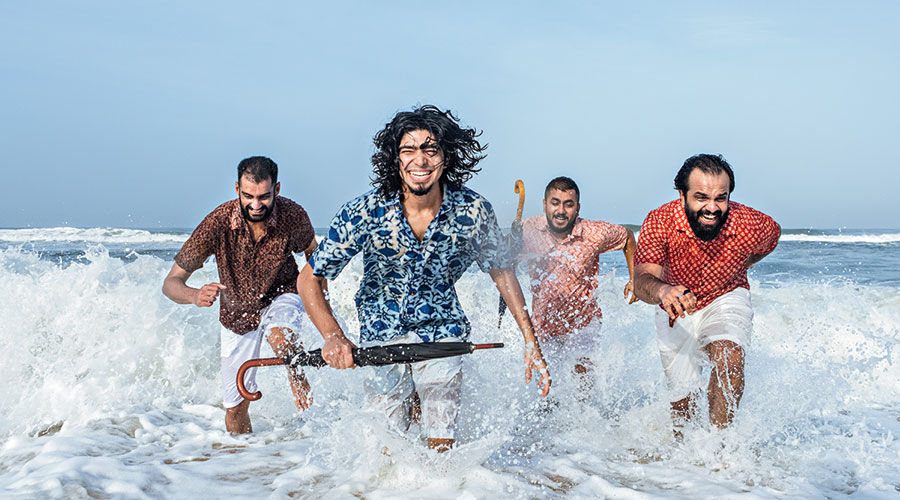 Members of indie band When Chai Met Toast — (l-r) Sailesh G. Pai, Achyuth Jaigopal, Banjo Palee Francis and Ashwin Gopakumar.
Athul Prasad
---
Published 14.10.20, 03:19 AM
|
---
Multilingual indie band from Kochi, When Chai Met Toast, have dropped their third track Kahaani from their upcoming album, When We Feel Young. The song — their first full-Hindi track — was written with help from their friend Ankur Tiwari and speaks about a love that has slipped away. Ashwin Gopakumar (vocals), Achyuth Jaigopal (guitar), Banjo Palee Francis (keys) and Sailesh G Pai (drummer) have given the song an uncomplicated feel and in its video we see Malayalam actress Anna Ben. t2 caught up with the band over a call.
Kahaani is the first full Hindi song released by the band. What prompted the move?
Achyuth: It was one of those songs we had in our… a voice recording that we had kept from previous years. Maybe last year we had a melody and when we were writing the album we thought of going back to the old melodies and we came across this tune. We felt that Hindi would go best with it and so we approached Ankur (Tiwari) from the indie music circle to write it for us. We have written some of the lines in some of his songs but those aren't complete verses.
What is it about Ankur Tiwari's music and writing skills that appeals to the band?
Achyuth: I think he keeps it very simple yet there's some beauty in it. It's not over-poetic. It sort of resonates the music we make. People also relate to his writing a lot.
Ashwin: We don't speak Hindi a lot, so Ankur writing the song makes sense.
The song is about accepting that love can slip away. Where does this idea stem from?
Ashwin: Everybody goes through this and personally it's something I have faced. I've had situations when I've met the right person but in the wrong time to be in a relationship. When We Feel Young as an album itself is about what you feel when you've gone through different relationships in life. How does Kahaani reflect the sound of the album?
Palee: Sonically, on the album, each song has a different sound. We are trying out new stuff for every song that we are writing. It's not about just adding a guitar or a banjo to it; we are trying to do our best for the song. So sonically we are taking a big step by bringing in backing vocals and adding a lot of synth elements.
Achyuth: For Kahaani, we wanted to keep it minimal and simple, how we imagined the song to be. For the larger album, as Palee said, we are trying a lot of different sonic elements. A lot of pop-oriented elements. Kahaani is like a relationship song, so we wanted to keep it very simple with minimal instruments and minimal vocals. Like a person saying a story.
When can we get to hear this much-awaited album?
Achyuth: We planned to put it out earlier this year but the pandemic happened and a lot of our schedules got interrupted. We also wanted to tour with the album. We didn't want to sit on the songs for too long, so we're going to put it out one by one and then when it's a suitable time to tour or when we feel like it, we'll put the album out. So we don't have a date to it, but it's not too far away. So it's an album and not an EP?
Achyuth: This is our first album, we have two EPs before this. Since the inception of these songs we knew it would be an album.
Since we spoke about the pandemic, how has it been a change in lifestyle for touring musicians like yourselves?
Ashwin: Even though we went touring for a bit ad have been on the road, all four of us are now back home, singing and practising. And we haven't had a long break as such in the past four years, I guess. I think this break has given us… I wouldn't say the pandemic is a blessing, but we got the time off to work on ourselves, probably grow musically, learn more stuff, sit with our songs more or maybe write new things. But we are also looking forward to getting back on the road because we've done this for six months and it's getting a little tiring. Hopefully gigs will start soon and hopefully there will be people observing all the precautions.
Achyuth: We're past the threshold of just wanting to sit at home.