Evil nexus
Play deals directly with repercussions of NRC on indigenous people who have stayed away from nationalist narrative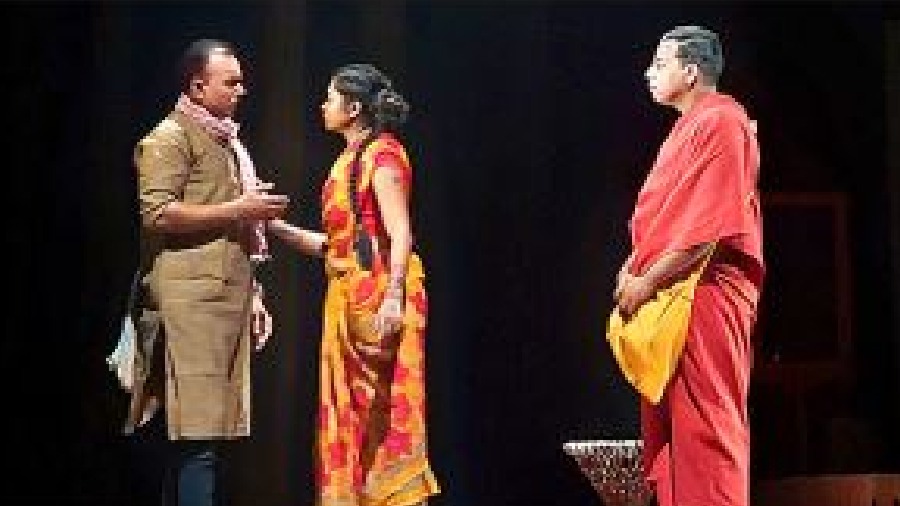 ---
Published 04.03.23, 06:04 AM
|
---
The National Register of Citizens has received a muted response from the theatre fraternity till now. However, some chose to raise their voice. Ravindra Bharti, a renowned poet-cum-playwright based in Patna, wrote Hulhuliya months before the Covid-19 pandemic broke out. It was all set to be produced by Bharatendu Natya Academy in Lucknow. But the pandemic put a brake on it and, later, the baton shifted to Pravin Sanskritik Manch led by Bijyendra Tank. This reviewer travelled to Patna last winter to experience Tank's adaptation of Hulhuliya at the Premchand Rangshala.
True to its promise, Hulhuliya takes the bull by the horns. It deals directly with the repercussions of NRC on the indigenous people who have stayed away from the nationalist narrative. 'Hulhuliya', the word, refers to an imaginary tribe who face the NRC music. They get support from a left-leaning civil society activist who flaunts portraits of Karl Marx, V.I. Lenin and M.K. Gandhi on his wall. As Hulhuliya progresses, it cuts through the nexus between the State agencies and the NGOs, the middlemen and the police — all lined up to dupe the custodians of traditional knowledge and culture. By playing it in the quasi-musical format and combining elements of narrative theatre and playful farce, the director, Tank, underlined the psychological impact of the Citizenship (Amendment) Act. Hulhuliya also probed the strategic position of the activist, thereby keeping the option for a mass movement against NRC.
The vast expanse of Premchand Rangshala was utilised by the stage designer, Sunil Kumar. The music director, Raju Mishra, worked with the multi-talented young cast to develop a spontaneous live ensemble that enveloped the production. Jeetendra Chaurasia's choreography synced well with the tribal way of life. Among the actors, Mritunjay Prasad lent authority to his portrayal of the civil society activist. The rest of the cast, mostly youngsters, exuded a conviction that was carried across the fourth wall and reached the enthusiastic audience in no time. Taking a cue from the rich legacy of the Indian People's Theatre Association, contemporary theatre in Bihar — with its rootedness and its political intent — looks poised for a happening future.