Different vision
The exhibition was a tribute to the undaunted spirit of the two women who pursued their passion for photography without ever seeking recognition for their path-breaking work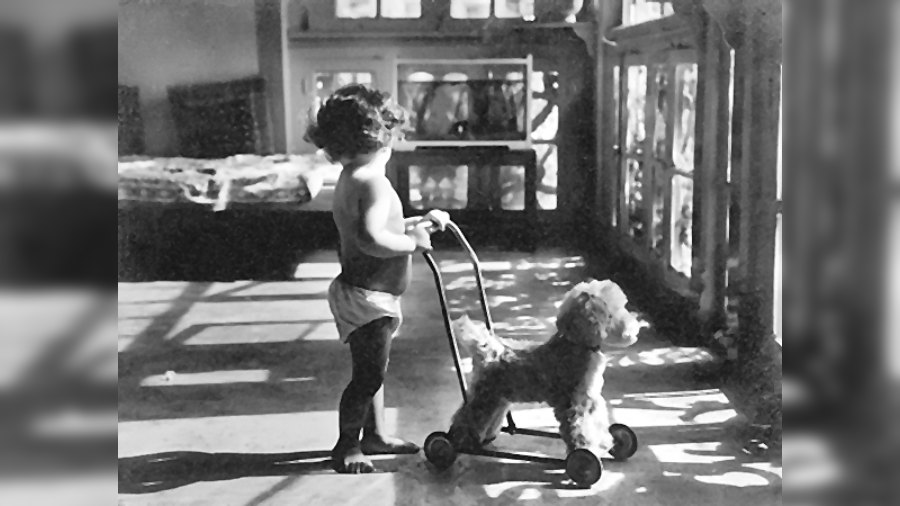 Child with a toy, Godiwala bungalow by Manobina Roy
Joy Bimal Roy and Kamalini Mazumder
---
Published 14.05.22, 02:36 AM
|
---
Twin Sisters with Cameras: An exhibition of the works of Debalina Mazumder and Manobina Roy held recently at the Jadunath Bhavan Museum and Resource Centre of the Centre for Studies in Social Sciences was a tribute to the undaunted spirit of the two women who pursued their passion for photography without ever seeking recognition for their path-breaking work. They were content with being treated as amateurs despite their considerable technical skills and understanding of the aesthetics of the medium through six decades of practice.
This exhibition, curated by Sabeena Gadihoke, Mallika Leuzinger and Tapati Guha-Thakurta, brought together a considerable body of their works (150 digital prints) — probably unseen in Calcutta earlier — along with their family albums and other paraphernalia that sought to reconstruct their lives and the age in which they lived and made images. This happened at a time — way back in 1919 — when it was unthinkable for respectable girls to be engaged in any activity that would draw them out into the public domain.
Their family was based in Benaras and the sisters inherited their passion for photography from their father, Binod Behari Sen Roy, a man of great erudition, who had gifted them Kodak's Brownie cameras at 12. They soon graduated to Rolleicord and they would be transported in their car to the outdoors where they enjoyed the freedom to take pictures. Perhaps fascinated by the magical play of light and shadow, they remained faithful to blackand-white photography even when they used digital cameras.
Like most ardent photographers, their cameras were their constant companions after their marriage and during their travels abroad to London, Paris, Geneva and Moscow. They were both adept at shooting indoors and in the great outdoors. They fitted in photography between caring for their families and children, troubled by thoughts though they were about the continuance of their practice as Manobina had lost her vision in one eye. Her husband, the film-maker, Bimal Roy, did not quite appreciate her pursuit. Debalina, on the other hand, held office in a number prestigious photographic organizations. How easily they could have been lost to posterity.