Dark thoughts for the mind to battle
Three members of The Frame unburdened the 'Black Cloud of Mind' through their recent show at the group's own gallery in Alipore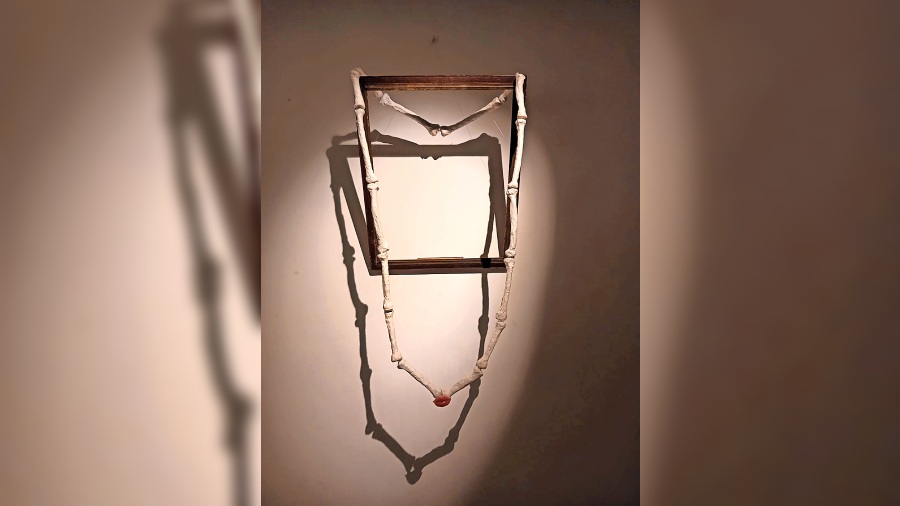 ---
Published 23.07.22, 04:01 AM
|
---
Sensitive receptors pick up dark signals for the mind to battle. It's this Black Cloud of Mind [sic] that the three new members of The Frame unburdened in their recent show at the group's own gallery in Alipore. At times in agony, but more often with irony.
Sekhar Baran Karmakar's masterly pen imitated woodcut reproductions of period publications as he returned to the painstaking fidelity and social concern of the Bengal famine trio — Abedin, Chittaprosad and Hore. An emaciated torso and a hyena stalking a woman dragging herself on her knees warned that not much has changed for those whose limbs, according to a description, are torn in daily strife. Elsewhere, accompanying an image of waiting vultures, was more text that outlined strident devastation, hinting that the Mahabharata is a permanent motif of life. However, riveting as his craft is, overcharged emotions are better served with understated casualness.
That's exactly what made Jayanta Bhattacharjee's Nightmare a work to note. Its garland of papier-mâché bones (picture) hanging on an empty frame from a wall was wryly chilling. An installation in a darkened alcove, set aglow with LED fitted underneath a platform, had transparent, multi-coloured resin tubes soaring upwards like upright snakes In Search of Light, holding little objects and plants in their bulbous hoods: a spectacle ideal as public art. If the irony of natural things trapped in artificial light was intended, disturbing resonances would emerge from their embedded details. Another installation — with crochet flowers blooming from bamboo sticks — tilted towards fantasy in its filigree of shadows draping the floor.
Since life is an "exercise in assimilation" for Subhra Kumar Banerjee, pieces of leather, torn and stretched, were tied to frames as a correlative for besieged skin that wears thorns and flowers along with the heart. Although installations tempt young artists, drawings still hold the eye. Especially if breezy lines, fluent distortions, frenzied scribbles and burnt holes work up an edgy comicality as they do in Banerjee's Square Feet and Urbanity.