Dark tales, darkly told
VISUAL ARTS: At times the image disappears in the lethal embrace of black but is accompanied by cacophony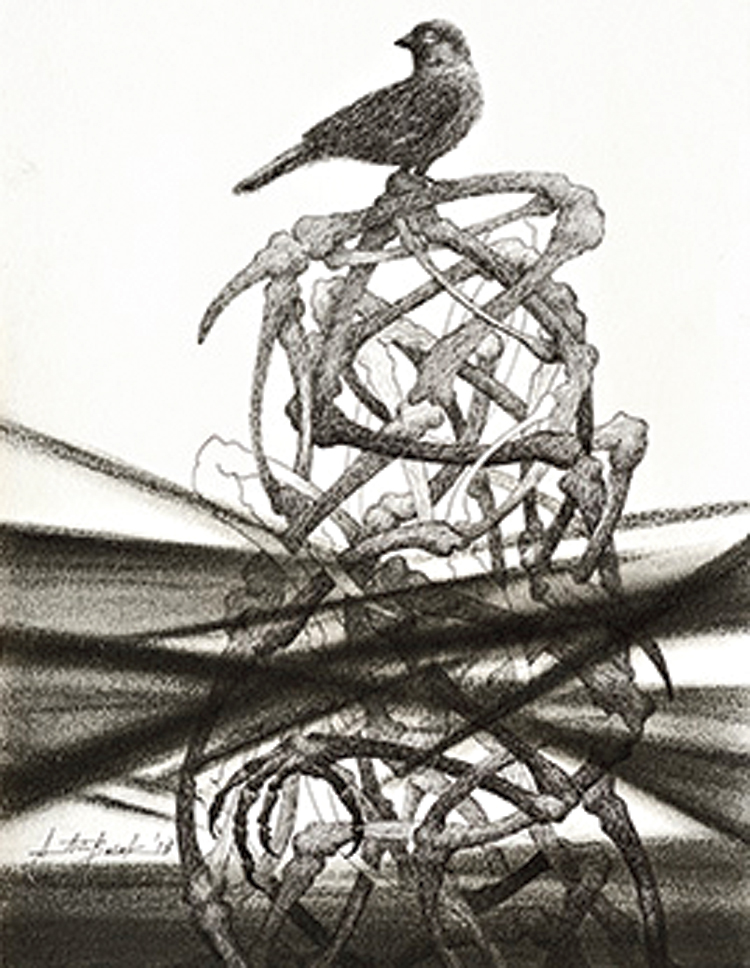 ---
---
Dark tales, darkly told. That seems to have become, in these dark times, the mission that the small, young gallery of three years has taken up. The darkness permeates not just the content of the art repeatedly displayed at Art Multi-disciplines but, quite often, also the display itself, as the gallery chooses to turn the white cube into a black sepulchre with a black wall and a black ceiling and low lights. That's what it did to deepen the tone of Atin Basak's recent solo show.
His paintings and graphics have generally made use of colours, even bright ones. But, while he was preparing for this exhibition, a foreboding sneaked into his mood which, in tandem with the gallery's growing awareness of concerns that are brushed under the tacky narrative of development, led to a suite that picks up cues from his earlier works but pares them to a starker, bleaker, more alarming metaphor that assaults the eye from the walls and even the ceiling.
The bird, often a vulnerable protagonist in his art, is a metaphor in this series, too; a tangle of gaunt bones, fleshless anatomies and fossil skulls drum an insistent riff in his imagery: a reminder of how fragile life is and where it all ends. The artist had brought the two motifs together earlier as well. But his recent set is mournful and monochromatic, using charcoal, pastel, graphite and ink to veil them in a sooty miasma. As though toxic carbon emissions that cling to the air have corroded all colour and hang low in dense, horizontal bands; stubbornly occupy the nests of birds; or shoot across in networks of frayed live wire, transmitting shocks to birds that try to perch on them, catapulting them into the air, wings flapping. Sharp talons protrude out of the bones time and again like the Grim Reaper's scythe .
At times the image disappears in the lethal embrace of black as a low-toned but rasping cacophony accompanies it. Mingling with noise from radio and TV are the inaudible signals from electronic equipment profiled in decibels. Which, worryingly, is the soundtrack of progress.