In search of the unknown
Mirage — A Lust for Life, created by the dancer-choreographer, Sangita Chatterjee, is a confirmation of how the dance film has been quietly evolving as a new art form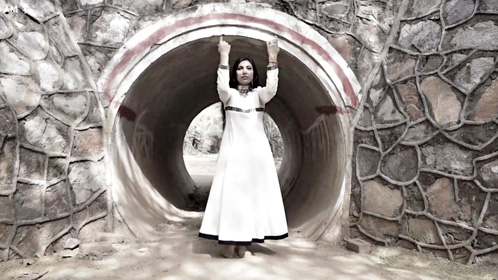 ---
Published 28.08.21, 12:29 AM
|
---
Social media, a new generation of digital-native choreographers and, over the past 18 months, the successive lockdowns owing to the pandemic have pushed screen dance to the foreground. The recent release titled Mirage — A Lust for Life, created by the dancer-choreographer, Sangita Chatterjee, is a confirmation of how the dance film has been quietly evolving as a new art form, blending visual art and physical theatre, with movement artists making an uneasy acquaintance with the camera.
The 10-minute-long film is about what lies tantalizingly beyond the realm of reality. The search for it is eternal. The moment of reckoning never truly arrives, at least not explicitly, but one is forever seduced by it and kept dangling on the edge of certainty even as one travels deeper into a conflicting world of what is real and what is not. The chase mirrors the perennial human dilemma of holding on to hope, knowing full well that it is as insubstantial as a mirage.
For Chatterjee, the chase of the illusive unknown becomes as inexorable as the quest for life itself. Her Kathak-informed body becomes a medium for the exploration of the phenomenon, her dance turning into a physical expression of movements within and without to create a narrative of this pursuit. Subtly referencing the trope of the golden deer, she navigates her non-linear storyline using classical movement patterns in a contemporary manner.
Perspectives keep shifting as she plays with interior and exterior spaces, and the cinematography engages in the constant recreation of angles. The backdrops and sets keep changing too, from rooms with gauzy curtains to astonishingly picturesque pathways and, rather startlingly, the interiors of drainage pipes. Journeys are negotiated in terms of shifts from bursts of colour to the starkness of monochromes, from intense sunshine to the obscurity of the darkened corners of rooms. The camera lens moves from capturing the horizon to catching the nuances of the expressions in the dancer's eyes. The film has been cleverly edited by Lubdhak Chatterjee, and its music by Deepak Shah presents a dramatic interplay between the sombre strains of the sarangi and the crisp bol padhant of Kathak.