Beyond the boundaries
The compilation of eight films in I m / Material, curated by Pickle Factory, engages with the rigidity and fluidity of borders and the incessant urge to transgress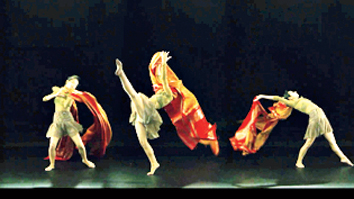 ---
Published 02.10.21, 03:36 AM
|
---
The compilation of eight films in I m / Material, curated by Pickle Factory and recently presented in JOMBA! Contemporary Dance Experience, Durban, engages with the rigidity and fluidity of borders and the incessant urge to transgress. At the intersection of dance and film, there are intriguing visual and spatial explorations. The films also examine materiality and physicality through the connection of the body with the external world.
Lubdhak Chatterjee's Aahuti uses ritualistic hand gestures to forge a tender and caressing bond between humans and the earth, sky, air and water. The elements of nature seem to respond to the mudras, as though bound together in a holistic communion that is undefined yet real. Naad or sound is pivotal in the exploration of life and what lies beyond it.
 Hediyeh Azma and Sumedha Bhattacharyya's Saraab is a portrayal of grief. It transports the viewer from exterior spaces to the derelict inside of a broken house, drawing upon memories of deep attachment through parallel movement phrases.
 The themes of love and longing are also explored in the triptych, Fall (picture), which weaves together poetry, movement, dance and film technique, with the sari representing the object of affection. The use of reverse film as a device has a powerful, surreal effect.
 In an arresting visual in Frédéric Lombard and Surjit Nongmeikapam's Underline, the dancer describes elaborate circles in the air with his legs. A clear demarcation is suggested with the pattern of movement, cleverly shot from far away, creating an illusion of the rigidity of boundaries that cannot be crossed.