Came as they were
Nirvana's 'Unplugged' performance was intimate, sombre and, in many ways, a farewell note left by the group's frontman Kurt Cobain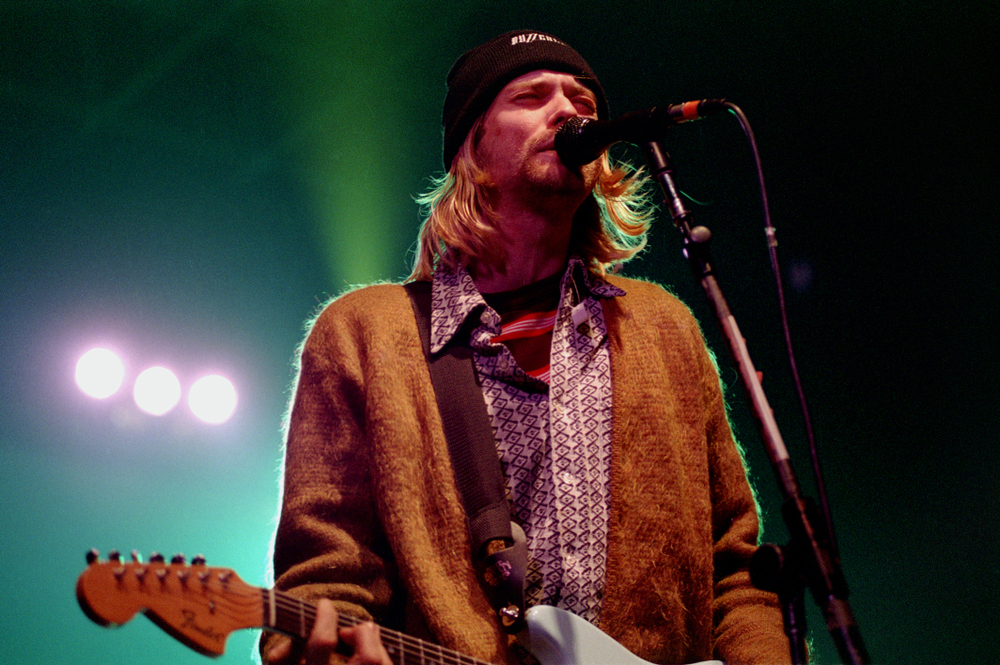 ---
---
A song can often take you right back to the time when you first came across it. For example, I can never hear The Dark Side of the Moon album without getting hazy flashbacks of my college days. The Arctic Monkeys' album Whatever People Say I am, That's What I Am Not reminds me of the time when I used to play it on repeat while packing boxes at a warehouse in Cardiff, UK. Sultans of Swing harks back to when I first tasted beer in Calcutta's Someplace Else pub. However, the most important and vivid musical memory I have is of the time I first came across Nirvana's MTV Unplugged in New York album.
Till this day, hearing the album transports me back into my 15-year-old body. At the time, I was studying at a boarding school in Ooty. You have to understand that this was 1999 and there weren't many avenues for a teenager to discover new music; there was no YouTube or Spotify or iTunes back then. Being confined within the walls of a boarding school was a further handicap, which is why my musical tastes were defined by whatever was playing on MTV or included on those godawful Now That's What I Call Music! compilations. We used to smuggle our Michael Jackson, Backstreet Boys or Bryan Adams cassettes into our music room where we would play them loud on the Videocon sound system to find a temporary escape.
Fortunately for me, one afternoon I had the music room all to myself and was going to Get down/ get down/ and move it all around when I noticed that someone had left a cassette behind in the tape deck. I was intrigued by the name of the band: "Nirvana? Isn't that like the Hindi word for salvation or something?" I pressed play and was immediately enraptured by the beautiful melodies issuing from the speakers. I missed lunch that day, choosing instead to lose myself in this new sound. I took (stole) the cassette and would play it whenever I got the chance. When I came home during the holidays, I bought every one of Nirvana's albums and was excited to finally find music that spoke to me and gave a soundtrack to my teenage angst. However, I had barely found my new favourite band when I learnt that they had disbanded five years ago after the suicide of their singer, one Kurt Cobain.
I share this story of discovery because, on November 1, Nirvana's Unplugged in New York is being released as a vinyl reissue to commemorate the 25th anniversary of the album. While the album sold a lot of records and won a lot of awards, some have wondered if it would have enjoyed such a legendary status if Cobain hadn't killed himself four months after its recording. I think such speculation is unwarranted and, unlike my spellbound teenage self, I have found the words to articulate precisely what it is that I think I like about it.
A solemn and muted affair
Let's start with the fact that this sparkling 14-song-long set was recorded in one take. This was highly unusual at the time for the Unplugged series in which bands would often put out the best versions of their performances. Nirvana's decision to run through the set in one go suggested an ease and command over their craft. As a band, Nirvana was most famous for propagating a unique Seattle sound dubbed "grunge" which had punk roots and was all about sludgy riffs and distortion and guitars turned up to 11. For such musicians, whose medium was essentially electric, the idea of playing acoustic was in contrast to their raison d'etre. It's the inverse of when Dylan went electric. They were outside their comfort zone and playing to a genteel, seated audience which was unlike the unruly mosh pits they usually catered to.
The set list, too, was a curious mix of B-sides and obscure covers (three of them with the Meat Puppets, a relatively unknown band who joined Nirvana on stage) and included only one of their hits, Come As You Are. Cobain's rendition of David Bowie's The Man Who Sold the World was so well interpreted that Bowie said later: "I was simply blown away when I found that Kurt Cobain liked my work and have always wanted to talk to him about his reasons for covering it." He was less enamoured when he would play this song and have kids come up to him afterwards to tell him that it was cool of him to cover a Nirvana song. However, the highlight of the set was the band's cover of bluesman Lead Belly's In the Pines (Where Did You Sleep Last Night?). It is here that Cobain delivers arguably the best vocal performance of his career where his voice cracks in agony when he channels a jilted man asking his unfaithful lover where she slept last night. The crowd asked for an encore but Cobain refused because he had given this last song his all and perhaps had nothing more to give.
Many have hypothesised that Cobain had asked for the stage to be decorated with black candles and stargazer lilies in the style of a funeral because he knew that he would be ending his life sometime in the near future. While it is impossible to confirm this (given Cobain's penchant for generally employing morbid symbolism), what was noticeable was that unlike their previous live performances which were full of chaotic energy, this was a solemn and muted affair. Despite the back-and-forth between band members, which provided some comic relief between the sombre songs and hinted at their ingrained bonhomie, there was a palpable distance between them. The band was going through a difficult phase owing to the pressures of touring, mild disputes over hierarchy, Cobain's drug use and his reluctance at being christened the spokesman for his generation. If there was measured anger in their earlier albums, here there was the closure which comes after a good yell when all that anger is let out and one is left alone with oneself.
Whenever I listen to this album, it fills me with a strange mix of sadness and elation. The sadness comes from my assumption that this band would have continued to give so much more to listeners if they had just managed to stick around a bit longer. In the light of what we now know, the album seems like a farewell from Nirvana… almost as if they had a premonition of the things to come. But this is the silly, selfish sentimentality of the fan who has the gift of hindsight and only wants to be entertained ad infinitum by his idols.
Who am I to question Cobain's claim on his own life or the band's decision to quit when I know nothing of the personal demons they were grappling with? This is why I am content in the knowledge that at least something of such fragile beauty was captured once so I can replay it again and again and relive a special moment in my life when I discovered something new that struck a chord with me. I look at this album as an artefact from another time and cherish how it changed the direction of my musical exploration. It is a haunting document of raw talent which captures artists at the top of their game. Maya Angelou once wrote that people will forget what you said and they will forget what you did but people will never forget how you made them feel. For many music fans like me, Nirvana made us feel a particular way and that feeling lingers even now after all these years.
The author is a furniture designer and freelance writer observing politics and culture