Buno 2.0 is a celebration of innate music in rural artistes
Harking back to music of the soil and wilderness with Arko and Satyaki for Buno 2.0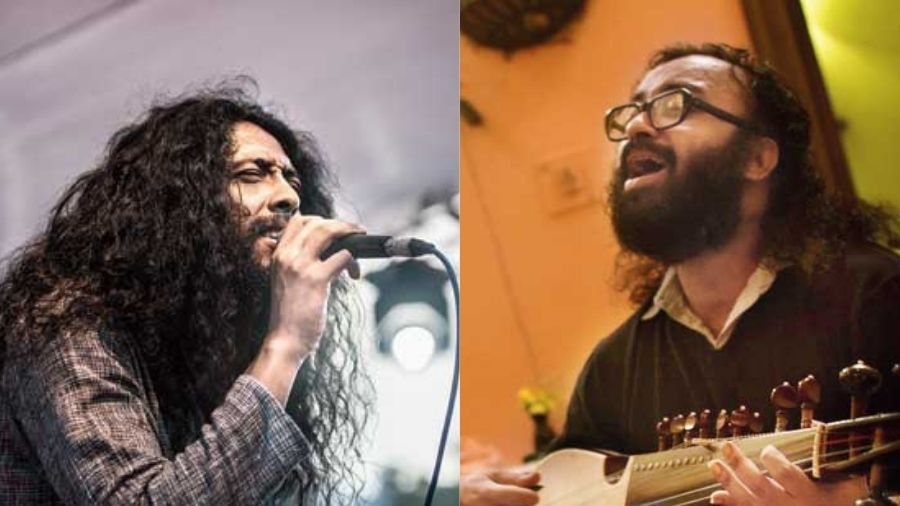 ---
---
In the quaint, serene green of Debanandapur, a village near Bolpur, Santiniketan in Birbhum, which is home to farmer and gardener Nabani Das, lilting strains of his flute waft through the air. Every nook and corner of Debanandapur and other tribal villages in Birbhum has a rural folk artiste like him who is virtually unknown to the world. But the second season of the musical concert Buno is here to try to change that. Helmed by urban folk artist Arko Mukhaerjee and his collective — The Arko Mukhaerjee Collective, and Bengali composer, singer and musician Satyaki Banerjee and his collective Borno Anonyo, who have joined hands with a group of tribal Santhali dancers, percussionists, and other artistes for the concert, Buno 2.0 celebrates the innate music in every rural folk artiste like Nabani Das through the amalgamation of their music and culture with the cadence, rhythm, and nuances of their everyday life. The Telegraph chats with Arko and Satyaki.
What was the idea behind the musical concert Buno 2.0?
Satyaki: Buno 2.0 is aimed at the rehabilitation of the adivasis and the artistic exploration of their way of life in terms of their crafts, integrating the very life and culture of the adivasis of the area with their music. The adivasis have a deep connect with the place; they not only work there but also partake in workshops and even participate in Santhali dances on Saturday night, playing instruments like madol. We are collating songs that are tied to the place and its culture of lived realities, bringing up the rustic quality of the music that is closely intertwined with nature and the call of the wilderness. It is like the Rainforest World Music Festival in Malaysia's Sarawak which I attended. The inhabitants of Sarawak started the music and songs, which was made into workshops, and then grew into the concert that brought together many musicians from different places, accompanied by their own instruments. Buno 2.0 is inclined to music of the earth and of the soil.
Arko: When I came to Moram (an eco-resort that will host Buno 2.0) two-three years ago, I came to know about the welfare trust, of their tradition and culture — that they can play dhamsa, madol, they have their own festivals, in fact they have one porob going on now called Baandna that has its own dance. Every festival has songs in their language — I find this similar to the West or middle-African traditions — and I am attracted to African music since many years because I feel global music somewhere shares similarities with African music, and I find the artistes in Birbhum very similar to them.
How is Buno 2.0 different from the first season?
Satyaki: The approach for the selection of songs is new. Among other aspects, we will include songs that reflect on the dichotomy between the urge to go back to nature and disconnect from civilisation altogether versus the tragic inability to do so. This conflict was at the heart of the movement of the Beatniks, and the Hungryalists, who wanted to cut all ties with civilisation, something which we all know is not possible after all. This tragic dichotomy and the inability to go back to nature is also reflected in the aspect of writing like a city-bred intellectual in Goutam Chattopadhyay's songs, in songs of Sylhet in Ritwik Ghatak's films, and in songs of folk bands like Mohiner Ghoraguli. We will have Uma's bidaay song — Uma is mother earth; she signifies the displacement of mother earth from the life of us. After Uma's bidaay song, we wish to include Tagore's songs such as Keno cheye acho go ma, which are relevant and sensitive to the hardworking, industrious and artistic female folk in Birbhum. The song-list hasn't been finalised yet but the selected songs will attempt to bring about a sensitisation of the space of Birbhum and its dwellers, recognising and celebrating the integrity of lives of the female folk artistes that cut through their work, daily chores, and family responsibilities.
How has the concept of a digital concert helped the cause of Buno?
Arko: I was opposed to digital platforms up until now. But when the pandemic happened, I realised that while I am secure due to my presence on YouTube and engagement in various digital concerts, there are so many folk artistes, dancers and ancillary members with whom I collaborate or even others who work with them, who are all facing hardships.
Any memories of digital concerts that you saw or were a part of, that you would like to share?
Arko: Whatever concerts I have done till date are different in their own way, where people from different countries have joined in and have performed. From India, among others, my friends Sandra Chatterjee, Shruti Ghosh and Srabanti Bhattacharya are excellent dancers who have done many concerts with me and I had a lovely experience with them. Above all, this virtual meeting spot that was created through digital concerts gave me immense joy —that we were friends performing and listening to each other while paving way in the end for all of us together to give back to the people who help us sustain our livelihood and such initiatives.
What do you have to say about each other's music and the bond you share?
Satyaki: Oh his (Arko's) very persona, his long and sturdy frame, the way he talks and thinks, how and what he does for thousands of fellow human beings, all of that is reflected in his music. He is ahead of his times. He is definitely charting new territories in the map of folk music, in Bengal especially. I have known him since a long time and now as we are growing older, the bond that was formed 10 years ago seems like since childhood (laughs).
Arko: I think he (Satyaki) is one of the best musicians that we have in India today. He is very close to my heart. He himself is unaware of his potential and it is best kept that way. When I think of the likes of Jyotirindra Nandi, Ritwik Ghatak, Bijon Bhattacharya, Ali Farko Touré... he is one Bengali artiste of today at par with their league. Sit him down with an instrument at any point of time and the kind of music that he performs — so powerful, so full of 'affect', yet he is so vulnerable and the reason he is doing this festival is due to this feeling of humility and shared vulnerability towards fellow human beings. He is my brother, friend, murshid, bhalobasha, everything!
What do you think about digital concerts taking up space in the cultural realm?
Satyaki: We had never in our dreams thought of resorting to virtual concerts but now we are geared towards it due to the pandemic situation. I think digital concerts or festivals are very utilitarian. We can reach every corner of the world, which is not possible in live concerts. But the pandemic has changed the world scenario altogether, which might call for the postponement of such initiatives so a lot of digital concerts have been done to contribute to the fund-raising initiatives where people from around the world have joined in — this wouldn't have been possible. The online concert is designed in a utilitarian way as a transit or stop-gap — but the destination is different.
What is the future vision for Buno from here on?
Satyaki: I like going back to Birbhum — it is therapeutic to me in many ways. Arko knows a lot of folk artistes from all over the place and India, so given that the logistical aspects fall into place, Buno will hopefully go on to become a folk village; a space for folk festival which is not done as a fashion but as a means of how we can engage with these living communities and their unique culture and way of life. I hope to see this grow into a global folk festive hub that will strengthen the cultural communication between city-bred and rural folk artistes with time.
What's up ahead?
Arko: I don't stay at one place for long. I like to keep coming back to Calcutta but I don't stay here for long at a stretch. So my primary plan is to go back to the hills, sing and listen to Nepali songs along with different songs of the tribes of Darjeeling and get to know about them. I also intend to listen to a lot of South African music side by side.
More about Buno 2.0
What: Buno 2.0 — Revisiting Wilderness
Where: Moram, Debanandapur, West Bengal
When: January 17, 5 pm onwards
Expect: A soul-stirring musical experience featuring a line-up of Santhali dancers, dhamsa and madol jams (Santhali percussions) and rural flute players followed by hour-long performances by Arko Mukhaerjee Collective (Arko, Koustav, Sounak, Nitin, Sajib) and Borno Anonyo (Satyaki, Nabamita, Rajarshi, Ranajoy, Dwaipayan, Neil), two esteemed contemporary (original / folk) musical collectives from Calcutta. From rural to urban, this is an online live festival for people of all ages. Sandra Chatterjee (Munich) and Shruti Ghosh (Calcutta), two of the finest dancers, researchers and teachers of contemporary experimental and classical dance, will perform in the festival.
Tickets: Buy tickets on Paytm Insider for Rs 300 or $8 per head, following which you will be given a link to watch the concert on Facebook Live.